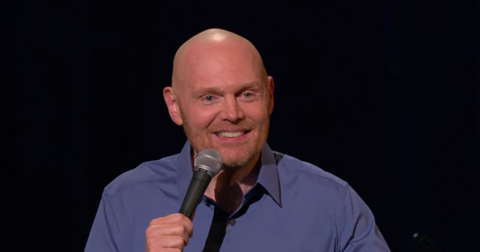 Bill Burr Is Hosting 'SNL' Tonight, Which Should Be, Um, Interesting
By Gina Vaynshteyn

Updated
Comedian Bill Burr is hosting SNL tonight for the first time ever, and we're not totally sure what to expect. In a promo, the comedian stands with Kenan Thompson and says, "Hi, I'm Bill Burr and I'm hosting SNL this week and right now I'm doing the awkward promo. How does it feel Kenan?" Kenan responds, "Pretty awkward." We know that SNL will be using Wednesday's VP debates between Kamala Harris and Mike Pence as material, with Maya Rudolph reprising her iconic role as Kamala.
Article continues below advertisement
Since SNL hasn't shied away from getting political, we're anticipating a lot of commentary on not only the debates, but the overall political climate — especially since the second presidential debate has been officially canceled, due to Trump refusing to do it remotely. With Bill as host, it'll be interesting to see how the episode goes, since the comedian is known for his politically incorrect humor.
Article continues below advertisement
What's Bill Burr's political affiliation?
Bill Burr has historically never leaned right or left, claiming that it didn't matter who won back in 2015 when it was Donald Trump running against Hillary Clinton. And he hasn't been vocal about the upcoming election, either. When asked if he still felt that it didn't matter who was president back in 2018, Burr answered that he still believes it doesn't matter who's the president if you're white. "You're going to be fine. And it's not like Hillary wasn't a total company man. That last election was 2 a.m. at a bar and you had to go home with somebody," he explained.
Article continues below advertisement
In general, Bill Burr seems jaded by politics and doesn't think neither Republicans nor Democrats are honest.
He tells the Philadelphia Post-Gazette,
"Can I tell you something? I truly believe 100 percent in the whole liberal media now. Watching the way they went after Trump. … Bernie Sanders was the better matchup because the Republicans accidentally offered change, which is what people wanted. And the Democrats, I understand why they went with her, but they ended up reading the tea leaves wrong...I think the last honest president was Jimmy Carter. And look what's he's done post-presidency. He's out there building houses for homeless people, and he's looked upon as a terrible president and being weak. The Clintons are worth over $100 million. How?! And if you say this, it's like, 'You're a Trump supporter' and 'You have your tinfoil hat on' and 'You're a conspiracy theorist.'"
Bill Burr is ... definitely not for everyone. His comedy is known for being crass, and some will argue, tone-deaf. In his 2019 Netflix special, Paper Tiger, he criticized the #MeToo movement (basically, his stance was that #MeToo was too hell-bent on destroying lives of innocent men and that due-process was being neglected).
Article continues below advertisement
He has also made fun of both Michelle Obama and Melania Trump, arguing that "being a First Lady is not a real job." Bill has, unsurprisingly, been criticized for his anti-feminist and offensive portrayals of women in his comedy.
Article continues below advertisement
Women aren't the only targets in Bill's comedy — everyone's fair game in his routine. He's joked about Stephen Hawking, male feminists, how cultural appropriation isn't real, and more.
The bottom line? If you're expecting Bill to endorse either presidential candidate tonight on SNL, don't set your hopes high. While the comedian is certainly not a Trump supporter, he's also critical of Democrats. And his reasoning will always be, um, unfiltered. Watch SNL at 8:30 p.m. EST every Saturday on NBC.