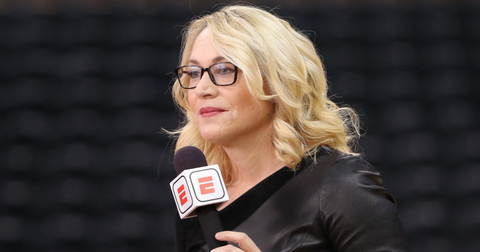 Just FYI, Bill Simmons Never Did Apologize for His Sexist Remarks About Doris Burke
By Gina Vaynshteyn

Updated
Today, it was announced that Doris Burke, a basketball analyst for ESPN, will be calling the conference finals and NBA Finals for ESPN Radio, which will make her the first woman to be a game analyst this far into postseason.
"Doris is a trailblazer who continues to reimagine what is possible for women in broadcasting, and we know she'll thrive in this history-making radio analyst role," ESPN's executive vice president of event and studio production, Stephanie Druley, stated.
Doris has been with ESPN since 2003 and was actually the first, full-time female NBA game analyst at ESPN since 2017. Although this will be her first time calling the conference and NBA finals, she's actually been part of the crew covering the Finals since 2009, but as a sideline reporter. Chances are, you've seen her as a major voice behind basketball — and you've probably seen the viral GIF of her expertly dribbling a ball in heels on the court. However, Doris has finally been given the respect she's earned over the last 30 years.
Some are curious: What does Bill Simmons have to say about Doris Burke's role?
Bill Simmons, a famed sports analyst for ESPN who went on to start (the now defunct) Grantland.com and then The Ringer, is one of the most well-known voices in sports journalism. So when it was announced that Doris would be calling the conference and NBA Finals for ESPN Radio, many wondered what his reaction would be...especially since he wrote about her in a super sexist, unprofessional light in 2008. "She's doing a fine job, but does it make me a sexist that I can't listen to Doris Burke analyze NBA playoff games without thinking, 'Woman talking woman talking woman talking woman talking . . . ' the entire time?" he wrote on ESPN.com in 2008.
In 2018, Bill tweeted that Doris was a "fantastic analyst" and that it was "embarrassing" that she was still on the sidelines. Backpeddling much?
Doris is a fantastic game analyst. It's ridiculous that espn would ever use her as a sideline reporter at this point.

— Bill Simmons (@BillSimmons) April 22, 2018
That was as close to as an apology that Bill ever came in regard to his comment about Doris doing a "fine job" and that he couldn't listen to her without thinking "Woman talking woman talking woman talking." And that's not the first time Bill has said something demeaning about women.
When writing about the WNBA, Bill once wrote, "I wish the WNBA scores would be banned from all scrolling tickers on ABC and ESPN. I'm tired of subconsciously digesting tidbits like 'Phoenix 52, Sacramento 44 F' and thinking, 'Wait, that was the final score?' before realizing it was the WNBA. Let's just run their scores on NBA TV with pink lettering. And only between the hours of 2:00 am and 7:30 am."
Bill Simmons has yet to tweet about the historical news about Doris, nor has his site, The Ringer, covered it. Maybe Bill doesn't have to have the last word when it comes to sports, anyway.