NBA Players Arrived at the "Bubble" and They're Not Impressed
NBA and WNBA players have started to complain about the conditions of "the bubble," including food, Wi-Fi connection, and too small rooms.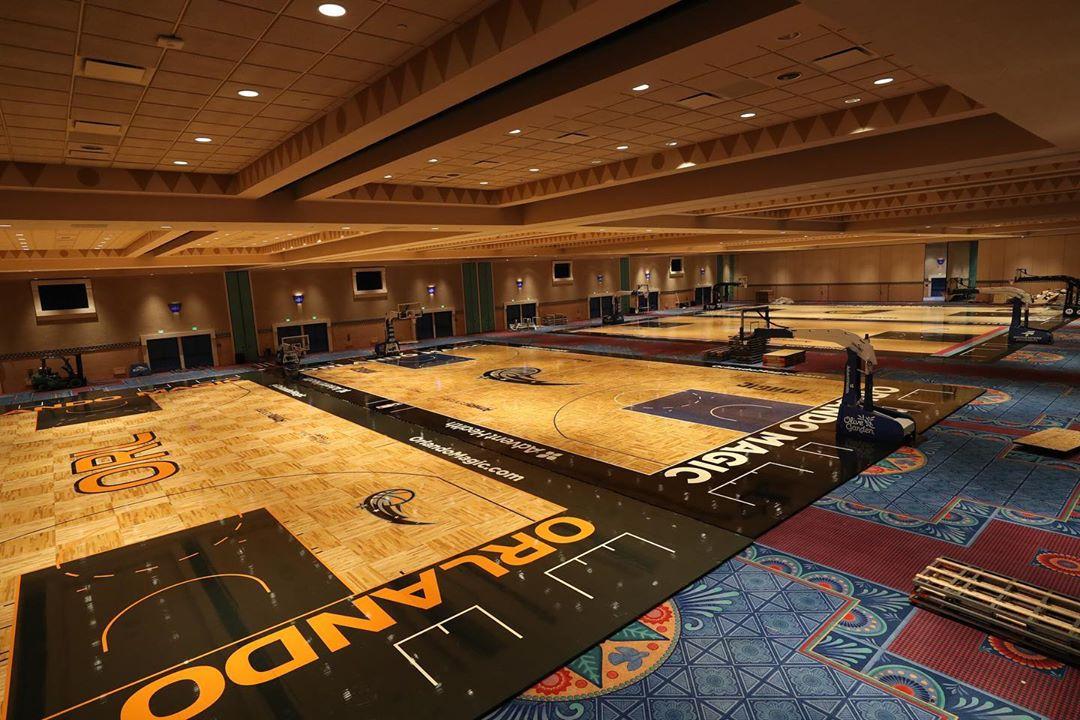 As the United States continues to open back up (despite rising COVID-19 cases in many states), professional sports have also started their journey to begin playing again. This includes the National Basketball Organization which has started to bring in players to the "bubble" in Orlando, Fla. on the Walt Disney World campus to start practice and training.
Article continues below advertisement
Teams have begun to arrive in Orlando and were taken to Disney property and the ESPN Wide World of Sports complex. To get this program off the ground, there have been 113-pages of protocols and regulations laid out by the league and put into place, though many of them are not popular with players. Along with the guidelines players are ordered to follow, they have also started to complain about the conditions of "the bubble," including the quality of food and Wi-Fi connection.
NBA Players are taking their "bubble" complaints to social media.
Miami Heat forward, Meyers Leonard, took to his Instagram to go live with fans and give an update on how the bubble has been so far. "I still got to figure out what I'm going to do about internet," he said during the Instagram Live session. "Apparently the Wi-Fi is trash. I'm about to bash my head against the wall because my PC setup isn't working."
Article continues below advertisement
Troy Daniels, who plays for the Denver Nuggets, tweeted out a picture of the food they were served. And while, by no means, is it anything a common person would scoff at, for these millionaires, it clearly did not meet their standards. Troy Daniels tweeted the picture of his league-provided meal, which basically resembled a box lunch, to which Isaiah Thomas joked, "No way Bron eating this LOL."
Article continues below advertisement
Clearly, Isaiah Thomas was referring to NBA superstar, LeBron James, who currently plays for the Los Angeles Lakers.
Memphis Grizzlies star Tyus Jones also condemned their current living situation, sharing a photo in an Instagram Story of a dead cockroach on his hotel room floor. The Grizzlies have been announced as staying at Walt Disney World's Grand Floridian Hotel.
Article continues below advertisement
The next grievance came from Rajon Rondo, who is currently staying at the Gran Destino Tower at Disney's Coronado Springs Resort. The point guard Instagrammed a photo of his hotel room, with the words "Motel 6" written on the image with a middle finger emoji. The compliant drew quite a bit of criticism considering that it seems that Rajon is staying in a room with a king size bed.
Article continues below advertisement
Assuming he only has a room with a standard view and without Club Access, the same room would have cost the average guest around $358 a night at the tail end of 2019, shortly after the hotel opened. Staying at a Motel 6 in Orlando would have run Rajon between $40 and $60 per night.
WNBA players have also made their conditions known to the public.
The WNBA's "bubble" is at the IMG Academy in Florida, and there have already been major complaints about their arrangements including the conditions of the laundry room, the hotel rooms, and the food.
Article continues below advertisement
ESPN's Kayla Johnson shared videos sent to her from players on Twitter. She included a video where someone found a worm on their bedroom floor as well as a photo of some food that looks less than appetizing. Seattle Storm guard Jewell Loyd complained about the plumbing on the campus in her Instagram Story.
Article continues below advertisement
A source told Deadspin that it only gets worse from there. "[The WNBA players] have had issues with cleanliness of the housing. Two teams had bed bugs in their living quarters and had to be moved immediately," they said. "They are in a four-day quarantine and cannot leave their rooms and are receiving boxed meals. Many of the players refused breakfast this morning as dinner was not something they would eat."
"I understand that budgets don't allow for the same [as the NBA players]," the source said. "But common decency should apply."
Article continues below advertisement
The NBA released a statement on the current circumstances in "the bubbles."
Because of the popularity of all the photos and videos concerning the conditions of the "bubbles," the NBA released an official statement that the players' food quality will improve.
Article continues below advertisement
"After clearing quarantine, players will also have access to various restaurants on campus and delivery options to choose from," the statement read. "Players will receive three meals a day and four meals on game days. There is never a shortage of food options — players can always request additional food by speaking with their team nutritionists."
The best way to prevent contracting or spreading the coronavirus is with thorough hand washing and social distancing. If you feel you may be experiencing symptoms of the coronavirus, which include persistent cough (usually dry), fever, shortness of breath, and fatigue, please call your doctor before going to get tested. For comprehensive resources and updates, visit the CDC website. If you are experiencing anxiety about the virus, seek out mental health support from your provider or visit NAMI.org.