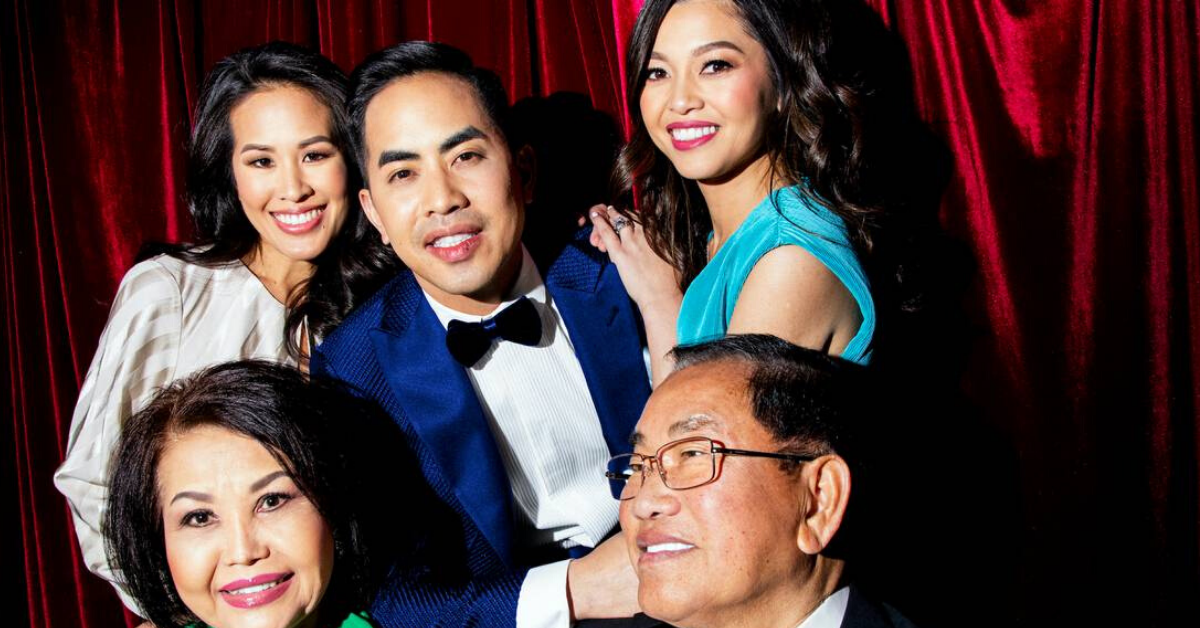 Wondering About the 'House of Ho' Family's Net Worth? So Is Everyone Else
By Kate Brierley

Jul. 18 2020, Updated 3:01 p.m. ET
The new reality series House of Ho just dropped on HBO Max, and it follows three generations of the Vietnamese-America Ho family.
Based in Houston, Texas, their lavish lifestyle alone is enough to keep viewers hooked and coming back for more. But HBO Max calls the show a "multi- generational family docusoap," and the family dynamics take things to a whole new level.
The first season is available to stream at 30 minutes a pop. And people are into it.
Article continues below advertisement
Let's recap who's who in the Ho family.
There are a whole lot of Ho family members to keep track of, so he's a quick refresher. The mother and father — or grandmother and grandfather, depending on how you look at it — are 66-year-old Hue Ho and 71-year-old Binh Ho.
Their oldest is their daughter, 39-year-old Judy Ho, a divorcee and lawyer who has three children and likes to keep a low profile (so far, anyway).
Their youngest is 38-year-old Washington Ho, husband to Lesley Ho. Together, they have a 4-year-old son named Roosevelt and a 2-year-old daughter, Lincoln.
And we can't forget about Aunt Tina (58) and cousin Sammy (29), who are also family members and dynamic regulars on the show. 
Article continues below advertisement
How did the Ho family make its money?
This question comes up a lot, seeing as the backdrop of the show is the grandiose lifestyle that the entire Ho family seems to live.
According to the show's bio, "Power couple Binh and his wife Hue immigrated from Vietnam to the United States with little money, relying on hard work to establish the ultimate American dream. They have built a multi-million dollar bank, a real estate development company and a new generation of American Hos."
Article continues below advertisement
So basically, they've got two mega-successful businesses, and that'll do it! And in a recent Insta post from Washington, he calls his dad "boss," so he could be next in line to run the companies.
There's no real intel about which bank the family owns, or public details about their professional endeavors. But nonetheless, they sure are willing to share the personal side of their life with the world.
Article continues below advertisement
Of the show, Jennifer O'Connell, executive vice president of original non-fiction and kids programming at HBO Max, says, "Rarely do you come across a family that is so rich in so many ways – not just in wealth, but in heart, traditions and love for each other."
"There's great pride in being a Ho and they are ready to give the world a seat at their luxurious table."
Article continues below advertisement
So what's Binh Ho's net worth?
As mentioned, the Hos (and HBO Max, and the internet) are pretty hush-hush when it comes to specifics in this area.
Trust us, we've spent more time than we'd care to admit digging for deets. Aside from being in the multi-millions, an estimated net worth figure has yet to be determined.
But we're assuming someone's looking to get to the bottom of it, given people's curiosity, and the sheer opulence and luxury that surrounds the family in episode after episode of House of Ho.
The show just launched, so we expect that more details about Binh's professional life and financial worth will be unearthed soon.
We'll keep you posted!