These Black-Owned Chain Restaurant Chains Are Serving Up Deliciousness
If you're looking to support Black-owned chain restaurants in light of the Black Lives Matter movement, start with these Black-owned national brands.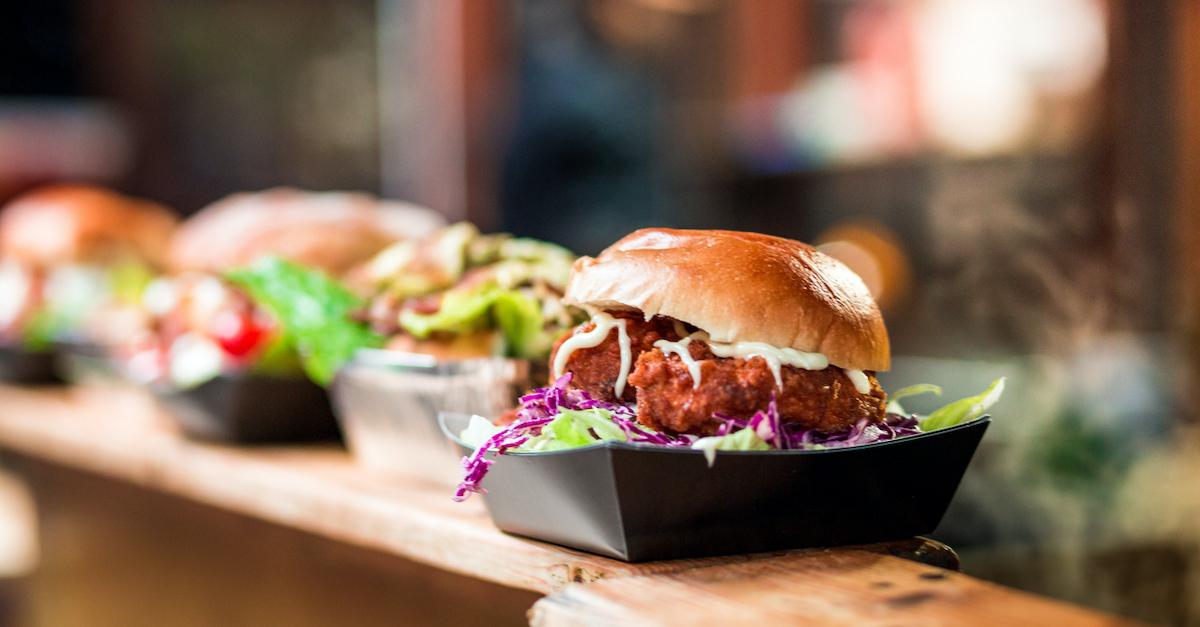 While signing petitions, attending protests, and getting educated on racial inequality in the U.S. are undeniably important ways to support antiracist efforts like the Black Lives Matter movement, supporting Black-owned businesses is another necessary way to support the Black community. And one easy way to support Black businesses is by eating at these Black-owned chain restaurants, which have been serving up incredible eats for years now.
Article continues below advertisement
Juices For Life
Juices For Life is a New York-based smoothie chain and juice bar, which was founded by The Lox rapper Styles P. The franchise looks to promote plant-based diets in the Black community, and now has three locations (with one more on the way!).
Fatburger
Fatburger was founded in 1952 by Black girl boss Lovie Yancey, and it has since become a wildly successful franchise with locations throughout 15 countries, including 79 restaurants in the U.S. alone. Although it has since been bought by a major parent organization called FAT Brands, the fast food burger chain still continues to heavily advocate for racial equality.
Article continues below advertisement
The Urban Vegan Kitchen
The Urban Vegan Kitchen is co-owned by Pamela Elizabeth, a Black chef who owns eight restaurants across New York City, including the famous vegan Blossom restaurants. The Urban Vegan is part restaurant and part lounge, and it highlights American Southern food, including staples like fried okra and plant-based burgers.
Article continues below advertisement
Jamba Juice (six locations)
Venus Williams is a spokesperson and a franchise owner for Jamba Juice, according to Everything Girls Love. The tennis player has opened six locations in the D.C and Maryland area, which she opened to inspire young people to make healthy choices.
"My goal is to help inspire our nation's youth to become more active and to make better dietary choices. As a recognized healthy, active lifestyle brand that offers simple menu solutions for eating right while engaging in healthy activities" she said.
Article continues below advertisement
Wingstop (nine locations)
Although Wingstop is owned by a major parent organization called Roark Capital Group, nine of the locations — which are mostly located in the southeast U.S. — are owned by Black rapper Rick Ross, according to Forbes.
"... the energy in here is always fun. It's always youthful. Not only that, you know they got my favorite lemon pepper wings in the world, so it's just a natural attraction," he said.
Article continues below advertisement
520 Wings
Southern-based wing chain 520 Wings was opened by Black entrepreneur and Savannah native Gary Mcfarlin Gordon back in 2011. The restaurant has two different locations — one in Gary's hometown of Savannah, and the other in Hinesville, Ga. Needless to say, if you're looking for something delicious and seriously spicy, 520 Wings won't let you down.
Article continues below advertisement
Tanorria's Table
While Tanorria's Table isn't a restaurant chain, it's a home-catering service created by Tanorria Askew, who appeared on Season 7 of Master Chef. Her brand brings homemade restaurant quality food, including ready-to-eat frozen meals and a slew of signature recipes, to food-loving custoemrs. The longtime chef also owns a cake mix company called Treats by Tanorria, which is a total a go-to for easy-to-make sweets.
Article continues below advertisement
Fenn Coffee
Fenn coffee has six retail locations throughout California markets, and the owner, Max Fennell, is considering running for the Menlo Park City Council, to hopefully work on local police brutality, according to PaloAltoOnline.
"If anything, this continues to wake something up inside of myself... I think people are frustrated. I'm frustrated," he said.
Article continues below advertisement
He's now asking himself: "Max, are you just going to post Instagram posts or are you going to give up the next four years and be in service for your community?" The aspiring politician, business owner, and triathlete said about working on police brutality. It goes without saying Max is determined to help drive change in his community.
Article continues below advertisement
Supporting Black businesses is — and has always been — essential. It's time for us to put our money where our mouth is, and bring business to each of these high quality chains.