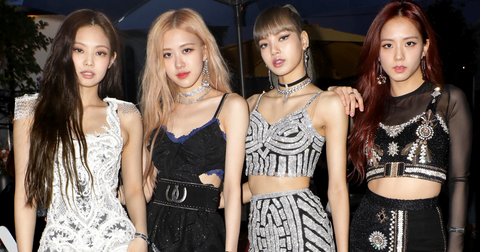 BLACKPINK to Release New Music in a Three-Stage Plan
By Devan McGuinness

Updated
Fans of BLACKPINK have been patiently waiting for a new album and one is finally on the way. Fans have been waiting for new music since April 2019 when they came through with "Kill This Love" EP. They took a year long break and now the K-Pop stars are releasing new music this summer. BLACKPINK's new song isn't titled yet but they're planning a three-stage comeback and so much is happening!
BLACKPINK's new song has been announced.
On June 9, YG Entertainment released a teaser poster for the upcoming new single in a tweet. It read "BLACKPINK COMEBACK TEASER POSTER. Pre-Release Single – 2020.06.26. 6PM." Yes a new BLACKPINK song is coming on June 26, but they haven't shared any details other than that. The company didn't share the title of the song, or any details on it's sound, or if it will come with a music video.
BLACKPINK's album is in the works.
It's been a long time since Jennie, Lisa, Rosé, and Jisoo released an album, but on May 19, YG Entertainment announced the plan for BLACKPINK's album. The album will be comprised of 10 songs and the agency teased a new song would be available early in the summer. "BLACKPINK's first beginning in 2020 will be releasing the pre-release title in June," the agency said. The first song, still untitled, is their first stage of their comeback.
"First of all, we would like to thank our fans for always supporting and showing love…," the agency said, according to METRO. "After long hours of work, we've completed recording over 10 tracks of BLACKPINK's new songs, which compose BLACKPINK's first official album."
The second stage of BLACKPINK's comeback is another single.
BLACKPINK is going to release a second single off their album in a "special format in either July or August," YG Entertainment said. There was a lot of speculation on Twitter over what the agency meant by "special format" with some wondering if it would be a big collaboration with another artist or group, like Ariana Grande.
What do you guys think the "special format" for BP second single in July/August will be?

— 🍒 Jennie Kim fan Edits (@KJenCams) May 23, 2020
Or that it might be an all English song.
I think the "special format" might be an all english song (which could also involve a collab.) YG marketed BLACKPINK in the US more with KTL and Coachella so it wouldn't be surprising for them to try to release another track aimed at that kind of audience@ygofficialblink

— ahgablink (@realgotpink) May 23, 2020
The third stage is the release of their full-length album.
According to YG Entertainment, the first full-length album from BLACKPINK will be released in September and fans will get to listen to the remaining 8 new songs.
"As it's a first studio album that [BLACKPINK] has been preparing for a long time, we hope to create more opportunities for the group to greet fans through performances and other content than in any year before through a three-step, multi-phased release," the agency said.
Reports also say that after the comeback album is released, Jisoo, Lisa, and Rosé all have plans to release their own singles, too.
BLACKPINK was recently featured on Lady Gaga's latest single.
Lady Gaga released a new single ahead of her new album "Chromatica" called "Sour Candy", which featured BLACKPINK. The collaboration earned BLACKPINK their first top 40 song on Billboard's Hot 100 list.
Stay tuned for more on their upcoming music!