More Than a Quarter Century After His Death, Bob Ross's Legacy Lives on
Bob Ross has never left the public eye, despite having passed over 25 years ago in 1995. He is survived by his son, Steve, but what was Bob Ross's cause of death?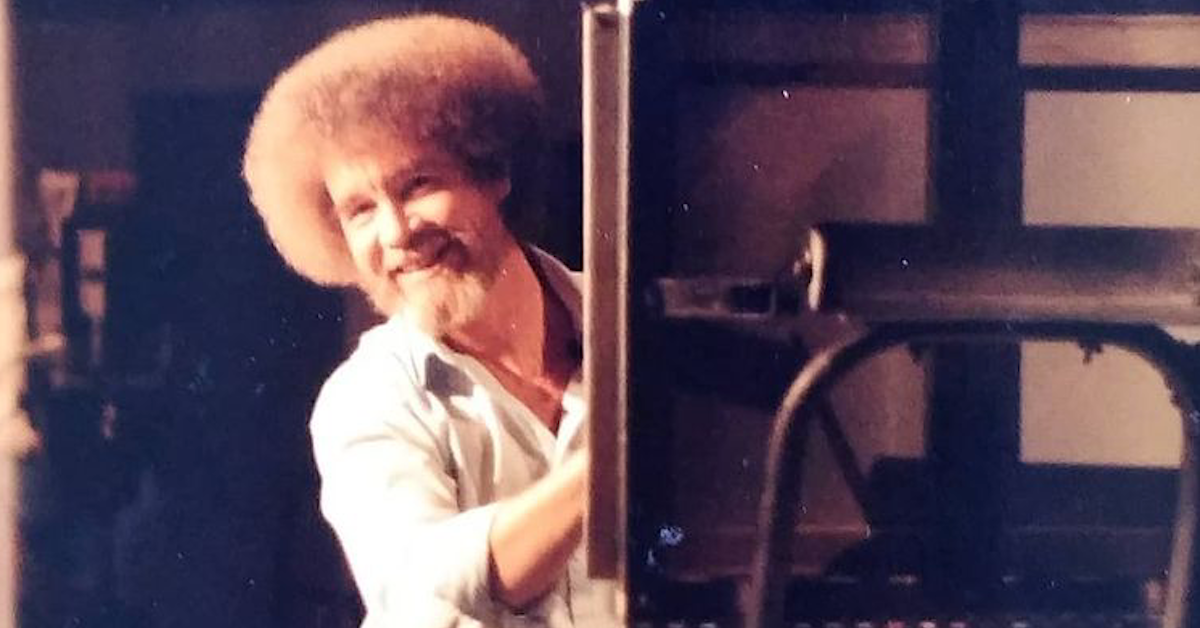 For anyone who had a television set in the '80s and '90s, painter Bob Ross needs no introduction. The smooth-talking artist taught viewers how to paint gorgeous landscapes in just the 30 minutes that his Joy of Painting episodes spanned.
Article continues below advertisement
Thanks in part to millennials' and Gen Z's obsession with ASMR, the TV painter has seen quite the recent resurgence on social media. You can even find bobbleheads, Chia Pets, and other branded trinkets that carried Bob Ross's signature bouffant hairdo and name.
Despite the fact that he's no longer with us (he died at 52 more than 25 years ago), there's no denying that the famous art teacher's nature-loving legacy lives on today. So, what was Bob Ross's cause of death? And who is his only son, Steve?
Article continues below advertisement
What was Bob Ross's cause of death?
Bob Ross died on July 4, 1995, at the age of 52. His official cause of death was cancer; specifically, complications from lymphoma. But because he was such a private person, few people outside of his close circle of friends and family members knew of his diagnosis.
Bob, who was married three times, had one child, a son named Steve. Steve is a Long Island Bob Ross instructor whom Bob largely raised as a single dad.
Article continues below advertisement
While Bob was known as a wet-on-wet painter and adopter of the "Wilhelm Alexander technique" that allowed him to crank out an oil painting in less than 30 minutes, most of his viewers tuned into his program to watch him bring to life "happy little clouds" and "pretty little mountains," rather than learn to paint.
Many audience members also tuned in just to hear him speak. Bob's New York Times obituary even compares the painter's soothing voice "to Demerol," and writes that the TV artist's "folksy demeanor eventually came to be interpreted as a kind of reverse chic," which might explain his long-lasting popularity. At one point, MTV even hired him to star in a series of commercials.
Article continues below advertisement
Who is Bob Ross's son, Steve?
Frequent viewers of The Joy of Painting might remember Bob's son, Steve, who made his debut on the final episode of the first season, and continued to make occasional appearances throughout the course of the show.
Article continues below advertisement
Steve was heralded as the next Bob Ross: He was a certified Bob Ross instructor and traveled across America to share his father's painting techniques and secrets, showing audiences how to paint landscapes that were almost as good as his dad's.
But after Bob died in 1995, Steve retreated from the public eye, and according to All That's Interesting, it would take the painter's son nearly a quarter century to stand before an easel again. In 2019, Steve organized a painting workshop that seemed to breathe life into a new chapter of Bob Ross's legacy.
"I didn't realize that people missed me or wanted to have me do this again," Steve shared with The Daily Beast in a long-form article that covers the deceitful and scandalous aspects of Bob Ross's life, which will be covered extensively in the upcoming Netflix documentary Bob Ross: Happy Accidents, Betrayal & Greed. "I always knew," Steve continued, "but what I mean is, maybe I didn't want to know. Maybe I reserved the right to remain ignorant."
Bob Ross: Happy Accidents, Betrayal & Greed premieres on Netflix August 25.