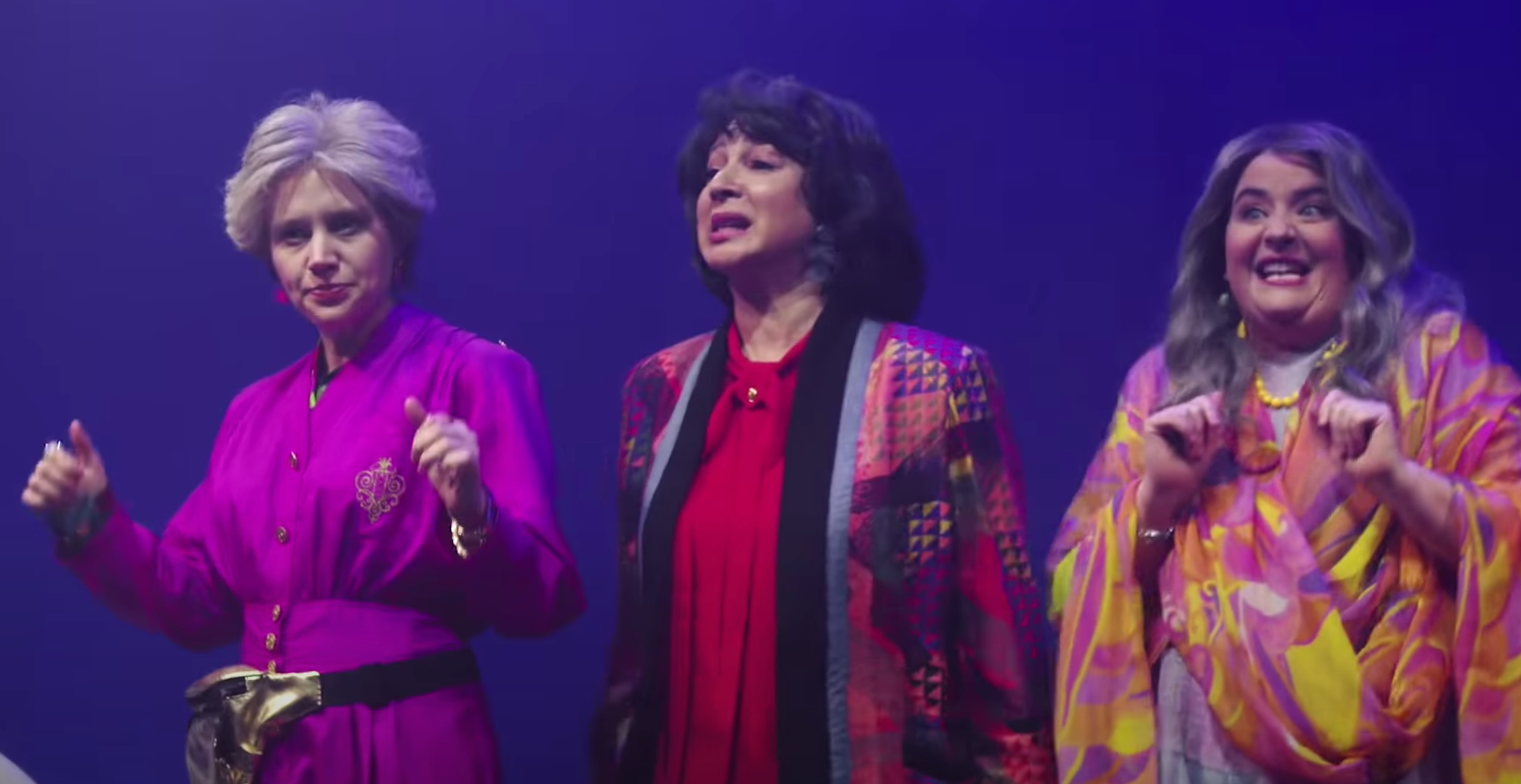 'SNL's "Boomers Got the Vax" Is Already the Jam of Everyone Waiting Their Turn
The jam of the year dropped on March 27, courtesy of Saturday Night Live'. "Boomers Got the Vax" is a satirical rap/skit that's all about how Baby Boomers were the first in line (after health care workers and the elderly) to get the vaccine — even though some of them actually downplayed COVID-19 and voted for Trump (who downplayed COVID-19).
Article continues below advertisement
The SNL song pokes fun at the fact that, unlike Gen X, Millennials and Gen Z, Boomers fully reap benefits like graduating from college with little to no student debt, being able to collect Social Security, and having things like pension plans. And now, of course they're one of the first groups to be eligible for the COVID-19 vaccine (while the rest of us continue having sad Zoom happy hours and re-watch all the Marvel movies on Disney Plus).
Article continues below advertisement
Even though Boomers have arguably been the cause of the U.S. economy crashing several times ... yes they're still getting the vaccine first.
"Baby boomers, greatest generation / got all the money, now we got the vaccination / Crash the economy three whole times / but when it comes to the vax / we the first in line. / Voted for Trump but just for the taxes / don't believe in COVID / still got the vaxes," are some of the lyrics.
"Boomers Got the Vax" is the song we've all been waiting for.
SNL's "Boomers Got the Vax" stars Maya Rudolph, Kenan Thompson, Kate McKinnon, Aidy Bryant, Mikey Day, Chris Redd, Ego Nwodim, Melissa Villaseñor, and Kyle Mooney, who all dress up as Boomers taking the country by storm now that they have their COVID-19 vaccine. Ahead of everyone else.
Article continues below advertisement
The internet is obsessed with the song. "Boomers got the vax is a bop," one person tweeted.
Article continues below advertisement
"'Boomers Got the Vax' is the hit of 2021 already," another Twitter user pointed out.
Article continues below advertisement
One person stated, "I love the jaded millennial writing staff over at @nbcsnl. I feel so seen." It's true. After over a year of pandemic life and patiently waiting for a vaccine, vaccine FOMO (also called "vaccine envy") is a real thing.
Article continues below advertisement
Even Boomers like the song! "Wow — SNL nailed it with 'Boomers Got the Vax' last night. I'm a Boomer, but I don't gloat," one Boomer wrote on Twitter.com.
Article continues below advertisement
In all seriousness, most of us are happy and grateful that older parents and grandparents are able to get vaccinated so that they can finally visit family members with less risk. This means that we're likely able to celebrate Halloween, Thanksgiving, Christmas, and Hanukkah together this year. Some people have gone over a year without seeing their parents and grandparents, so we're obviously thankful the vaccine has made socializing possible again.
The New York Times reports that most states will be able to offer vaccinations to all age groups by May 1, which is what President Biden had promised the country. The eligibility rules vary state by state, but it's likely that you'll be able to book an appointment to get your vaccination soon.
Sure, you might be annoyed as you hit the refresh button on your local pharmacy's site as your Trump-voting Boomer aunt informs you that she's already gotten the vaccine, but hey. That's life.