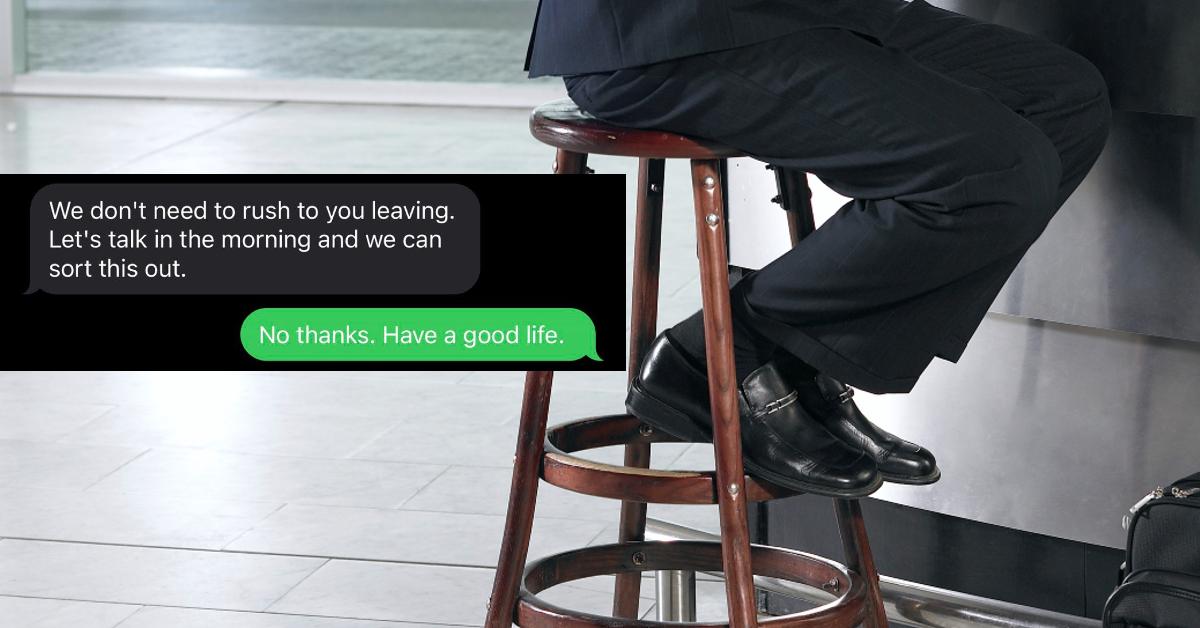 Over-Performing Employee Immediately Quits After Boss Scolds Them for Sitting
An over-achieving employee immediately quit their job after their boss tried to chew them out for sitting down at work.
Arbitrary rules are almost always a nuisance, especially when their implementation has no bearing on whether or not an employee can perform their job duties satisfactorily.
This has been a huge topic of discussion in the remote working vs returning to the office debate, with many folks stating that if they can do their work from home and get all of their tasks done, then they shouldn't be expected to commute to an office to sit down and perform the same functions.
Article continues below advertisement
One Redditor, @hestolemysmile, experienced a situation where they were subjected to the ire of their boss for "violating" an arbitrary rule: their boss tried calling them out for sitting on a stool at work despite their exceptional performance.
OP shared a screenshot of the text conversation they had with their boss, who initiated the discussion about them sitting down while at work. Their boss wrote: "Good evening [redacted] I was reviewing the cameras from our shift today and noticed that you were sitting on a stool for the majority of your shift."
Article continues below advertisement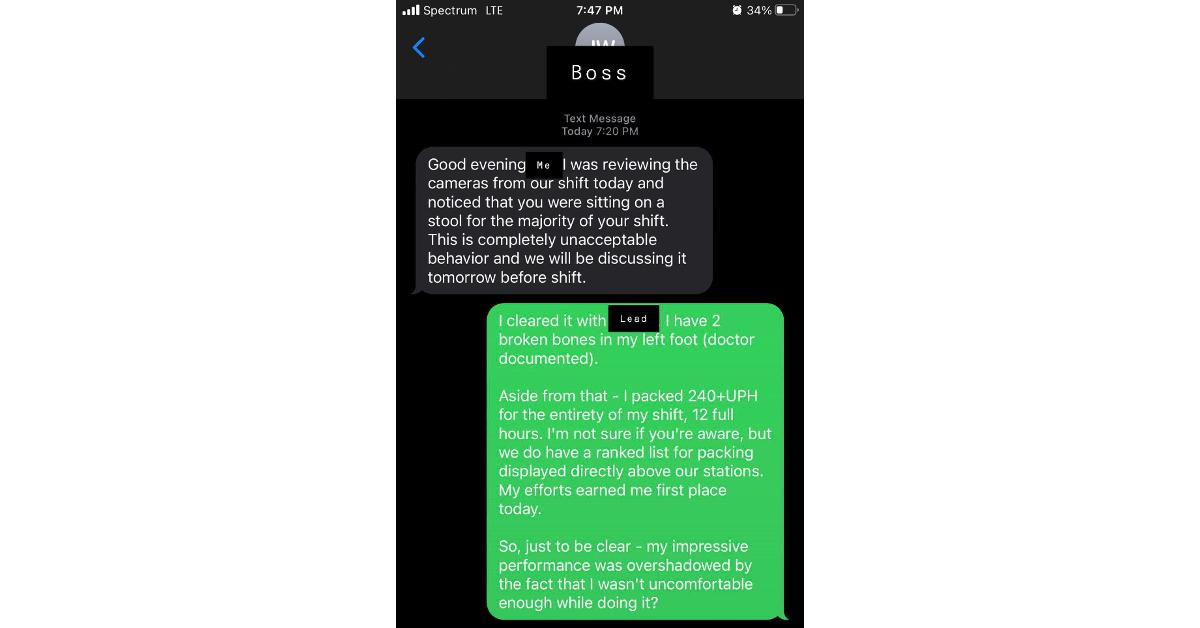 Their boss continued, stating that they weren't too keen on the fact that they decided to take a seat while on the clock: "This is completely unacceptable behavior and we will be discussing it tomorrow before shift."
Article continues below advertisement
While there are some people who would be gutted at the prospect of not being able to keep their job, even if it was one packed with rules and stipulations they couldn't stand, like being reamed by their boss for sitting down, OP was quick to tell their supervisor how they really felt.
They responded in text that they had broken bones in their foot, which they had a doctor's note for: "I cleared it with [redacted] I have 2 broken bones in my left foot (doctor documented."
Article continues below advertisement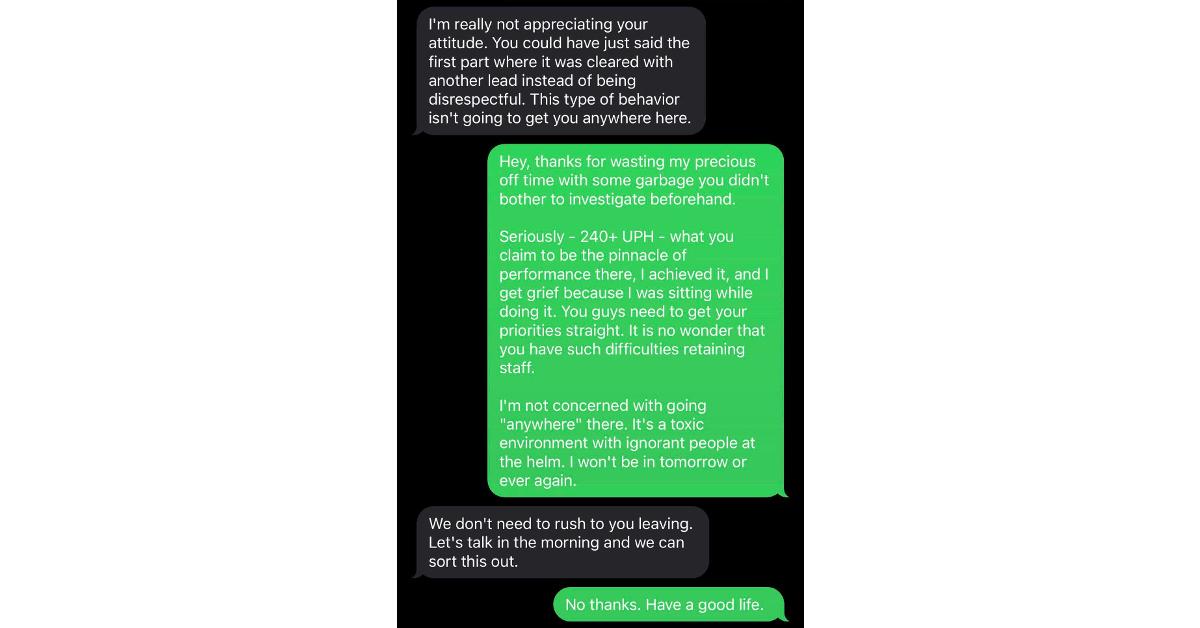 OP also stated that it was unfair of their supervisor to expect them to stand uncomfortably just because of the arbitrary chair rule, especially since they were able to satisfactorily perform their job duties well.
Article continues below advertisement
They continued, "Aside from that - I packed 240+UPH for the entirety of my shift, 12 full hours. I'm not sure if you're aware, but we do have a ranked list for packing displayed directly above our stations. My efforts earned me first place today."
OP went on to question what their boss' issue was with them sitting on a stool, especially because they ranked first in productivity for the work day: "So, just to be clear - my impressive performance was overshadowed by the fact that I wasn't uncomfortable enough while doing it?"
Article continues below advertisement

Their boss went on to say that they weren't too jazzed about the way they were talking back to them and highlighting the facts of their on-the-job performance, no matter how true it was: "I'm not really appreciating your attitude. You could have just said the first part where it was cleared with another lead instead of being disrespectful."
Article continues below advertisement
They continued, "This type of behavior isn't going to get you anywhere here."
Most people would've probably just ended the conversation there, but OP continued, going off on their boss: "Hey, thanks for wasting my precious off time with some garbage you didn't bother to investigate beforehand."
They went on with their text: "Seriously - 240+ UPH - what you claim to be the pinnacle of performance there, I achieved it, and I get grief because I was sitting while doing it. You guys need to get your priorities straight. It is no wonder that you have such difficulties retaining staff."
Article continues below advertisement

OP capped off their message with their resignation: "I'm not concerned with going 'anywhere' there. It's a toxic environment with ignorant people at the helm. I won't be in tomorrow or ever again."
Article continues below advertisement
Their boss didn't appear to be in a rush to have them leave and tried to keep them around: "We don't need to rush to you leaving. Let's talk in the morning and we can sort this out."

Article continues below advertisement
But OP remained firm in their resignation: "No thanks. Have a good life."
Redditors who saw their post thought it was ironic that OP's boss would castigate them for sitting on the job, probably because they were more than likely sitting down when they watched the security cameras.
"I wonder if boss man was sitting on a stool when he was reviewing the CCTV footage."
But someone else said: "They were not sitting on a stool. They were sitting on a $3000 executive office chair. With lumbar support"