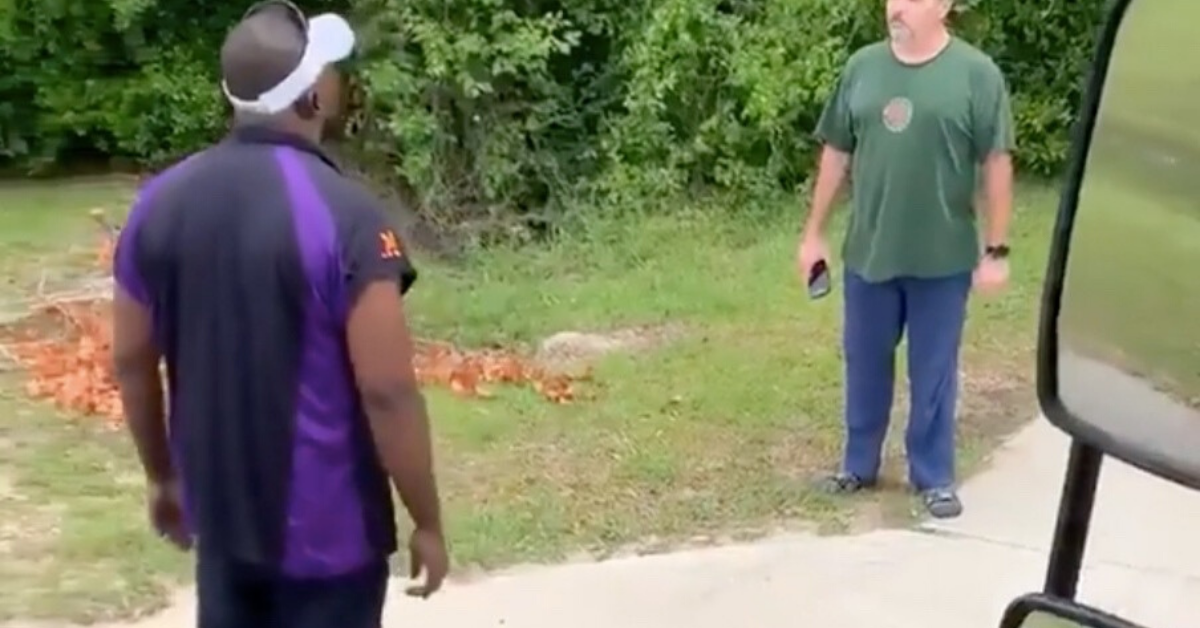 FedEx Accused of Firing Employees Who Recorded and Shared Encounter With Racist Customer
The world is full of all types of tension right now and sometimes it feels like it's getting worse and not better. FedEx is at the center of some major criticism after an employee was allegedly fired after posting an encounter with a man whom he was delivering a package to. A major call to boycott FedEx is starting because of a viral video of the standoff.
Article continues below advertisement
The video was posted online, and people are calling to boycott FedEx for firing the driver.
The clip was recorded by a man named Antonio and goes by the Twitter username, @Toniob38. In the tweet, it sounds like the clip was previously uploaded, taken down, then uploaded, but it's not clear. He wrote, "Update FedEx called and told me to take down this video and fired both of us Today."
The tweet continued, "I'm reposting this video because people like him doesn't matter white or any race should never disrespect essential workers putting their lives in jeopardy especially with this covid-19."
Article continues below advertisement
In the clip, a FedEx worker, who reportedly is named Felinzay, is talking to a man who is standing in front of his FedEx truck. "You didn't have to come out there cussing me like that, like I'm some child," he says in the video. "I ain't no little boy. I'll wait till the police come."
Article continues below advertisement
The white man is also recording, but that video, to our knowledge, hasn't been made public.
The FedEx worker clarified what happened before that led to the viral video.
"Back story All we did just delivered his package," Antonio tweeted. "Mind you he was in the house it was quick stop as soon we were leaving he ran out his house cursing and threatening us and we just apologized but he kept escalating the situation then kept saying he would whoop out black asses [sic]."
And things just escalated from there.
Article continues below advertisement
"That's when we told his wife to get the police on us.. that's when he kept following us then he pulled out his phone to record us and start playing the victim role we drove off at first but they yelled 'f**k y'all,'" the tweet read.
Article continues below advertisement
The FedEx employee started to record the encounter at that point.
"So we stop the truck and that's when i started recording the incident," Antonio continued in another tweet. "After the video the police came and we told our side of the story & the man said to the police 'they look like they would've broke into my house while my wife is there' the white dude was lying the whole time."
The FedEx workers say this type of stuff happens to them all the time.
"Mind y'all we go through this all the time he was the first to actually come at us crazy and all we doing is our job we Work 6 days out the week to deliver these packages during this coronavirus going on," he tweeted.
Article continues below advertisement
Both FedEx workers say they were fired from their job over this viral video.
According to a GoFundMe that has been started for Antonio and Felinzay, both men were fired from their jobs at FedEx. "These funds will be given to the two employees seen in the video who are now out of a job," the fundraiser reads in the about section. "We've spoken to both former employees and they will be grateful for any type of support as they transition to finding a new job."
Article continues below advertisement
People immediately called for a boycott of FedEx over these men getting fired for putting up with being treated this way.
"Can @FedEx put out an official statement into the dismissal of 2 employees after they filmed themselves being harassed and discriminated by a customer?" one person tweeted. "What were the grounds of this dismissal?"
Another said, " Y'all are trash and racist ! I'll continue to find other ways to get my parcels shipped to me @UPS @amazon @USPS @DHLUS will always be available!" tweeting to FedEx directly.
Article continues below advertisement
"From now on, if I need a package delivered overnight, I'll be using the USPS instead of FedEx," another person tweeted. Adding," We DON'T NEED FedEx to fire Black guys for standing up to racist jerks" and including the hashtag #BoycottFedex, which now has several thousand tweets pointing to this incident.
Article continues below advertisement
The local sheriff's office confirmed to CNBC that the Leesburg Police Department responded to the incident, though they could not be reached for comment.
FedEx told the publication in a statement that the drivers had been employed by an independent service provider. FedEx confirmed with the contractor that "the drivers are no longer providing service on behalf of FedEx Ground."
FedEx said that they take any allegations of discrimination, retaliation, or improper employment actions seriously and would "be conducting a thorough investigation into these claims."
"While we conduct this investigation FedEx will provide employment for these drivers," the company said.