This Woman's Boyfriend Seems Too Close to Her Best Gal Pal
Men and women can be in a platonic relationship, but sometimes it seems like more is going on. This boyfriend and his best friend are too close.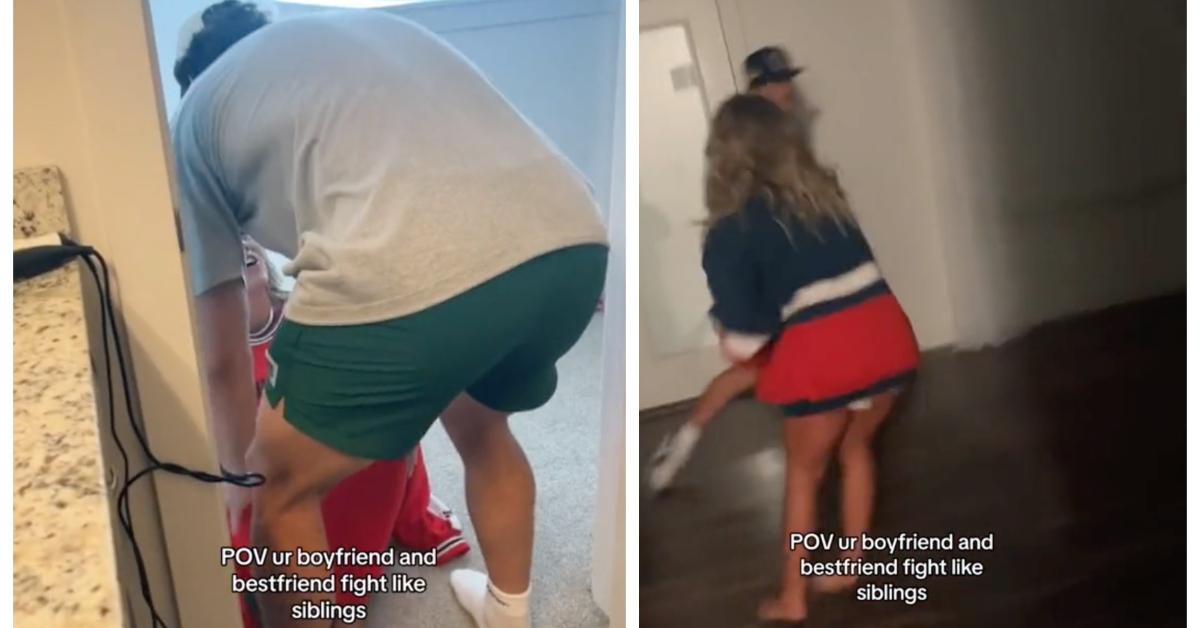 It's hard to believe in love when the messaging in movies, TV shows, and songs has taught us that treachery could be lurking around almost every corner. To make matters worse, sometimes the cheating happens close to home. Take a listen to Rick Springfield's "Jessie's Girl," for example. He literally sings, "I wish that I had Jessie's girl." Jessie is his friend! Well Rick you don't, so maybe move on.
Article continues below advertisement
What if instead of falling for your best friend's girl, he fell for your best friend? Courtney Ebeling, who goes by @courtneyebeling on TikTok, posted a video showing all the times her boyfriend and her best friend got into hilarious fake fights. And while it looks like two siblings going at it, it could also be two unrelated people who are secretly really going at it. As Biz Markie once sang, "And you say he's just a friend." Well, is Courtney's boyfriend just friends with her best gal pal?
Courtney's boyfriend is way too close with his best lady friend.
Article continues below advertisement
As she nearly tumbles out of the vehicle, the best friend groggily says, "Why would you do that?" As Branson laughs at his own "joke," he tells his buddy the plan was to catch her. We need that classic butterfly meme here.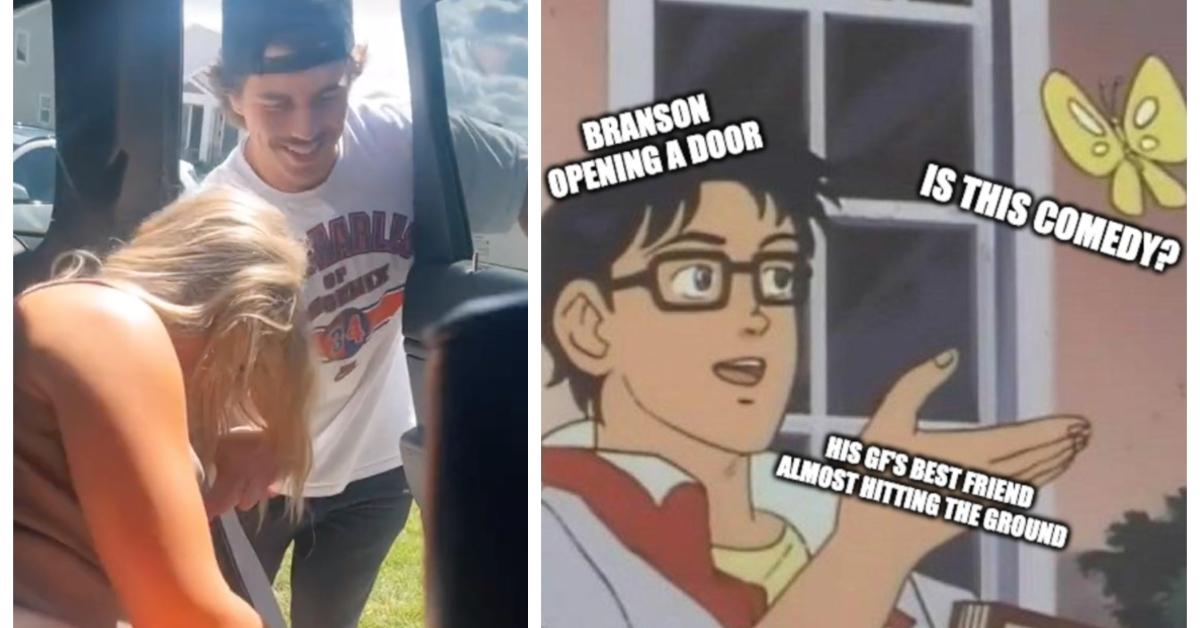 Article continues below advertisement
We are then treated to a series of events that involve Branson and Courtney's best gal pal being gently abusive to each other. First, he's holding one of her legs in the air as she throws a roll of toilet paper at his head.
Next, Branson pushes Courtney's friend as she's tying to walk upstairs, which results in said friend chasing Branson around the house. While this is happening, the best friend is wildly swinging her arms in an attempt to hit him or perhaps take flight so she can leave the situation.
Article continues below advertisement
More footage of this girl attempting to hit Branson follows until a new person enters the chat. In one clip, Branson and another boy are holding the best friend while she struggles to get away. She's laughing the entire time, but what else does one do when being held between two larger dudes? Perhaps if this was video of a single moment, things would look different. However, these two just can't leave each other alone.
Article continues below advertisement
People are pretty sure Branson and Courtney's best friend are sleeping together.
So many people referred to this TikTok as a "canon event," that we're pretty sure the replies are also a canon event. For those not in the know, a canon event is a life-changing moment. If Courtney's boyfriend and best friend are stepping out together, that would certainly alter her life. To one user who suggested this, Courtney replied, "Ain't that hard when I'm secure in my relationship."
Social media sleuths who found Branson's Instagram took note of the fact that upon discovering it, he only followed women. As of the time of this writing, that has changed. People in the comments pointed out that he now follows men. His bio also reads, "@courtney.ebeling's boyfriend," and links to her Instagram.
Article continues below advertisement
One thing is for sure, almost every single person who has commented on the TikTok believes there is more between Branson and Courtney's best friend. It's almost overwhelming.