A Woman's Story of a "Friend" Who Always Charges for Guacamole Turns into a Cult-Like Saga
A woman's friend charged her for sharing guacamole, but it wasn't an even split. TikToker Nina Blu shares the true story of "Maddie."
Imagine this—you're out to lunch with a friend, and she asks if you want a bite of her guacamole. After saying your goodbyes, she hits you with a Venmo request for half of the guacamole. It's a Curb Your Enthusiasm-esque premise, but this is the real life of TikToker Nina Blu first shared the story in a comment that has since garnered over 2000 likes on a Tyson Wong video. So she decides to tell the story of her friend, "Maddie."
Article continues below advertisement
Tyson's video calls out rich people who "cosplay" as poor. So Nina commented, "I one time got lunch with a friend who just spent $3000 shopping and then Venmo requested me $3.50 for the guacamole we shared." At first glance, it doesn't seem that outlandish. But Nina's story on TikTok of her "friend" who repeatedly charged her for guacamole takes an unexpected turn.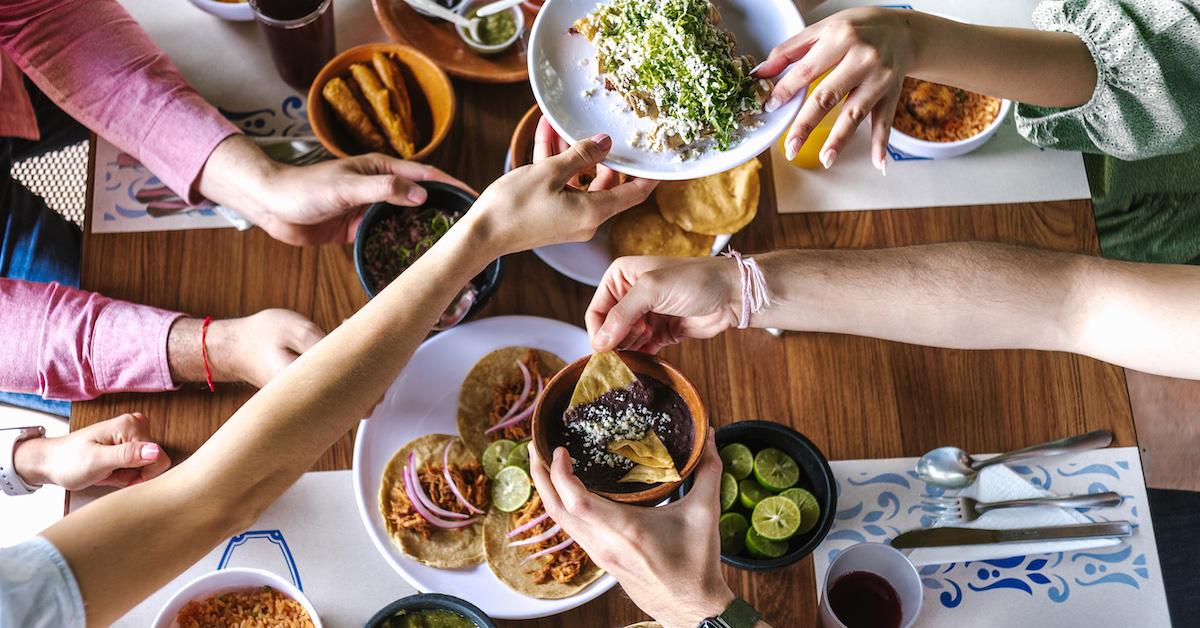 Article continues below advertisement
Nina spills the tea on her friend who repeatedly charged her for sharing guacamole, even if she only took a bite.
Nina begins a multi-video saga about Maddie (a fake name given by Nina to protect her identity) by saying, "Maddie was like the biggest pick me I've ever met in my entire life." For those who don't know what a "pick me" is, it's a term used to describe a girl or guy who tries to get attention from the opposite sex. A girl who says, "I'm not like the other girls," is basically the epitome of a "pick me." So we have a bit of an idea of who Maddie really is.
"I met her through my high school friends while we were all in college and honestly she drove me absolutely bonkers," Nina continued. "And all my friends were like, 'No, she's really sweet, just give her a chance.' I did give her a chance and she wound up for several years becoming one of my very best friends. She's very sweet and very thoughtful, and those were her best and most endearing qualities, but we are no longer friends for a number of reasons."
Article continues below advertisement
"Anyway, so Maddie would always talk about how poor her parents were while she was growing up and how they had pulled themselves up by their bootstraps," Nina shared. "She was also very deeply conservative. She would talk about how her cousins used to make fun of her for wearing Payless shoes. And since I had known her I had never seen her in any other shoe than a Ferragamo."
Article continues below advertisement
Now that we know more about Maddie's background, Nina dives into the guacamole story. Their group of friends would regularly get Mexican food because they live in Texas, and "Maddie would start by saying, 'Who wants guacamole? I will pay for it.'" There it is! If she offers to pay, then that's the end of it—no Venmo request necessary.
Article continues below advertisement
Even still, she repeatedly did this until Nina and her other friends caught on. Nina said she one time even got a $.75 Venmo request for her share of the guacamole. Every person's situation is different, and obviously splitting meals should come with a charge if that's what's agreed upon, but if Maddie is saying she'll pay for it, then her continuous Venmo requests are a red flag.
Eventually, Nina and her friends stopped agreeing to share guacamole with Maddie, but Maddie would then order it for herself anyway. She'd then ask her dinner pals if they wanted a single bite, and would still charge them for half of the guac even though they only had one bite! Maddie sounds even more extra than Chipotle's charge for guac.
Article continues below advertisement
Nina's saga about Maddie and the guacamole charge ends with an unexpected twist.
In the final moments of Nina's first video about Maddie, Nina says, "She was extremely materialistic. And that actually kind of went away a little bit when she joined this cult-like sect of Christianity." We're sorry, what?! Yes, the girl whose "regular dilemma was, 'Do I go to Prada or Louis Vuitton today?'" joins a Christian cult.
Luckily, we've watched Nina's remaining videos about Maddie and learned quite a bit about their friendship. The two of them grew so close that Nina's mom would keep snacks in the house that she knew Maddie liked. After a bad breakup, Maddie ended up in "the most toxic single girl phase" which left her friends extremely worried about her. Just as they were going to have an intervention, Maddie "found Jesus."
Article continues below advertisement
So, Maddie went on a mission trip and came back more kind and generous than ever. So Nina decided to come out to Maddie as a queer woman, but Maddie had such a negative reaction that Nina decided to stay closeted for another three years. Maddie continued going on mission trips that were funded by donors, but the trips turned out to be conversion missions rather than community-building. While on the trips, Maddie even blogged negatively about her former friends.
There are some other pretty harrowing details, but at the end of the day, Maddie and Nina are no longer friends, which is all that matters. No more unnecessary guac charges for Nina!