Server Admits Pretending to Support "Blue Lives Matters" Got Her a Bigger Tip
A TikTok user posted a clip with her and her friend laughing at the fact that she "finessed" a Blue Lives Matter supporter to get a larger tip.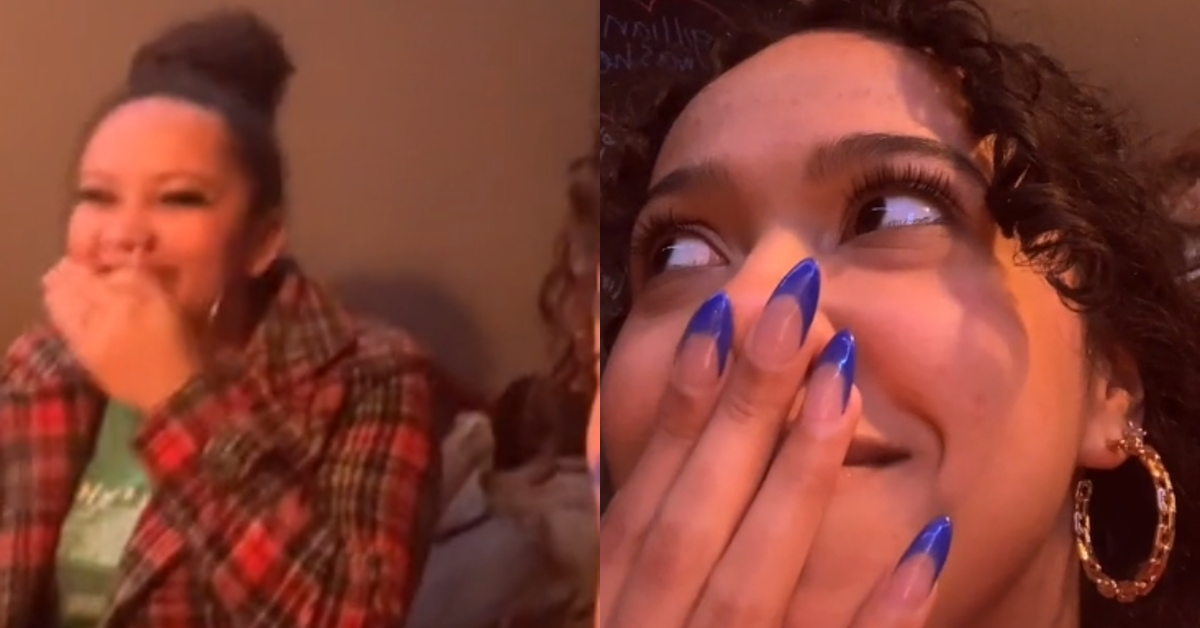 In the US there are tons of food service workers who rely on gratuities from customers in order to make a livable wage. This means that a lot of servers feel the need to walk on eggshells when it comes to their interactions with whoever they're waiting on to ensure that they've got the highest possible chance of securing a fat gratuity.
Article continues below advertisement
It's not uncommon for folks to adopt a "work persona" when they're at their jobs in order to more smoothly operate and interact with customers and coworkers, but a recent TikTok from Victoria Taylor (@itsvickytay) struck a nerve with servers specifically when it comes to agreeing with diners' opinions even if they don't exactly gel with their own.
In the clip, two women can be seen giggling with a text overlay that reads: "when she agreed with a blue lives matter mf she was serving at her table and got a $25 tip out of it."
Article continues below advertisement
In the caption for the video, Victoria wrote, "the mans bill was only $50, and that's on code switching" and added "#blm" and "#codeswitch" hashtags to indicate that no, they in fact did not support the Blue Lives Matter philosophy.
Article continues below advertisement

"Blue Lives Matter" began trending in response to the Black Lives Matter movement around the time NYPD officers Rafael Ramos and Wenjian Liu were murdered in Brooklyn, NY in December of 2014. The movement is believed to have been the impetus behind the state of Louisiana categorizing attacks against police officers, EMS workers, and firefighters as hate crimes.
Article continues below advertisement

In September 2015 some 100+ officers in Los Angeles rallied in Hollywood to "show support for the department at a time when. . .the ambush killings of police officers in cities elsewhere have left authorities across the nation feeling under siege."
The laws passed in the state of Louisiana incurred additional penalties for those found guilty of hate crimes against police officers and other emergency personnel.
Article continues below advertisement

Misdemeanor offenders will receive an additional $500 fine and up to six months in prison, whereas those convicted of felonies will be charged up to $5,000 in fines and a maximum additional sentence of 5 years in prison.
Article continues below advertisement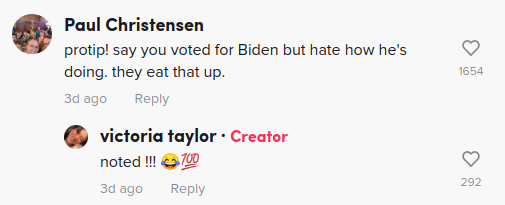 Many commenters who saw Victoria's post expressed that they understood where she was coming from. One TikTok user who goes by dta wrote: "like coco jones said 'yes i did that, and you would do it too for a check.'"
Other servers said that they generally agree with customers just to keep their interactions at work pleasant.
Article continues below advertisement

User @boemig writes, "As someone that hates conflict, I generally tend to just agree with the customers so they'll stop talking and I've gotten a few good tips out of it."
And Paul Christensen also said, "protip! say you voted for Biden but hate how he's doing. they eat that up."
Article continues below advertisement

Another said they are more than willing to "switch up for one min FOR THAT MONAYYYY" when it comes to placating Trump supporting customers who "take care of me."
What do you think? Is it disingenuous on the servers' parts? Or is it totally understandable given the fact that they're trying to earn a living?