Amazing Boyfriend Built This Floor-to-Ceiling Mug Wall for His Mug-Loving Girlfriend
Anna Stanowick went viral when she tweeted a picture of the mug wall her mom's boyfriend built for her. This is what real support looks like!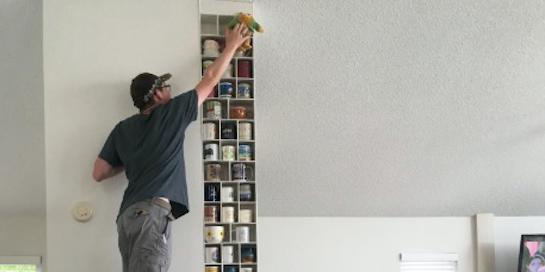 Sure, the future is female, and young women are demanding more than ever to be treated equally and with respect. But older women also deserve for their situations to change. And that's exactly what happened for Anna Stanowick's mom.
Article continues below advertisement
You see, Anna's mom likes to collect mugs. (Who doesn't? Mugs are the best!) And Anna explained, in a now-viral tweet, that her dad used to get super mad every time her mom brought home a new mug. But Anna's mom has a new boyfriend. And Anna's mom's new boyfriend is so supportive of Anna's mom's collection, he built her a whole wall, just for her to display it.
Article continues below advertisement
This is exactly why we don't settle for loser boys! Good boyfriends (or good partners of any gender) support and nurture their significant others, even in things like their mug-collecting habits, instead of complaining about them or putting them down. Let's take a closer look at what's happening in this photo.
Article continues below advertisement
Take note, guys. The man is on a ladder, folks. A ladder! He built perfect shelves for these mugs, some bigger than others, because he was clearly aware that the mugs in his girlfriend's collection varied in size.
This heartwarming post prompted others to share stories of their moms finally learning what it's like to have a supportive partner. These women have worked too hard for too long taking care of their husbands in addition to their actual children, and they deserve all the royal treatment in the world.
Article continues below advertisement
Honestly, Leslie's mom should never have to do anything around the house ever again. She should be the one who gets to sit down, put her feet up, and have a partner who brings her sandwiches and beers, does her laundry for her, and makes sure the entire household runs smoothly.
Article continues below advertisement
This is 100 percent right. Your partner should encourage your education and your hobbies and let you be yourself. BRAG TIME: When I started doing pottery more seriously, my fiancé went to Ikea and built me a whole shelf / cabinet situation for my work, complete with lamp lighting and a backdrop for taking pictures for my website. He did this all as a surprise for me while I was out of town.
Article continues below advertisement
This is the kind of support that all women deserve in their relationships. This is what women should expect from their partners; anything less is not OK. Not only was Anna's tweet a sweet statement about her mom's new boyfriend, but it was an acknowledgement that times are changing and women of all ages deserve to benefit from these new standards.
Article continues below advertisement
But that's not where this story ends. People all over Twitter started noticing another hilarious layer in the photo that Anna posted. Turns out, her mom really likes frogs.
Article continues below advertisement
This frog mug was staring straight at us from the very beginning, and we didn't notice. If you ask me, it seems really happy to have found a new home on this shelf. But that's not where the frog stuff ends...
Article continues below advertisement
There's another frog mug! Anna spoke to BuzzFeed about her mom's love of mugs and frogs. "Her mom got her a frog mug when she was little and it broke," Anna said, "so since then she has just been trying to replace the original one and it quickly became an obsession."
But Anna's frog obsession doesn't stop with mugs...
Article continues below advertisement
If you'll notice here, Anna's mom is holding on to some frog stuffed toys that seem to be making their way up to the top of the mug shelf, which led people on Twitter to ask the next important question concerning Anna's mom's collections.
She has the mug wall...next up is a stuffed animal wall for all of Anna's mom's frogs. Obviously, the lesson here is that you may kiss a bunch of frogs before you find the prince that will build you a wall specifically for your frog-themed merchandise. But it will be totally worth it when you do find the one.