"Jealousy Is Eating Me Up": Woman Finds Out Her Boyfriend Cheated on Her With His Dying Friend
A woman discovered that her boyfriend cheated on her early in their relationship — with a dying friend who had a crush on him. Keep reading.
Cheating on a partner is still, for the most part, a big no-no in most social circles. For some, an unfaithful partner is the boldest, brightest red flag they could have, though many men and women have stayed in relationships where the person they loved cheated.
Article continues below advertisement
In September 2023, one woman debated leaving her boyfriend after discovering he cheated on her early in their union — with his dying friend. Yeah, girlie has a big decision to make.
Keep reading for the entire, almost unbelievable story.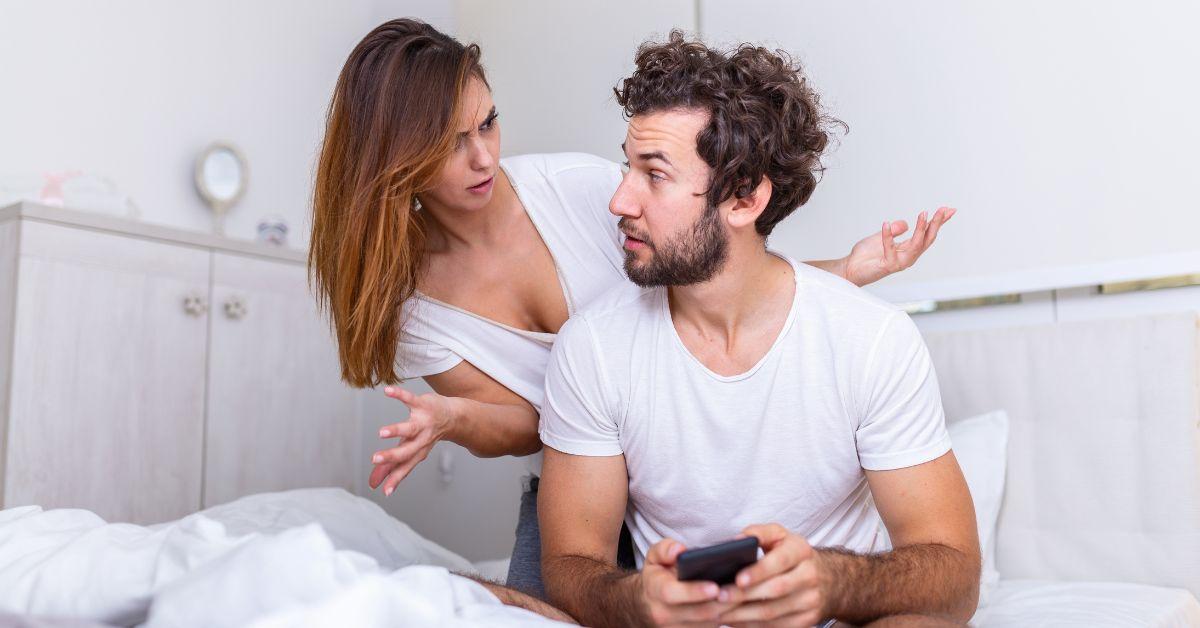 Article continues below advertisement
What are friends for???
Unfortunately, many of us have experienced being cheated on and have the playlists and voodoo dolls to prove it (KIDDING! Or am I?). However, I'm pretty sure most of us probably haven't had the dilemma that Reddit user @WhiteSeal9723 described when she asked the platform for some advice.
In the message board's "relationship advice" thread, the OP said she had recently discovered from a mutual friend that her boyfriend cheated on her with his terminally ill friend. According to OP's boyfriend, the friend had a "secret crush" on him and asked him to have sex with her as a dying wish. Despite the boyfriend being in a full-blown relationship with OP, he obliged and had sex with his friend during a beach trip with the rest of their friends.
Article continues below advertisement
Sadly, OP mentioned that the friend eventually died from her illness in March 2022. She said her boyfriend had become "mentally unwell" by his friend's death and hadn't been taking it well over the last year. While she initially thought her boyfriend was innocently mourning his friend, the news of their being intimate made her look at the situation with new eyes.
Article continues below advertisement
"This jealousy is eating me up," OP admitted on Reddit. "They totally had emotional sex because of her condition. I don't even know who initiated it. It was probably something like how she didn't want to die a virgin. My boyfriend and I had never even had sex all the way then. To clarify, he didn't lose his virginity to her, but she did lose her virginity to him."
Article continues below advertisement
The OP said she and her boyfriend's relationship was "perfect" — if you remove his wildly inappropriate betrayal.
OP continued stating she wasn't sure if she should confront her boyfriend about betraying her by sleeping with his friend before she died. The user said they "have an otherwise perfect relationship" outside of his infidelity, and she considers him a "good boyfriend."
Because things were fine between them before his unsettling news, OP considered keeping the issue to herself and sticking beside her man. However, many fellow Redditors advised her to leave him and move on. Others suggested she tell him she knew what happened so they could move forward in their relationship.
Article continues below advertisement
"Talk all you want; the fact is, however 'great' this guy is, he was unfaithful to his partner. Now, OP may well be OK with this because he is good in different areas, but for me, this is the foundational layer of a relationship, and if the opportunity came up again, I think the partner in question would be happy to do the same again," one user commented.
Article continues below advertisement
"You know. It's eating you up. You need just to talk it out," another advised. "And by talk, I mean you're going to have an emotional outpouring. Then decide what to do when you both have had your say."
Article continues below advertisement
After listening to fellow Redditors, the girlfriend confirmed she's staying with her boyfriend.
Two days after posting her Reddit, OP provided invested readers with where she and her boyfriend stay today. Long story short, sis is "gonna sticking beside him" and will try to move past his seemingly sole negative attribute.
Article continues below advertisement
In her update, OP said she confronted her boyfriend about not telling her about the infidelity himself. He said he wasn't attracted to the friend at all and "regretted it immediately" after getting dumped. The user also said she wondered if the sex with the friend was consensual and suggested the friend used her unfortunate circumstance to seduce him.
While we may never know what really happened between OP's boyfriend and his friend, she stated in her post that she trusts him and believes he "genuinely thought he was doing his friend a favor." The OP also said they are "experiencing the consequences of that action now, but I know that it didn't come from a place of malice."
If you need support, call the National Sexual Assault Hotline at 1-800-656-4673 or visit RAINN.org to chat online one-on-one with a support specialist at any time.