Woman's Boyfriend Wardrobe Social Experiment Works Every Time — And Delights the Internet
A woman's social experiment in which she uses a simple hack to influence what her boyfriend wears has gone viral, gaining a loyal viewership.
How influential are girlfriends in deciding what their boyfriends wear? Well, let's just say at least one TikTok creator, who shares content using the handle @juddlymillie, is really the only factor dictating how her boyfriend dresses each day.
Article continues below advertisement
The creator, Millie, shared a hilarious social experiment in which she determines her boyfriend's shirt choice each morning.
All she had to do was employ a simple hack to influence her other half to pick a certain top. Read on for details.
This wardrobe hack decided exactly which two shirts a boyfriend would choose between each day.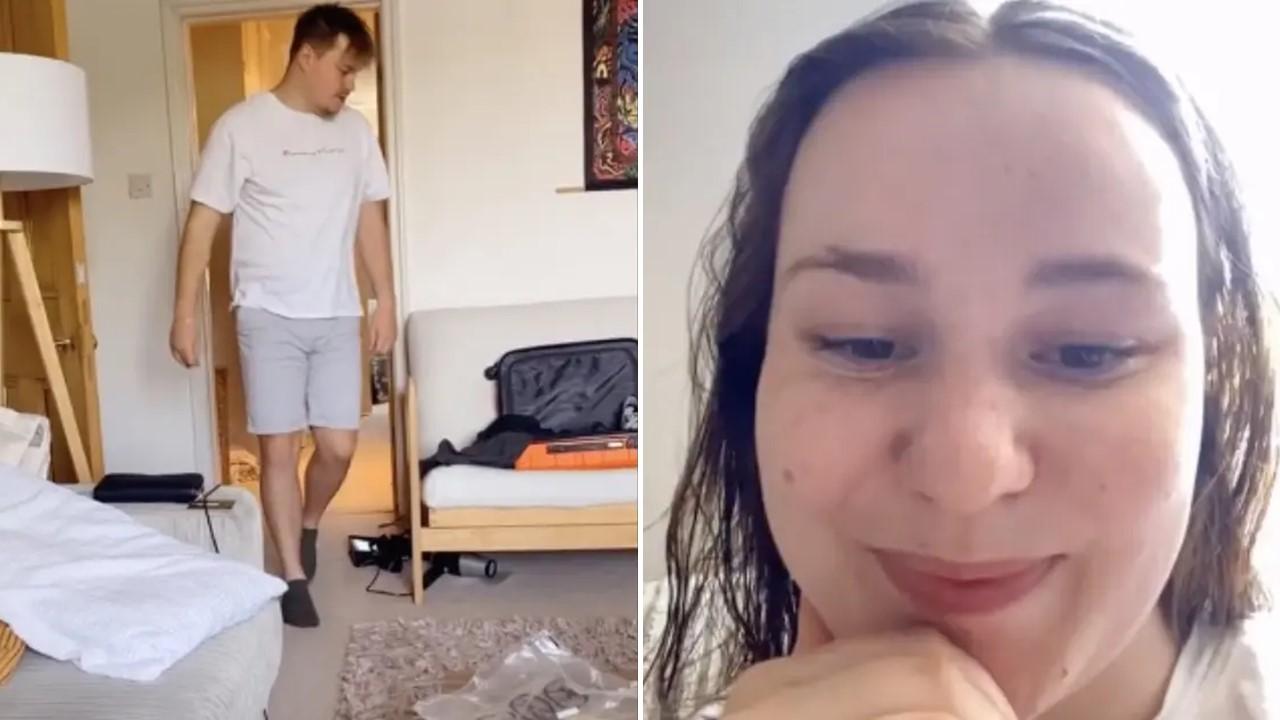 As Millie explains on her TikTok, she decided to conduct a social experiment to see if she could determine which shirt her boyfriend would select from his closet over the course of four days.
Article continues below advertisement
All she did was create a small gap in between two shirts hanging in his closet, and as Millie told her followers, she predicted that her man would be compelled to grab one or the other.
Article continues below advertisement
Gleefully, Millie gloated over the fact that on the first day, indeed her boyfriend was sporting one of the two shirts. "Nice shirt," she complimented him.
But what happened on the each of the following days that she created new wardrobe gaps? The results of her social experiment were almost too ironic to believe.
The creator's social experiment gains a loyal following — but her cover is almost blown!
In "Episode 2" of Millie's social experiment, once again she was victorious in influencing her boyfriend to pick between a striped shirt and a t-shirt.
"I'm ready to watch years of this content," one commenter hilariously responded.
Article continues below advertisement
Meanwhile, other commenters urged Millie to create two gaps in the wardrobe, and predicted her boyfriend would implode with choices. Instead, Millie delighted her followers with two more episodes of the same social experiment, and, as you may have predicted, her boyfriend wasn't overthinking his shirt selection on either of those days either.
Article continues below advertisement
Fans of this social experiment applauded Millie's impressive record of being three for three. "Do you realize the power you have now?" another commenter implored.
With each day, it seems Millie's audience became more "invested," with someone stating they would binge watch 100 episodes of this social experiment if they were available.
Indeed, Day 4 of the social experiment drew by far the most comments, as Millie's excitement over having complete control over her boyfriend's wardrobe choices also grew exponentially.
Article continues below advertisement
One commenter lauded Millie for not telling her boyfriend about the experiment "so we can all have fun." Someone else wondered how the boyfriend hadn't gotten hip to the experiment yet.
Article continues below advertisement
To that point, Millie shared an update that her cover was almost blown when a friend sent a screenshot of one of her TikToks to her boyfriend. But she convinced him it was about something else, and "played the weird card," just blowing off the incident as "weird, weird, weird."
"I know all good things have to come to an end," she lamented, adding, "just not yet," and promising her loyal viewers a Day 5 installment of her social experiment. Of course, we'll be watching!