Guy Asks Girlfriend to Sign "Permission Slip" for Boy's Night Out, Sparks Heated TikTok Debate
A viral TikTok showing a woman signing her boyfriend's "permission slip" for a boy's night out started a viral debate on TikTok.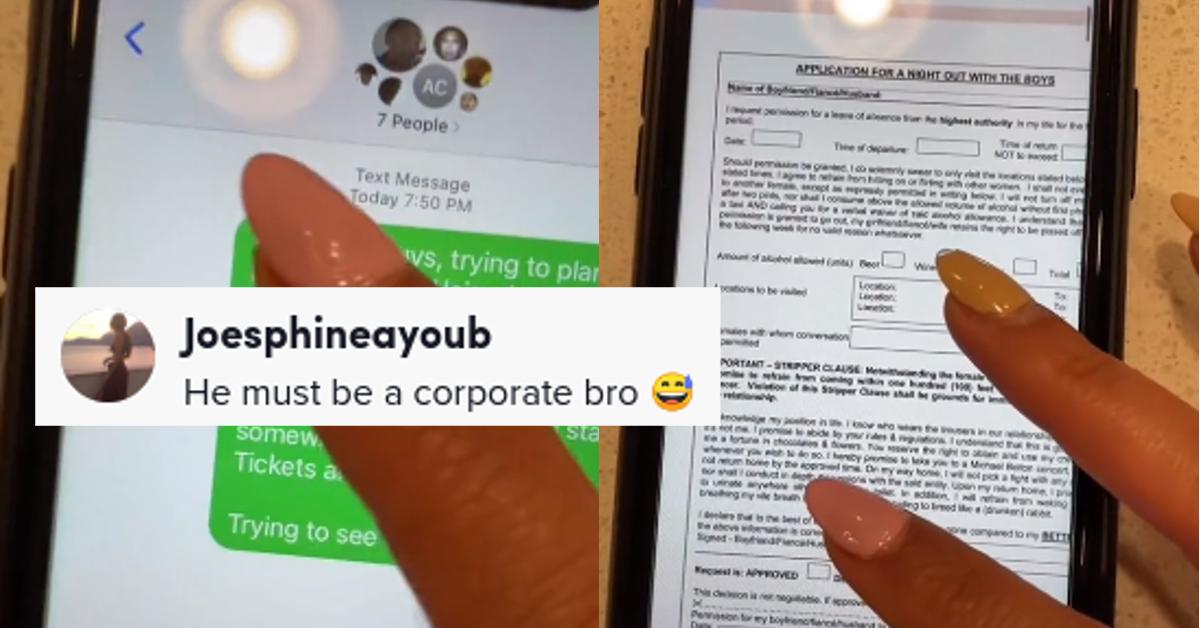 The dynamics of romantic relationships between men and women have been the subject of artistic contention across pretty much every medium imaginable. Songs have been written about the struggles between men and women. Stand-up comedy sets, movies, novels, heck even drug store holiday cards all discuss this phenomenon.
Article continues below advertisement
Sometimes, the commentary on this struggle can feel a little reductionist or low-brow, something that's currently being lampooned in the half-sitcom, half brutal drama series Kevin Can F- Himself. You've got the schlub of a husband who can't seem to reconcile the fact that he loves both football and his wife and boy does it get him in trouble.
Oftentimes, the "wife" or "girlfriend" characters in these shows are written out to be on-camera shrews. There's a lot of complaining. A lot of burdensome expectations of romance and wearing the not-so-comfortable and also cringey outfits they expect their significant others to wear.
And while there are various takes on this very familiar dynamic, the on-camera shrews almost always take issue with their schlub S.O. hanging out with "the boys."
Article continues below advertisement
This could be why this TikTok posted by user @talgonza has been liked, shared, and commented on by so many people. In it, the TikToker shows a "permission slip" that her boyfriend created and sent to her.
Article continues below advertisement

In the slip, he clearly delineates the terms that he promises to follow on a "boy's night out" with his friends. While the TikToker doesn't leave it on her phone's screen long enough to let viewers discern exactly what it says. Which is something she rectified in a follow up TikTok post.
Article continues below advertisement
It reads: "I request permission for a leave of absence from the highest authority in my life for the following period:"
It's then followed by three boxes that are marked "Date:" and "Time of Departure:" and "Time of return NOT to exceed:"
It continues to list, in boilerplate contractual language the locations he will be visiting along with the times he will be there.
Article continues below advertisement

He also listed another clause for the TikToker to fill out which "females with whom conversation is permitted." He also put in a "Stripper Clause" that states if he comes within 100 feet of a stripper or exotic dancer that is grounds for immediate termination of their relationship.
Article continues below advertisement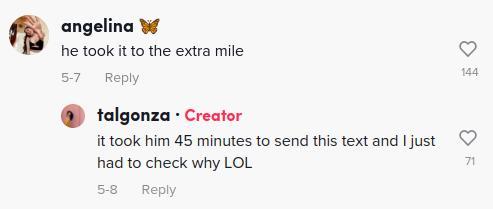 As part of the concluding paragraph, it reads: "I acknowledge my position in life, I know who wears the trousers in our relationship, and I agree it's not me." He also acknowledges that she reserves the right to use his credit cards whenever she wishes to do so and that he promises to not attempt to "breed with" her "like a drunken rabbit" upon returning back from his boy's night.
Article continues below advertisement

Throngs of commenters remarked that they thought the "application" was a funny joke from her boyfriend and that it showed they had a healthy relationship with one another. Others quipped that she had him "trained" well.
Article continues below advertisement

But there were some who thought that even though this may have been a joke, there were clear signs that the dynamic between the two was "toxic," citing the fact that he isn't even allowed to have conversations with other women as an example.
Of course, there were other mentions of the man being "whipped" and folks who wondered what kind of trauma she put him through that would culminate in him putting forth such an application.
Article continues below advertisement

In the end, it turned out, as @talgonza said, the permission slip was "ALLA...for nothing" as her boyfriend and pals didn't even book their night out yet.
What do you think? Is it just a funny joke between two folks who love each other? Or is there something wrong lurking beneath the surface here?