Karen Refuses to Move for Truck Driver, Causes Massive Traffic Jam in Viral TikTok
A woman got upset after being called a "Karen" for causing a massive traffic jam by blocking a delivery truck.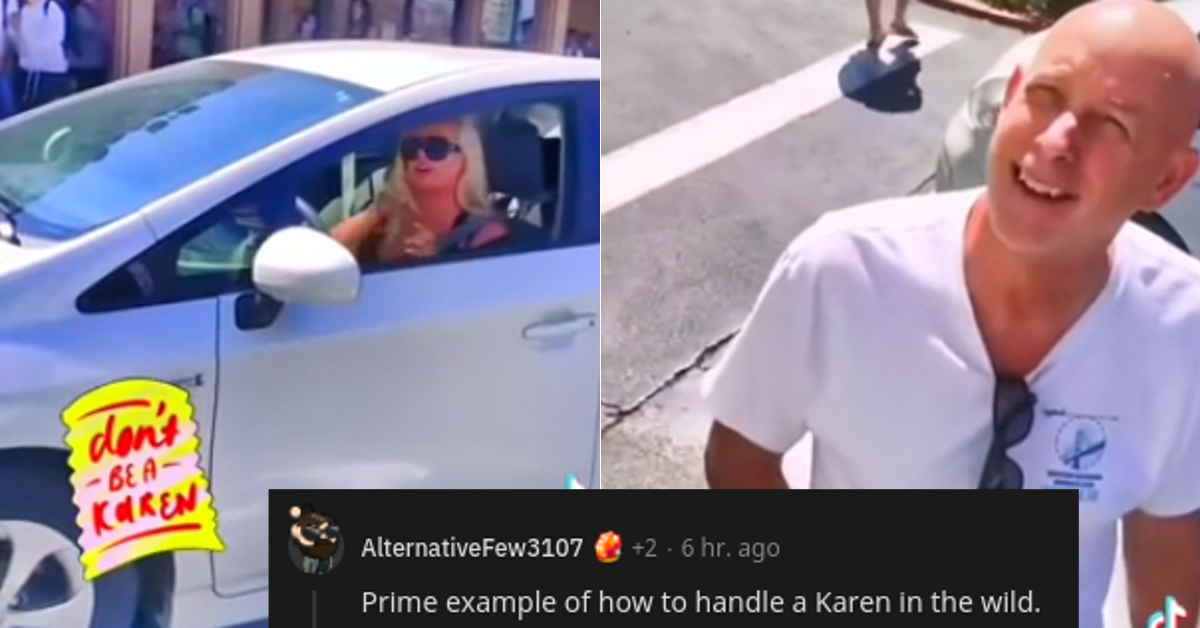 There are certain rules of the road that we may not particularly like but abide by anyway. For example, maybe we don't want to let someone in the left lane, especially if they're driving a car that we hate, merge in front of us, but that's the rules of the road.
If there's a big 18-wheeler driving a little too slow for our liking on the highway, we may have the urge to pass on the right side, but we stop ourselves because that could get real ugly, really quickly.
Article continues below advertisement
Maybe we're trying to get somewhere in a hurry in the morning and there's a school bus in front of us that puts out its stop sign. Sure, you know you can't pass the school bus, but you don't see any kids running to the vehicle and you could maybe creep your car slowly pass the sign so you're not endangering anyone...however you stop yourself. Because it's illegal and come on yo, think of the children.
But road rage is a thing and sometimes there are folks who decide to "take a stand" in moments where they probably shouldn't be taking one. Is it really worth getting into a horn honking match with a total stranger who drives like they're re-enacting scenes from Bird Box? Maybe channel that same passion into your career, why don't you?
Or, you could be like this "Karen" who outright refused to back up her car for a truck driver trying to make a narrow turn.
Article continues below advertisement
Maneuvering a huge truck carrying a wide load off of a highway requires a lot of finesse and oftentimes, cooperation from other drivers who are willing to get out of your way or back up a little bit so you can successfully make a turn.
Article continues below advertisement

However, this woman in a white Prius for whatever reason didn't want to back up her car so they could make a turn, causing a massive traffic jam in the process.
Article continues below advertisement

She kept insisting that the man reverse his truck and tons of other cars instead of backing up her single car into a parking lot so the truck driver could be on his merry way. She also keeps pointing out that the truck driver has "no authority" over her in the video and seemingly didn't like the fact that she was asked to do something by someone else.
Article continues below advertisement

Commenters were shocked at the level of pettiness, and she appeared to be steadfast in her refusal to move. However, when other drivers came out of their cars to see what the issue was as they were stuck on the road, it seemed to have struck a nerve with the woman.
Article continues below advertisement

She also took offense at the fact that the man began recording her and called her a "karen" for the way that she was behaving. She attempts to grasp at any bit of moral high ground in the argument stating that the man is driving his truck in an unsafe manner and is recording children on his phone.
Article continues below advertisement

Even when she ultimately concedes to move her car she attempts to save face by stating that the only reason she's doing so is because she doesn't have time to deal with the situation.
Article continues below advertisement

However many pointed out that it's most certainly a situation that she caused. Trucks make wide turns that can not magically make space, especially with massive trailers hitched to the back of them, for smaller commuter vehicles. But perhaps this woman wasn't aware of that.
Unfortunately, there are other instances of "Karens" holding up traffic just because they've got a problem with a truck driver.
Article continues below advertisement
TikToker @fatwhiteguyy recorded an incident involving another auto Karen who wouldn't allow him to pass again, for seemingly no reason other than the fact that she didn't want to let him.
There certainly seems to be a trend of "Karens" blocking traffic, but sometimes they're not always in the wrong. Like this woman proved when she wouldn't allow someone to follow her into her city building's garage.