TikToker Says Women Shouldn't Let Guys to "Talking Stage" if They Don't Buy Them Starbucks
A TikToker started a viral debate after stating that guys who don't offer to pay for Starbucks don't even deserve to get to a "talking stage."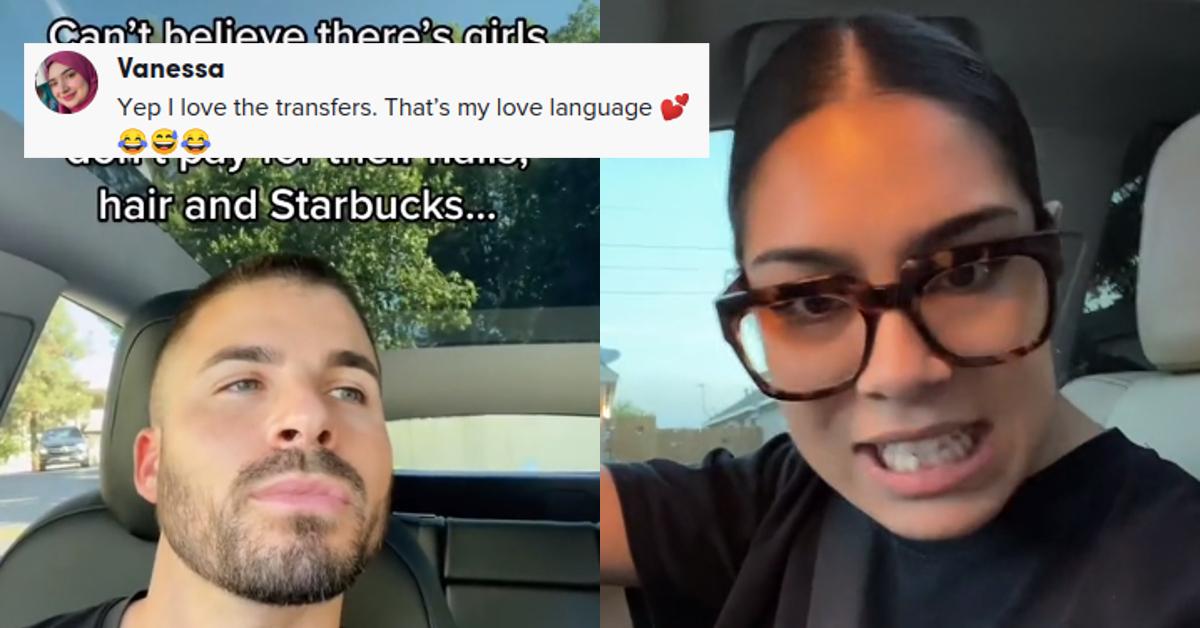 Generosity is widely regarded as a positive trait. There's something sensual, caring, and admirable about someone who doesn't think twice about helping a friend or loved one out financially—or even giving up some of their time as a demonstrable act that they care about. While anyone can send a "thoughts and prayers" social media post your way or a positive message through text, a generous person in action is usually respected and beloved.
Article continues below advertisement
However, everything is situational. If someone is generous to just about anyone and everyone, well, then some could argue that that generosity is considered "cheap." Unless we're talking about an uber-wealthy person who can afford going around handing off money willy-nilly, it'd be kind of messed up if someone is overly generous to an acquaintance when they've got friends and family members, or even themselves, they should be taking care of first.
There are inevitably going to be people who try and take advantage of said generosity, too. But is that the case with individuals who expect the person they're dating to cover a cup of Starbucks coffee for them?
That's what some people are arguing in the comments section of a viral TikTok posted by a woman named Ray who posts under the handle @evelynrayblog.
Article continues below advertisement
She stitched together a video uploaded by fellow TikTok user @trentonacey. Trenton's OG video shows him sitting in a car and ruminating on the type of man who won't pay for a woman's hair, nails, and Starbucks, insinuating that women shouldn't date these types of men.
Article continues below advertisement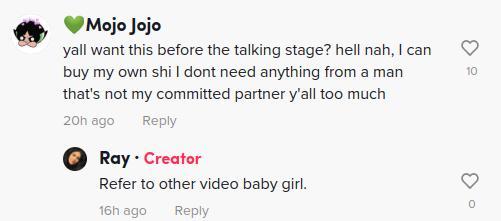 Ray agreed with Trenton in her follow-up video, saying that a man shouldn't even be allowed to enter into the "talking stage" with a woman if he isn't covering the cost of her Starbucks coffee.
The TikToker says in her video: "Baby, you don't even get a talking stage if I'm talking to you and I'm telling you that I'm on my way to grab some coffee and you don't Zelle me or ApplePay me $10. That's it, you're done,"
Article continues below advertisement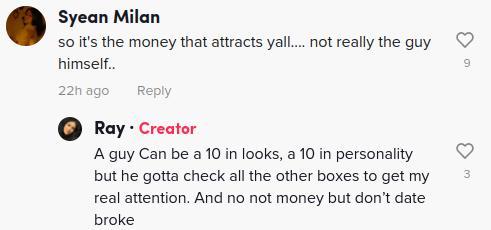 Article continues below advertisement

A 2022 piece published on iNews titled, "I'm a feminist, but I still think men should pay for the first date" also echoes this belief that despite decreases in the wage gap between men and women in a variety of different industries, there are a lot of heterosexual women who are of the opinion men should be primarily responsible for footing the bill in many scenarios.
Article continues below advertisement

Her video received a litany of different responses. Some quipped that "10 is the minimum lol."
Ray also urged women to "kick [guys] to the curb" if they don't "offer to pay."
Other TikTokers said that this is an unrealistic expectation of a boyfriend: "My opinion, a boyfriend shouldn't be paying for all that. He's not your husband, doesn't have to support you."
Article continues below advertisement

Another wrote: "I feel empowered knowing i can afford all of that myself without having the need to ask anybody for money."
Ray, however, said expecting guys to give her money and pay for things is not about the money. In a follow-up video, she said that if she's thinking about dating a guy who doesn't "automatically want to provide and protect" then she isn't interested in being with him romantically.
Article continues below advertisement
Others reverberated this statement, saying: "it's like an instinct thing. If he does it automatically.. that's what we're looking for."
Some said that it's a two-way street though and said a surefire way to "test" a potential relationship is for a guy to ask a girl who expects to have her coffee, nails, and hair paid for to make him lunch. And if she says "we're not together we're just talking" to then immediately cease contact with them.
Article continues below advertisement

Others just thought it was bizarre for a girl to base a guy's entire personality "over a cup of coffee."
What do you think? Do people show you who they really are when it comes to money? Or is this TikTok being way too overly analytical?