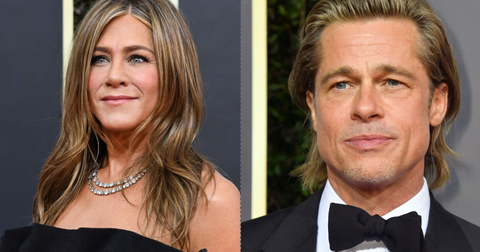 Brad Pitt and Jennifer Aniston "Reunited" at the 2020 Golden Globes
By Gina Vaynshteyn
The 2020 Golden Globes are off to a zesty start. Host Ricky Gervais has already slammed every celeb in the room, Bill Hader and Rachel Bilson made their relationship Golden Globes official on the red carpet, and...Brad Pitt and Jennifer Aniston have reunited. In proximity, at least. Nonetheless, everyone is freaking out that the two are on the red carpet at the same time. In fact, the former couple is sitting super close to each other in the auditorium as well.
What's going on with Jennifer Aniston and Brad Pitt?
As of yet, it seems like Jennifer Aniston and Brad Pitt are just being mature grownups who were once married. The actors were both nominated for Golden Globes — Jennifer is up for Best Actress for The Morning Show and Brad is up for Best Supporting Actor in Once Upon a Time in Hollywood. "I'll run into Jen; she's a good friend. The second most important reunion of her year," Brad told Entertainment Tonight on the red carpet before the show started.