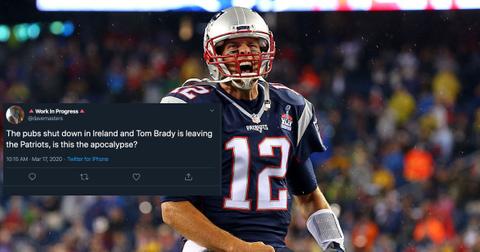 These Memes About Tom Brady Leaving the Patriots Honor the NFL Icon
By Lizzy Rosenberg

Updated
For 20 glorious years, Tom Brady has essentially been the face of the New England Patriots — and arguably — the NFL as a whole. But on Tuesday, March 17, the 42-year-old athlete took to Twitter to announce that he would be leaving the team.
These memes about Tom Brady leaving the Pats are incredible.
Needless to say, football fans and Massachusetts residents alike are truly shook, however, these memes about Brady leaving the Pats are bound to help you cope with the jaw-dropping news.
Tom Brady's departure is coming at the worst possible time right now.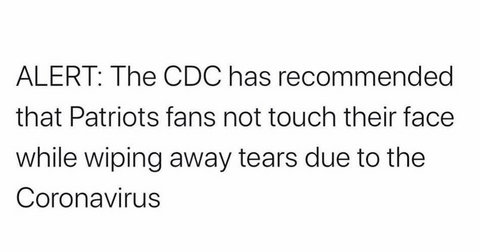 Avid fans of the player and the team are straight-up shook right now, and they can't even cry about it? This is utter chaos.
For real, Patriots fans aren't doing well.
Everyone is prepared to suffer.
This will bring new life to "game-changing."
Regardless of your go-to team, it's seriously wild news.
I don't even like football to be honest, and I am still in total shock. What will the Patriots be without Tom? Is he going to another team? Nobody knows, and the anticipation is truly killing me.
Well, he's heading out...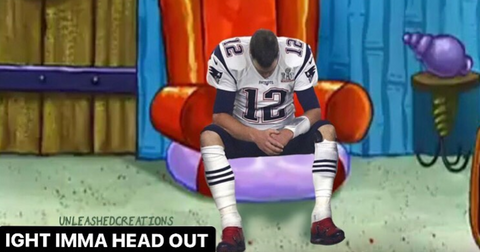 Replacing SpongeBob for Tom in the "Imma head out" meme was a truly savage move, but alas, somebody had to do it.
Like I said, Pats fans are taking this really hard.
New England had two decades of straight-up success, and it seems like it's officially about to come to an end. RIP Patriots.
Not everyone is particularly broken up about it, though.
New England truly is Tom Brady's stoop. Was he afraid to leave it? Most likely. But did he do it? Yes, and it most likely feels so, so good.
'Remember the Titans' is applicable to almost any situation.
Tom, drop everything you're doing and just listen to Coach Boone. It seems as though Coach was right this entire time.
Bringing back an oldie for the sake of nostalgia
Glad we can recycle and re-use this as the world is burning.
It's a lot to process.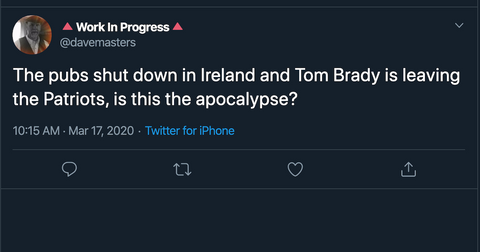 The universe is legitimately on the brink of imploding.
But ultimately, some fans are ready to let go.
(Sorry y'all — this scene will get the waterworks flowing for just about everyone, especially right now).
This really hits different for Boston fans.
WOW, bad luck all-around... on St. Patrick's Day.
This might actually go down in history.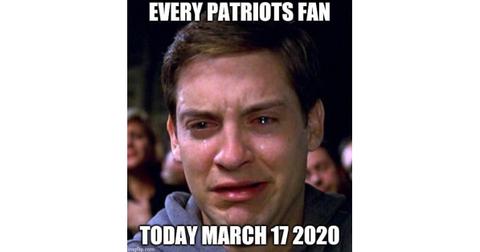 RIP Tom Brady's Patriots career.
On the bright side, the news has truly 180'd.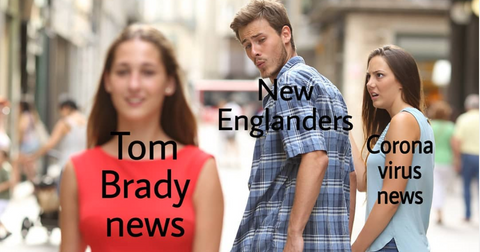 Sorry coronavirus, but Tom has left the chat, and we can't deal with it.
Maybe you aren't worried.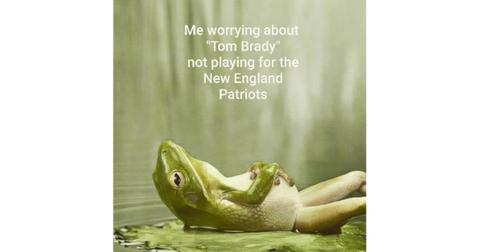 This frog clearly gives zero f--ks about Tom's decision, and I'm all about it.
But when push comes to shove, though, he's probably pretty hyped.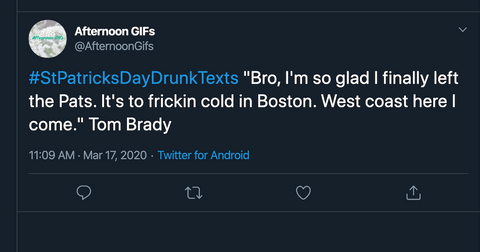 If one of Tom's friends receives this text while he's out partying today, I need to know.
Tom's departure comes at a seriously wild time — regardless of your favorite team, or even if you're a football fan at all, this is truly insane news. 2020 is panning out to be real weird.