How Two Stars of 'Game of Thrones' Would Remake Season 8
The much maligned Season 8 of 'Game of Thrones' is in desperate need of revisions according to not only fans, but also, members of the cast.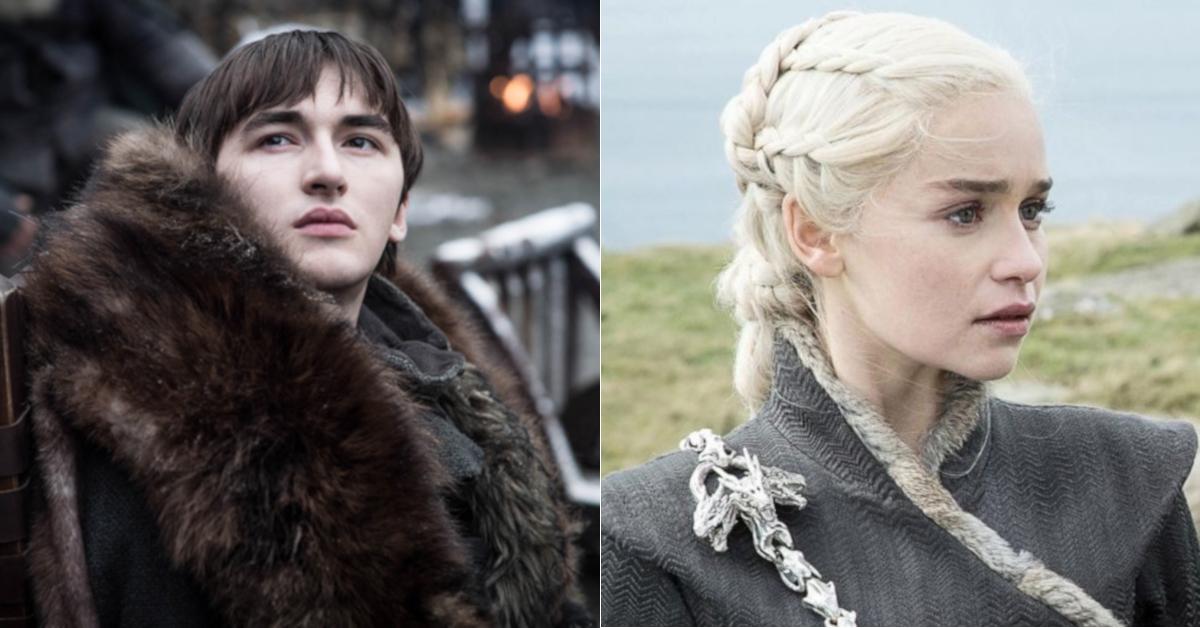 Another day, another story about Game of Thrones sucking.
Fans who were hoping for an ending that tidily wrapped up all of the narratives for the show's major characters found themselves sorely disappointed.
Article continues below advertisement
It's definitely not strange that fans have some "better" ideas as to how their favorite shows could end, but it is kind of weird whenever stars speak out on how the programs they acted in could've done better.
Which seems to be exactly what's happening with two major Game of Thrones characters: Bran Stark and Daenerys Targaryen, played by Issac Hempstead Wright and Emilia Clarke respectively.
Isaac went so far as to say that when he first read the script for the final episode, he thought the writers and showrunners were joking with him. "I genuinely thought it was a joke script and that [showrunners David Benioff and Dan Weiss] sent to everyone a script with their own character ends up on the Iron Throne," he told Entertainment Weekly. 'Yeah, good one guys. Oh s--t, it's actually real?"
Article continues below advertisement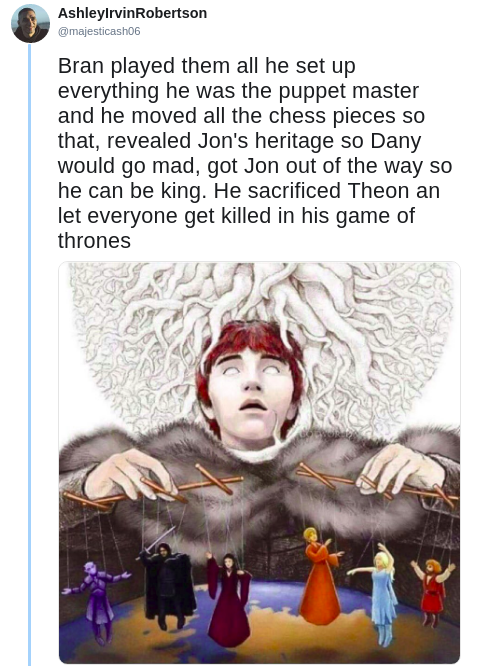 Isaac went on to say he was "happy" with the ending but expressed that he was kind of looking forward to seeing an alternate ending for Bran. "Though I kind of did want to die and get in one good death scene with an exploding head or something." The only question is, who would've made his head explode? The Night King, sick and tired of the weird Stark three-eyed-ravening all over the place?
The 20-year-old actor acknowledged that regardless of how they show ended, it would upset some fans. "I don't think anybody will think it's predictable and that's as much as you can hope for. People are going to be angry. There's going to be a lot of broken hearts. It's 'bittersweet,' exactly as George R.R. Martin intended. It's a fitting conclusion to this epic saga."
Article continues below advertisement
Head intact or not, there are many who echoed Bran's "joke" sentiment, however. Tweets and memes are popping up all over, pointing out how messed up it is that Bran was just "chilling" while everyone else died around him as they vied for the Iron Throne.
As the show stands, Bran somehow knew how everything was going to go down: with him crowned king. So while his "winning" was unexpected, it also brings up a lot of serious implications regarding his character.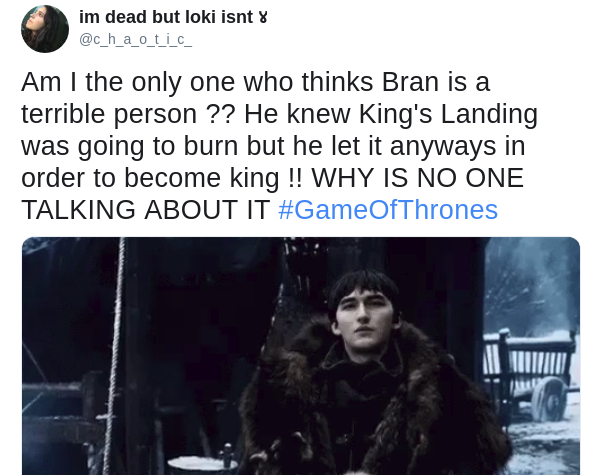 Article continues below advertisement
While Isaac's alternate ending for his character stopped at an "exploding head" suggestion, Emilia Clarke listed a slew of things to The New Yorker that she would have liked to see for Daenerys Targaryen. Chief among them was more interactions with key characters that tested Daenerys. "I would've loved some more scenes with me and Missandei. I would've loved some more scenes with me and Cersei; I would've loved some more scenes between Grey Worm and Missandei...I would've loved to see a bit more between Cersei...
She also addressed the shift in her character and the harsh fan reaction to her sudden about-face. "I feel like there was...The genocide was there. That was always going to happen...And I just think more dissection and those beautifully written scenes that the boys have between characters—that we are more than happy to contently sit there and watch ten minutes of two people talking, because it's beautiful. I just wanted to see a bit more of that. But I'm in no position to critique the geniuses that have written eight seasons' worth of wonderful stuff."
Article continues below advertisement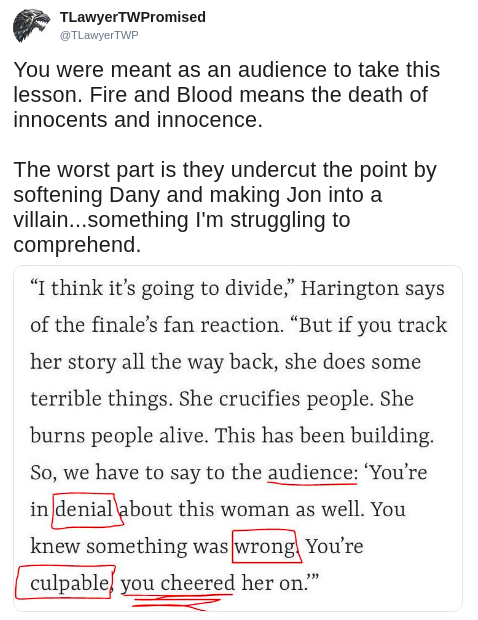 Dany was portrayed as having gone completely mad, taking so many innocent lives out of rage in King's Landing, but Clarke hopes that somehow fans could see past that to the character's true struggle. "I'm hoping to see what I was saying before about Daenerys's last images being that of kind of a hopeful, childlike love," Clarke said. "I just really want that to be the last image of her. And it absolutely breaks my heart that anyone would think anything bad of her. But I'm sure they will, and I can't control that."
Article continues below advertisement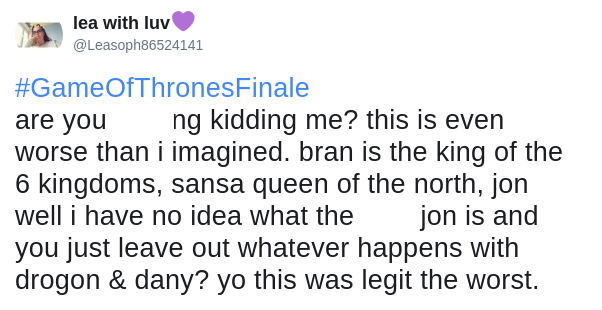 There are tons of cast members who have shared their disappointment in the way the show ends, one way or another, just like the multitude of fan theories on the internet that try and chalk everything that happens in the show up to foreshadowing and careful pre-planning.
And while there are lots of "the writers meant to do this all along!" theories that are really just editing choices, there are some irrefutable pieces of foreshadowing that the cast and crew knew Season 8 was going to stink.
Article continues below advertisement
Users all over the internet have compiled interviews from cast members of the show and cut them all together to show the general lack of enthusiasm and almost dread when it came to Season 8. There are several instances where actors in the show back-tracked on what they said and were clearly exhibiting the feelings/problems that viewers of the long-running franchise had. Check it out below:
They say that hindsight is 20-20, but seriously, if you want to talk about "signs" then all of these reactions that the actual people who helped make the show and we fell in love with as an audience should definitely tell us all we need to know about the way the show's finale was handled.