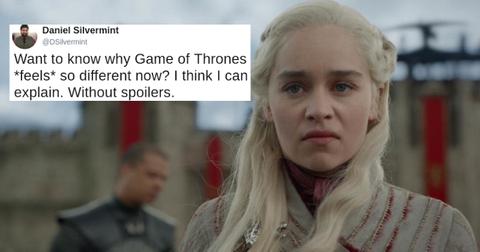 Twitter Thread Explains Why 'Game of Thrones' Feels Like a Much Different Show Now
By Mustafa Gatollari
At one point, Game of Thrones was the most beloved program on television. And while it's smashing viewership numbers with its latest season, longtime fans are very disappointed with the way the series is ending.
In fact, many are calling Season 8 the worst in the show's history, lambasting each new episode as feeling "rushed" despite the longer run time and the actions of the characters feeling "unearned."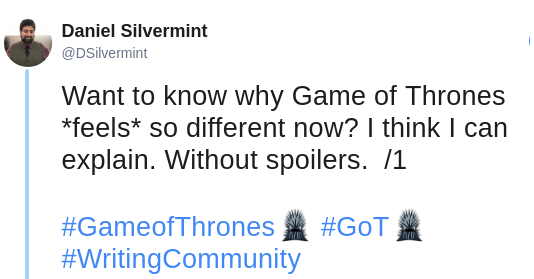 After spending several years watching a big-budget program that is already primed to spawn a few spin-offs, people have become very acquainted with the characters and have certain expectations about the show's direction. While the showrunners and writer George R. R. Martin have done a fantastic job keeping viewers guessing and advancing the plot in satisfyingly surprising ways over the years, there's no doubt things have fallen off a bit in recent episodes.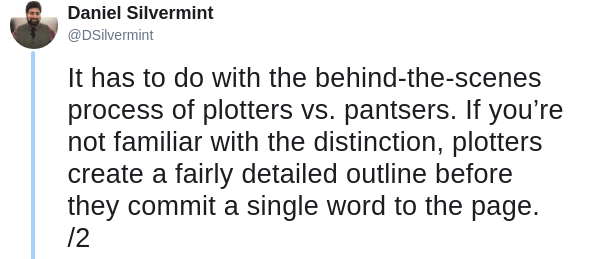 I would think it has a lot to do with the fact that George R. R. Martin already had a ton of source material for writers to draw upon for the first 5 seasons or so. For the most part, the seasons matched the events of the novels. Writer Daniel Silvermint sheds some light on George R.R. Martin's writing process and how the showrunners' adaptation had to adapt when they surpassed the published content in the series.
3. Here's his "pansters vs plotters" theory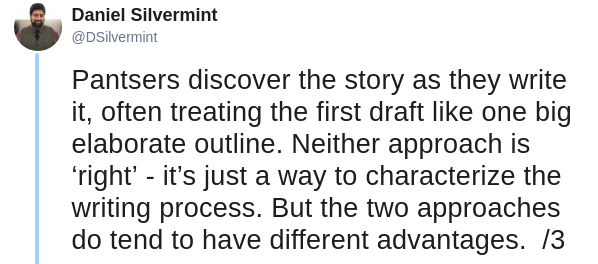 Daniel believes there are two writing philosophies that came into play for the show and which ultimately sent it down a "different path" than it followed the first few seasons.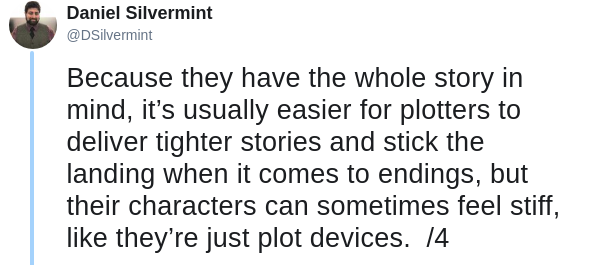 Daniel suggests plotters focus on a cohesive plot structure, whereas pansters like to let the characters tell them where the story will go.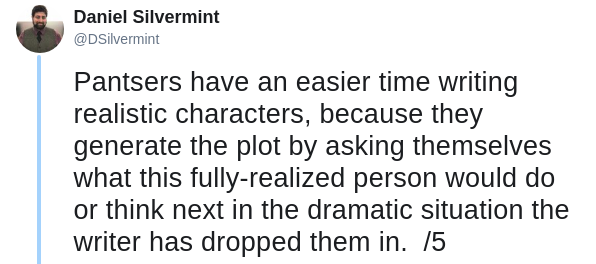 Pantsers focus on reactionary character development as opposed to a very intricate story outline. Both styles have their advantages and disadvantages based on the kind of story a writer is trying to tell.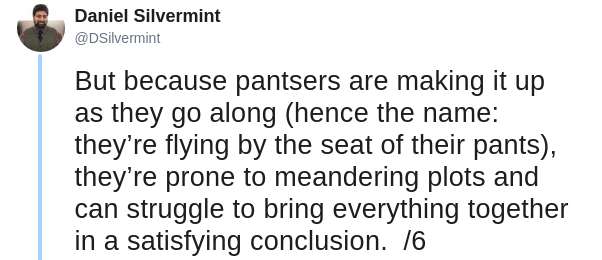 It could be a huge reason why some people love certain writers and directors while other people loathe them and vice versa. Some people gravitate toward character-driven stories and others toward plot-driven ones.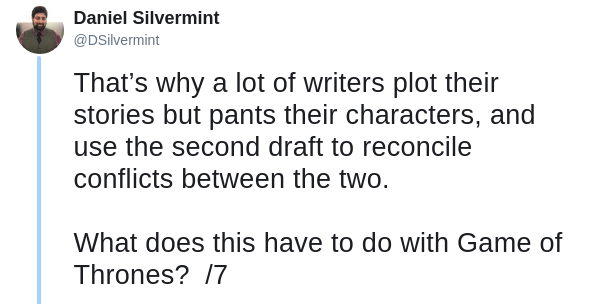 Human beings are unpredictable, so the writing process can be daunting as you try to make sure a character's actions aren't out of line with their personality, and that the action doesn't get stalled.

The creator of Game of Thrones, George R.R. Martin is most definitely a pantser, Daniel asserts. While he may have a general idea about how he wants the story to go, he focuses on developing characters and lets them guide him toward their inevitable conclusions.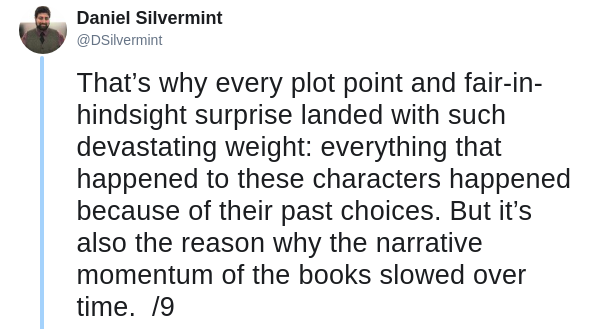 This may also be why it's taking him so long to finish the book series. He's created so many rich characters with clear motivations, it's become a very intricate tapestry that takes some time to stitch together.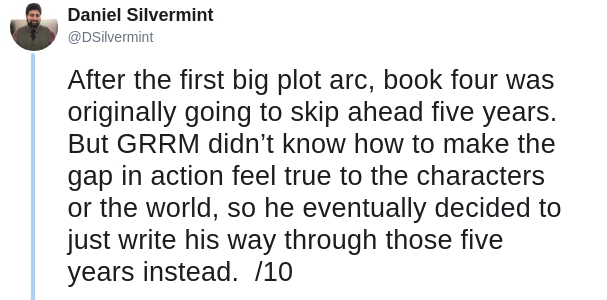 Daniel says Martin's GRRM's original plan was to have a time jump, but in so doing, he felt the actions that he planned to have unfold wouldn't be true to the characters he spent so much time crafting in the first three books. The trouble is, this involved creating even more characters to help drive the action.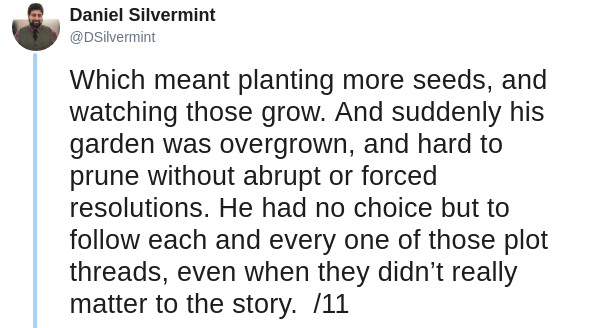 The result? A lot of the characters that we became so invested in weren't central to the story, and other times characters that did matter to the central plot would get stuck in places for too long as their "inevitable actions" steered them away from the direction he had hoped they would grow.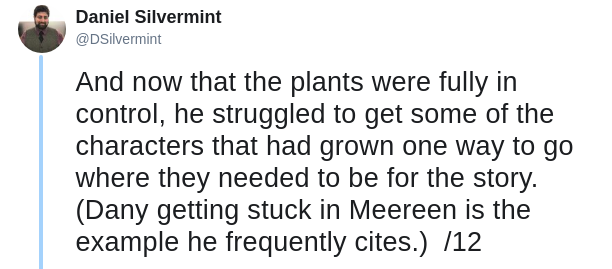 The prolific writer has been pretty open about times his plots became difficult to manage, often referring to how Dany's story got "stuck" at one point in Meereen, which explains all of that stuff with Ser Jorah and Tyrion in the fighting pits, I guess?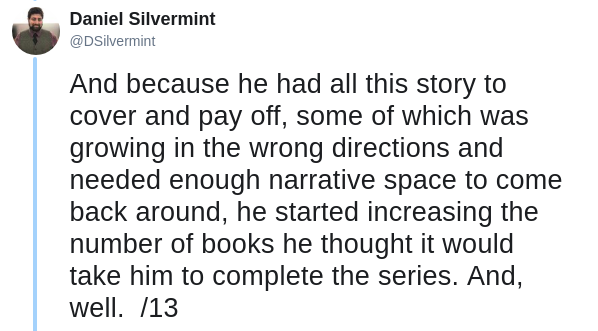 His solution to finishing the series properly was to write more and more books to give the plot the amount of time it needs to breathe and for the characters to develop the way he envisioned them.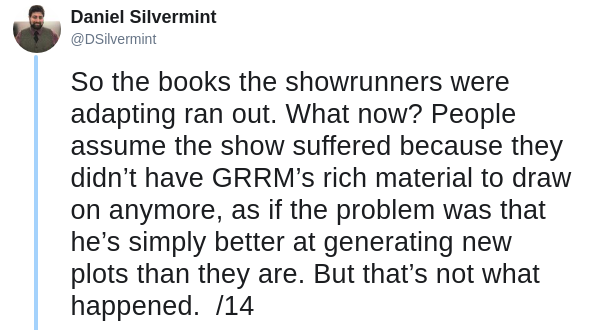 But that's the difference between the world of fiction writing versus scriptwriting. In TV land, everything needs to be measured and has to fit a certain time frame.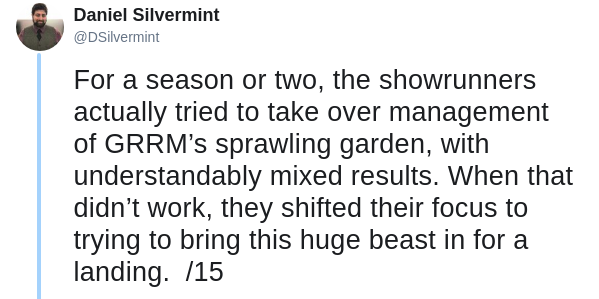 To tell the story George R. R. Martin was creating and continues to create might have taken several more seasons than any of the actors, creators, or HBO were willing to commit to, so they focused on landing the ending as best they could.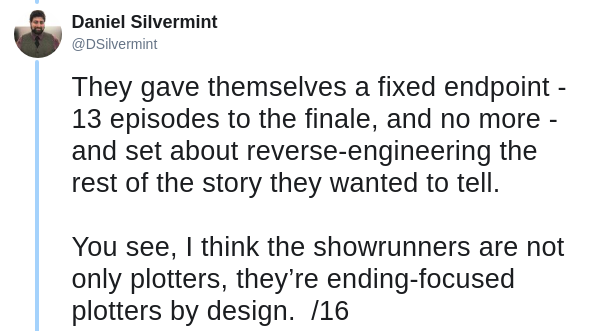 With an end goal in mind, writers were given a daunting task: conclude the story GRRM summarized for them in a fraction of the time he wanted to wrap up all the storylines he planted.
17. Which wasn't an easy task to complete.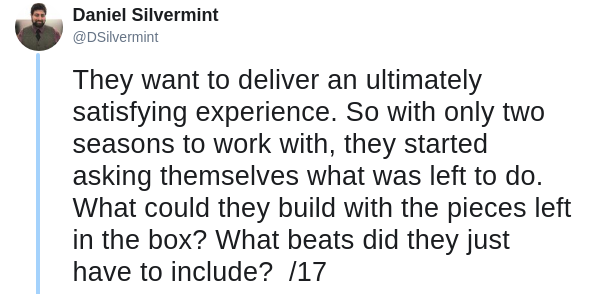 And the fact of the matter was, it would have been impossible to create an experience that would satisfy everyone. People who fell in love with the books first might have very different ideas of how things would unfold than people who only watched the HBO series, for example.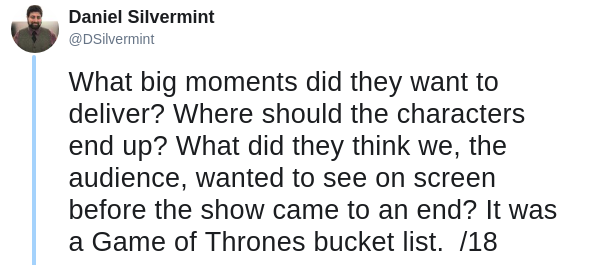 This is how the "bucket list" was created. A series of moments and "highlights" were created, but there wasn't enough time to build up to those highlights, not the way the books and earlier season did, at least.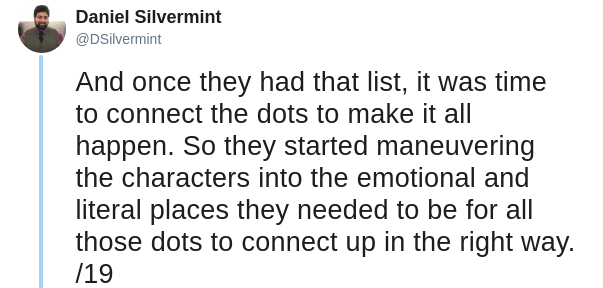 In order to hit these "moments," the characters were turned into plot devices. Characters created for a "pants" approach suddenly became pawns in a plotter's game of chess.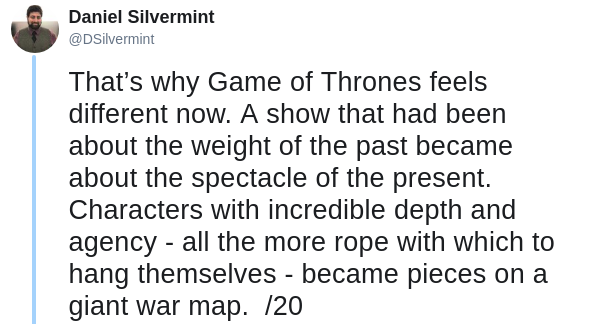 This has led to complex, nuanced characters behaving in ways that are not at all nuanced and often don't seem to make sense to viewers.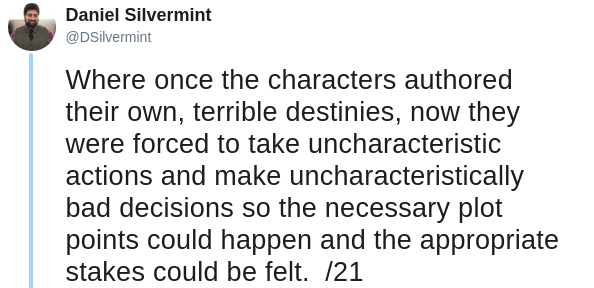 The whole reason a plot twist resonates with the audience is because it's been earned, and there's been a lot of unearned drama in Season 8.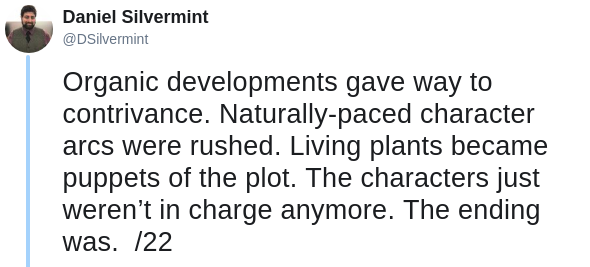 The ending ultimately became more important than where the characters were headed and whether that ending even served the motivations that have driven them in previous seasons.
23. Silvermint capped off his explanation by saying "no one's to blame."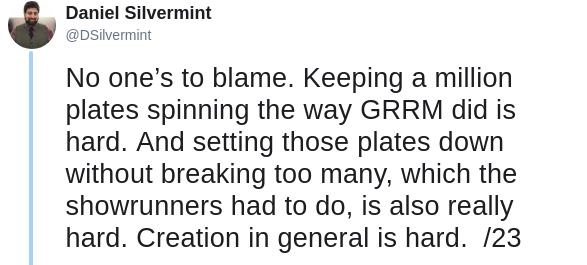 And he's right, George R.R. Martin did set up a wonderfully complex world and the reason we're so invested in what happens to his characters is because he made them so vivid and real.

It's a supremely delicate act to adapt a series as massive as A Song of Ice and Fire, even if all the books had been completed by this point. Fans of the books will even argue that some sections are boring or go on for too long.
He also clarified that he doesn't favor one writing approach over the other but that the problem arises when you switch course in the middle of the story.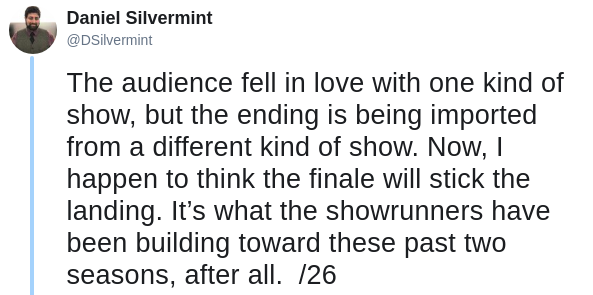 He suggests that the shift in approach also changed the tone, which is what has thrown so many Game of Thrones fans over the past couple seasons.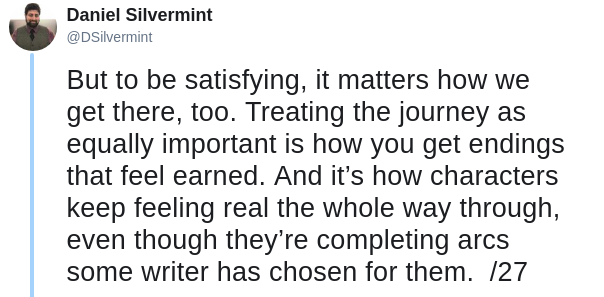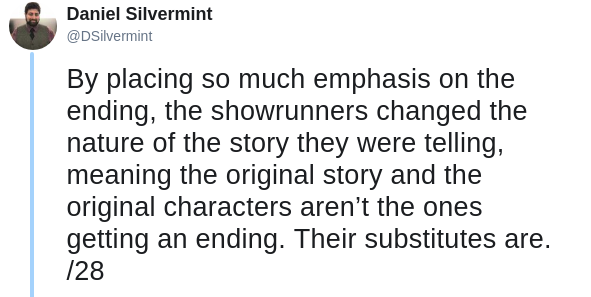 Ultimately what did Game of Thrones in was the desire to have the show end a certain way, instead of allowing it to come to an organic conclusion.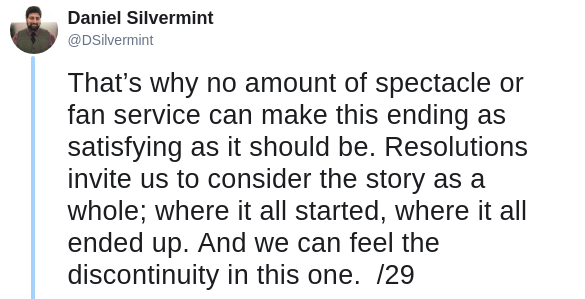 What really grinds our gears is the fact that it's incomplete and packaged into a box, which is something the show never was and why we previously loved it.
30. Which left many of us feeling like Ghost.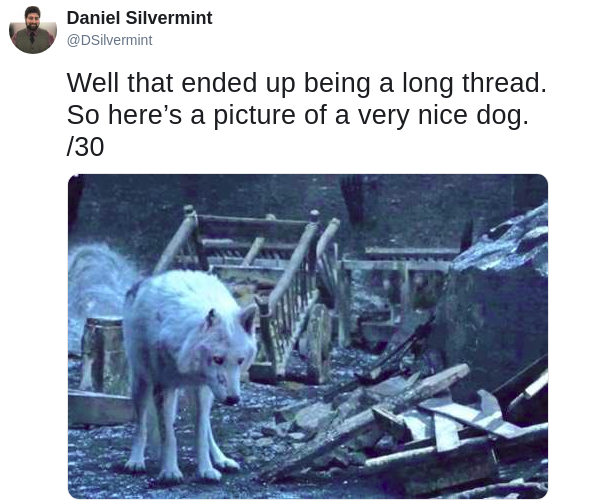 ...Abandoned by the one we loved and cared for the most.
I'm still going to see how it all ends, though. My bet is that Jon needs to take Dany down, Jaime Lannister "Kingslayer" style.