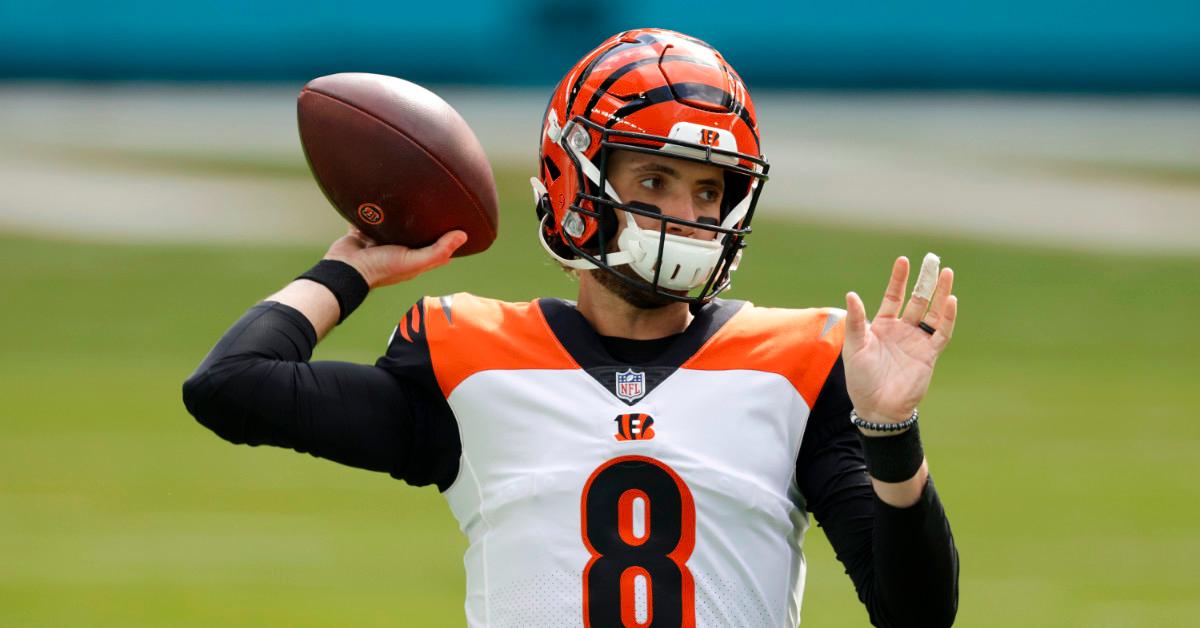 Get to Know Brandon Allen, the New Quarterback for the Cincinnati Bengals
It's time to learn about Cincinnati Bengals quarterback Brandon Allen — both his football career and his life with wife Sarah Connley — now that the athlete is subbing in for injured teammate Joe Burrow.
Article continues below advertisement
Joe, the rookie QB who was selected first overall in the 2020 NFL Draft, suffered a knee injury in November 2020, and so Brandon stepped up as the team's starting quarterback. Here's what we know about this Arkansas native.
Brandon set a touchdown pass record at Arkansas.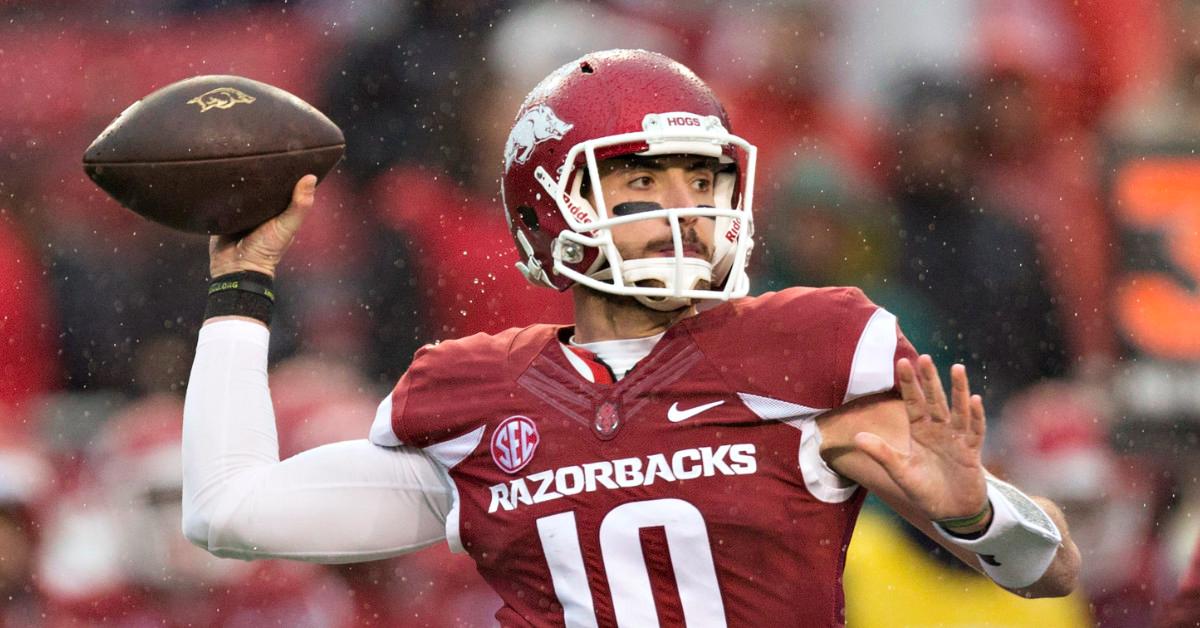 After growing up in Fayetteville, Ark., Brandon attended the University of Arkansas and played for the Arkansas Razorbacks, where he ranked third in program history in total yards passing (7,463) and second in pass completions (583).
Article continues below advertisement
During his senior year at the school, Brandon threw six touchdown passes in a single game in November 2015, setting a school record. Then, he broke his own record with seven touchdown passes at a game two weeks later.
He was originally drafted by the Jacksonville Jaguars.
At the 2016 NFL Draft, Brandon was picked up by the Jacksonville Jaguars in the sixth round, and he signed a four-year deal worth more than $2.4 million with a $124k signing bonus, according to ESPN.
The Jaguars waived Brandon in September 2017, and after brief stints with the Los Angeles Rams and the Denver Broncos, the athlete signed with the Cincinnati Bengals in August 2020.
Article continues below advertisement
Football runs in the family.
Brandon's Razorbacks profile reveals his father is the Arkansas football program's director of high school and NFL relations. Brandon's younger brother, Austin, also played at the school and signed with the Tampa Bay Buccaneers as an undrafted free agent in April 2018.
Brandon Allen and his wife have a doggone cute origin story.
Speaking of family members, Brandon married Sarah, another Arkansas native, in March 2019. "We met in college at a Cody Johnson concert and found out we were neighbors," Sarah explained at the time of their engagement, per Arkansas Bride.
Article continues below advertisement
"He used to invite me over to walk my dog and take him to the dog park. We both are huge animal lovers and obsessed with dogs, so we had a great connection. Our first date was breakfast … and breakfast is my favorite type of food!"
At the time, they had already started a family … of fur babies. "We have two dogs now: Teddy and Bogey," Sarah added.
Brandon recently played his first game as the Bengals' starting quarterback.
Brandon was the starting QB for the Bengals for the first time on Nov. 29 as the team faced off against the New York Giants. It wasn't the best debut, however: The Bengals lost to the Giants, 17-19.
Article continues below advertisement
"There's a lot on the film that I saw that I can get better," Brandon said after the game, per the Cincinnati Enquirer. "Getting to my second read, third read, getting the ball out of my hand in certain situations. Obviously protecting the football a little bit better than I did."
But Brandon was optimistic about getting more practice in with the rest of the offensive squad.
"It'll help a lot in terms of timing with the receivers, getting all our routes down and getting a feel for how they run certain routes and things like that," he said. "I think any time you can get more practice reps, more throws to those guys that are going to be in the game, you're only going to get better from that."