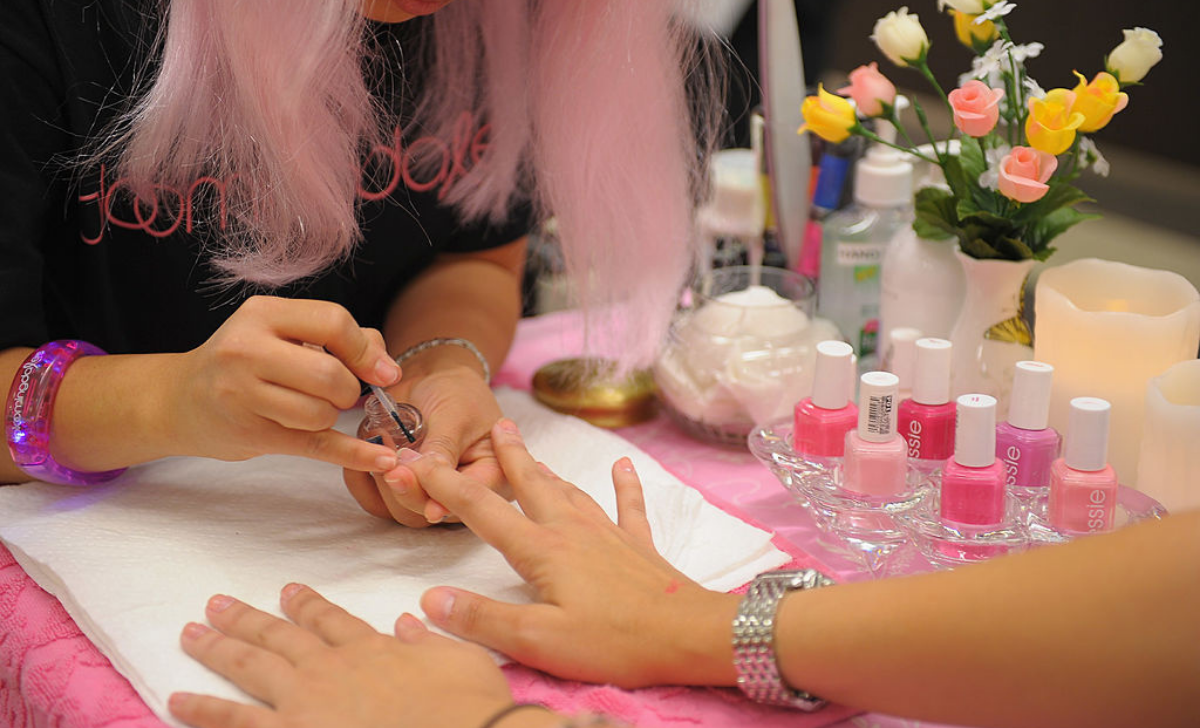 These Breast Cancer Nail Trends Will Color You Impressed
October is Breast Cancer Awareness Month, in recognition of the most common cancer in American women, as The National Breast Cancer Foundation, Inc. shares.
A staggering one in eight women will receive a breast cancer diagnosis in her lifetime, and while awareness and prevention is critical year-round, October is the official month for rallying around the cause.
Article continues below advertisement
And people do that in all kinds of ways.
From pink ribbons to fundraisers, walk-a-thons to t-shirts and beyond, there's no end to the ways to show support, and we're here to take a look at one of the most popular and eclectic ways out there — nail art.
Breast cancer awareness nails are all the rage.
Yes, you read that right! Nail art is a popular form of self-expression, and Breast Cancer Awareness Month is no exception. In fact, it's quite the opposite.
From coast to coast, people are adorning their nails with pink embellishments, messages of hope, and an abundance of creativity. Here are some of the most eye-catching styles out there.
Short and sweet
Okay, how cute is this look? We're loving that hot pink, high-gloss look, and the statement nail is on point.
Superhero vibes
From multiple shades of pink to the heroic Superman logo in support of fighters everywhere, this style is bold and chic all at the same time.
Article continues below advertisement
Did someone say studs?
They're subtle. They're fierce. They're on point, and we can't get enough of this studded nail style.
Article continues below advertisement
All the ombré
There's no such thing as bad ombré, but mixed with a pink ribbon pattern and a bit of glitter, these are definitely statement nails that command some attention.
Article continues below advertisement
A very classy take
Showing support for the cause doesn't necessarily mean donning pink, as this chic style proves. A glossy dark base color with a bit of embellishment makes for a fiercely fabulous look.
Article continues below advertisement
Polka dotted perfection
This trend is for everyone, and this little lady had her nails done in honor of her grandmother — a survivor. They couldn't be more adorable.
Article continues below advertisement
A little bit of leopard
Sporting this look for her survivor mom, this tribute manicure mixes a bit of bold in with the super sweet to create a unique and memorable look.
Article continues below advertisement
The fighting spirit
A sparkly statement nail and a powerful message that embodies the fighting spirit makes this nail stand out in a big way.
Article continues below advertisement
A bit of bling
This set of tastefully bedazzled tribute nails features some subtle sparkle on the ring fingers to take the look to the next level.
Article continues below advertisement
Patterns on patterns
This look plays with color and patterns to create a cohesive look that's both playful and on point. We're into it!
Article continues below advertisement
Remember to stay informed this Breast Cancer Awareness Month.
It can be fun and empowering to rock some pink, but don't forget to take the opportunity to stay informed.
From the CDC to the World Health Organization (WHO) and many more, there are great resources where you can find the most updated, accurate information on recognizing, preventing, and educating yourself about breast cancer.
From risk factors to symptoms and treatment, stay informed and stay well!