Bret Baier Shares News of Father's Death: "My Dad Sadly Lost His Long Battle Yesterday"
Fox News Chief Political Anchor and show host Bret Baier took it to Instagram on Tuesday, Sept. 15., 2020 to share devastating news with his followers. As he revealed, his father, Bill, has died of cancer. So, what happened? How is he holding up?
Article continues below advertisement
Bret Baier's father, Bill, died of cancer in September 2020.
"After beating cancer once-my Dad sadly lost his long battle yesterday. Fortunately, the family & I got to say goodbye a few days ago. It went very fast which actually was a blessing. #RIP Dad," Bret captioned one of his latest Instagram posts.
In the accompanying photo, the show host is seen leaning close to his ailing father. Bret also tagged his wife, Amy, brother, Tim, and The American Cancer Society in the post.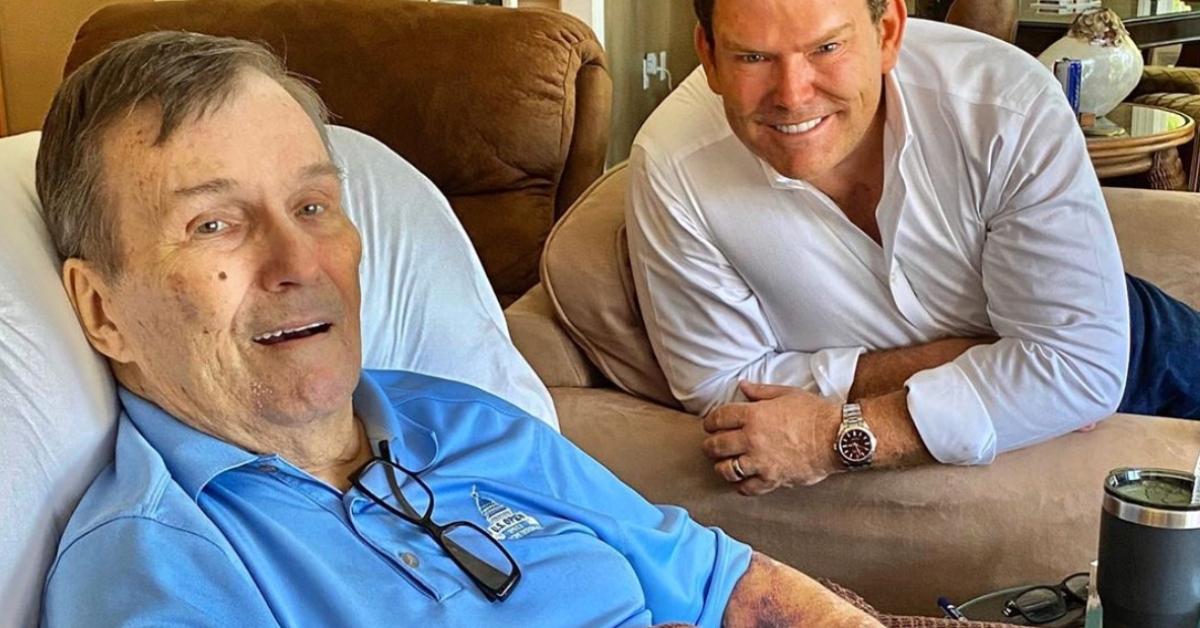 Article continues below advertisement
Bret's friends, colleagues, and other acquaintances swarmed the comment section under the post, sending their thoughts and prayers to the whole of the family.
"So sorry. I lost my Dad 2 years ago at this time. Prayers for you and your family," wrote Scott Walker, the Former Governor of Wisconsin.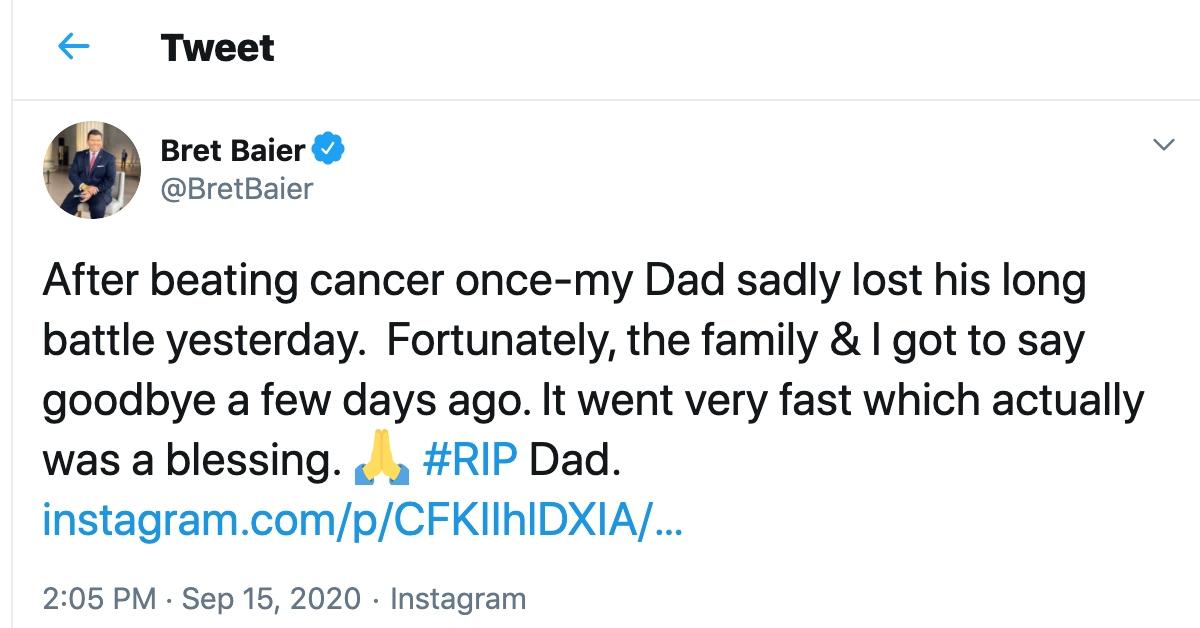 Article continues below advertisement
"I am very sorry for your loss, Bret. It is a blessing he didn't suffer. Our heartfelt condolences and prayers to your family. " wrote Mike Emanuel, Chief Congressional Correspondent and a former White House Correspondent for Fox News Channel.
"I am so so sorry for you loss @bretbaier. Deepest condolences, Bret. Prayers to you and your beautiful familia. 🙏🏽. He must have been so proud of you," wrote Fin Gomez, a White House Producer for CBS News.
Article continues below advertisement
As Bret explained in a previous interview with Market Watch, it was his dad who taught him the importance of having a strong work ethic.
"I learned from watching him that hard work really did open a lot of doors," Bret told the outlet.
"My dad's work ethic is what motivated me to start a grass-cutting business as a teenager that eventually was so popular, I was booked every weekend. It wasn't exactly a grass cutting empire - but I was pretty busy and able to buy myself a moped," he explained.
Article continues below advertisement
Bret Baier also made headlines a few months ago by listing his home in Washington, D.C.
Bret made headlines in June 2020 when he listed his luxurious property in Washington, D.C., for $7.9 million. The beautiful mansion comprises of five bedrooms, four bathrooms, and two powder rooms, a previous article by Variety reveals.
According to the outlet, it also boasts a custom library, a formal dining room, a gourmet kitchen equipped with a wide range of state-of-the-art appliances, alongside other perks like a specifically designed breakfast room, a fitness center, a basketball court, a cinema room, and a wine cellar. Needless to add, there are several en-suite guest rooms and a master suite with a walk-in closet and a specially-designed bathroom. It's uncertain whether the house has been sold yet.
We're sending our condolences to Bret Baier and his family during this trying time.