Bride Caters Wedding With Chili's Carryout, Shares Pros and Cons
A budget-savvy bride chose Chili's to cater her big day. On TikTok, she shared the pros and cons of her decision. Keep reading to see what went down!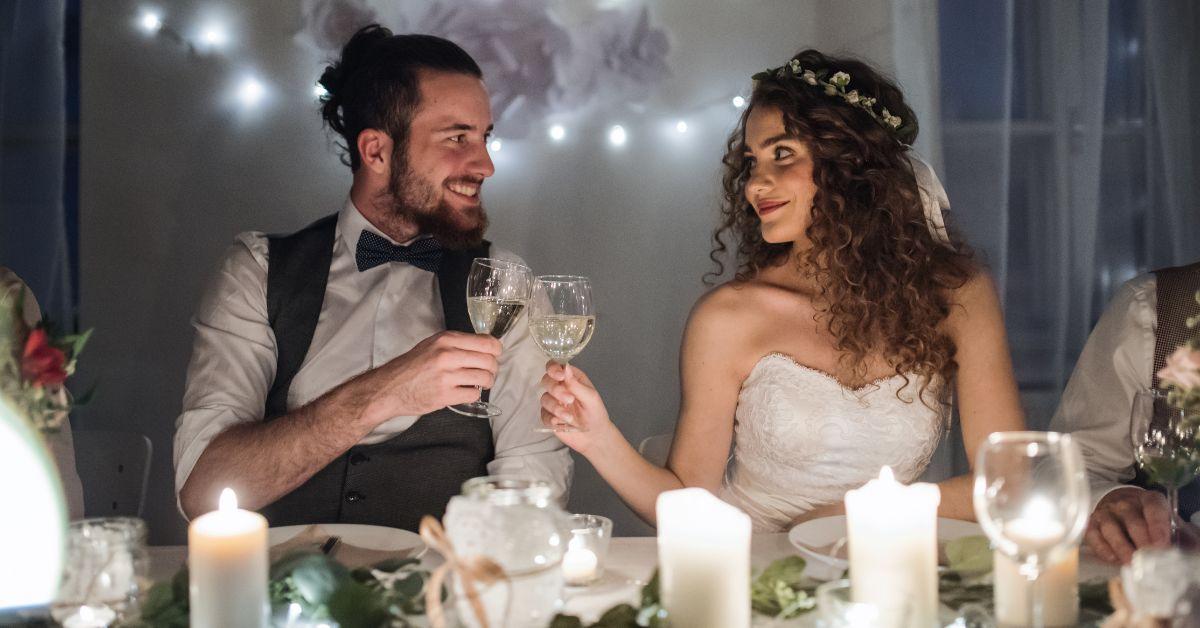 It's no surprise to anyone who has ever attended or planned a wedding that those things can be stressful. When a couple announces their engagement, their loved ones quickly bombard them about the wedding date, location, and every other pre-nuptial topic. The couple getting married become just as panicked, especially once they dive into the cost of their special day.
Article continues below advertisement
In addition to the venue, wedding attire, and many other unforeseen costs, the food at the wedding reception can be a new balloon bill by itself. One TikTok bride attempted to cut down her and her spouse's debt by having their wedding catered by a popular chain restaurant — Chili's.
Here's what the bride said about catering their 100-guest wedding with Chili's carryout!
Article continues below advertisement
Bride Madison Mulkey said she's "so happy" Chili's catered her wedding.
For those who have never been to a Chili's, the restaurant has been around since March 13, 1975. The establishment has gained a reputation throughout its run for its seemingly casual dining experience. However, Madison Mulkey (@brideisapersonality on TikTok) shared why some brides should consider it for their wedding catering needs.
In a two-minute video, Madison said she and her husband served Chili's at their reception, which included nearly 100 guests. She then posted the receipt for her wedding food and captioned the video: "So happy we did this!!"
"Our total cost for our wedding food was $1,950 for 99 guests," Madison told her followers.
Article continues below advertisement
The bride noted that the cost included five specialty meals for those with specific food allergies. Madison chose the "dairy-free" option as well as "gluten-free" and "seafood only." Also, the couple received several delectable Chili's staples, including chicken tenders, sliders, egg rolls, chips and salsa, and Cajun chicken pasta and salad.
Article continues below advertisement
While eating your fast food fave on your wedding day can be a dream come true, Madison said she was most impressed by the budget-friendly costs of the food on her special day.
"First of all, we loved the price point," Madison declared. "I mean, you really can't beat that price point. Like, you just can't. It's insane that we only spent that much money on our wedding food."
Article continues below advertisement
Chili's wedding catering does have its cons, as the bride shared in her video.
Before TikTok brides everywhere start Googling a nearby Chili's, Madison gave her honest take on the "back end" of the restaurant's catering practices. She said she and her husband "weren't really expecting" the extra work with the service, including having Madison's aunt pick up the food from a Savannah, Ga., location early to avoid delivery fees. She said the restaurant was "packed" because their wedding was on St. Patrick's Day weekend.
Article continues below advertisement
In addition to bringing the food to the venue, Madison said her aunt helped her cook the food properly for guests. She also enlisted the reception servers and her wedding coordinator to go the extra mile and help with cooking.
While Madison admitted her coordinator and servers weren't "supposed to do" Chili's catering tasks, she praised her staff for making it all come together. She then stressed that her situation was "rare" due to the wedding's time constraints.
Overall, the bride was pleased with the experience and said her guests thought the food was "amazing." You know what they say, happy wife, happy life!