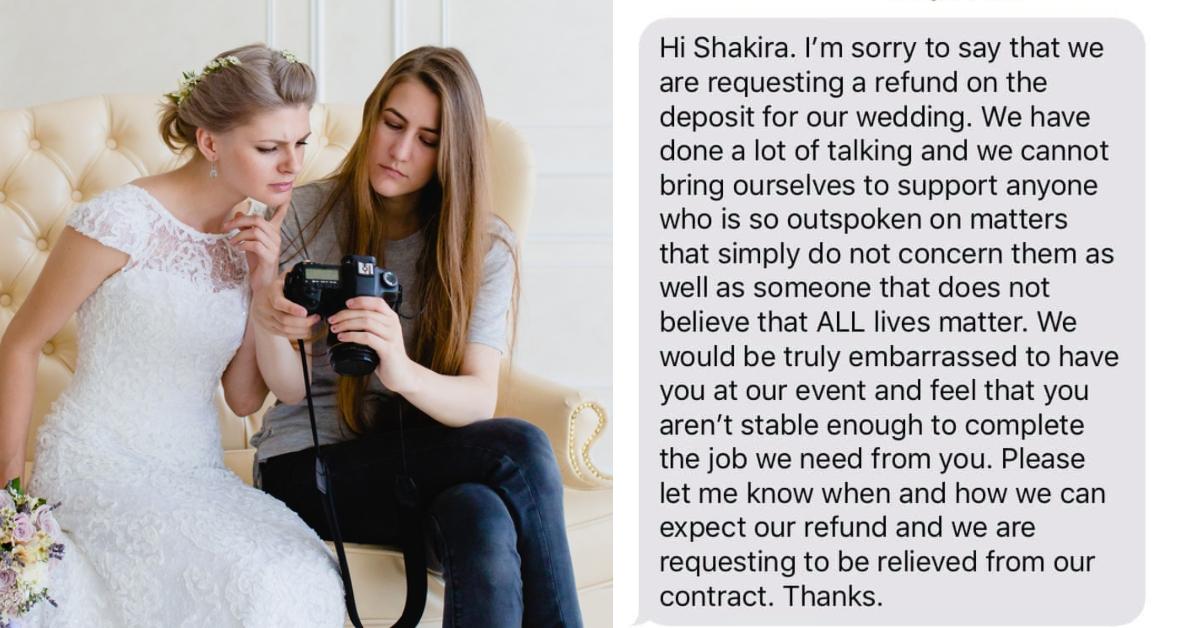 Bride Demands Refund from Wedding Photographer Who Supports Black Lives Matter
Shakira Rochelle posted in support of Black Lives Matter, and one of her clients demanded a refund, saying she no longer wanted to work with her.
Shakira Rochelle is a photographer in the Cincinnati area of Ohio. She recently posted a simple message on her Instagram and Facebook pages in support of Black Lives Matter.
Article continues below advertisement
The graphic said, "Black Lives Matter," and her caption was this: "Shakira Rochelle Photography stands in solidarity with the black community. The Black Lives Matter movement has my endless support." One client, a bride-to-be who'd hired Shakira to photograph her wedding, did not like that she thinks Black people matter.
Article continues below advertisement
The bride texted Shakira requesting a refund of their deposit because "we cannot bring ourselves to support anyone who is so outspoken on matters that simply do not concern them as well as someone that does not believe that ALL lives matter."
She goes on to say that they would be "embarrassed" to have her at their wedding and feel that Shakira's "not stable enough" to complete the photography job. Shakira shared this screenshot with a friend. It's since gone viral on Twitter, garnering nearly 200,000 retweets and over a million likes.
Article continues below advertisement
Shakira wasn't about to back down to a racist client, one who clearly doesn't understand Black Lives Matter and moreover, one who believes that someone who supports the Black Lives Matter movement is unstable. So, she responded. Or more accurately, she clapped back. Hard.
Article continues below advertisement
"I am sorry to hear that," Shakira wrote back. "Unfortunately the contract you signed states that your deposit is non-refundable. I will email you a cancellation agreement shortly that will require your signature to forfeit your date. I wish you a lifetime of growth and I would like to thank you for your donation to Black Lives Matter," implying that she'd be donating that bride's deposit to the cause.
The bride wasted no time claiming that they would take this to their attorney and that Shakira would have to answer to them. But that didn't matter because the entire internet had her back.
Article continues below advertisement
"Where is this business?! We need to help market this business!!" one Twitter user wrote. People started flooding Shakira Rochelle's Facebook page with positive reviews ("Believes in human rights! 100 percent recommend!!"), and lawyers even offered their services pro bono if she ended up having to deal with the bride's attorney.
Shakira didn't address the story head-on until a few days after it had reached viral status. On Facebook, she wrote that she was hoping to "lay low" until it blew over but that she saw something that she felt she had to address.
Article continues below advertisement
She writes that a photoshopped screenshot had been circulating that claims publicizing this story was a "business tactic" she was using to profit off of the Black Lives Matter movement.
Article continues below advertisement
"This is the most incredibly absurd thing I have ever heard," she writes. "The original post started out private until a friend asked if she could share it. I never had the intentions or the desire to go viral for this or anything else." She writes that she is completely booked for the season and does not need more business.
"I considered deleting the original post but it is viral on multiple platforms from other people and deleting it would go against everything I stand for," she writes. "I have always stood up for human rights and will continue to do so. I have marched with my loved ones as well as alone. My intentions are pure. Please know that what you say from me was the complete story."