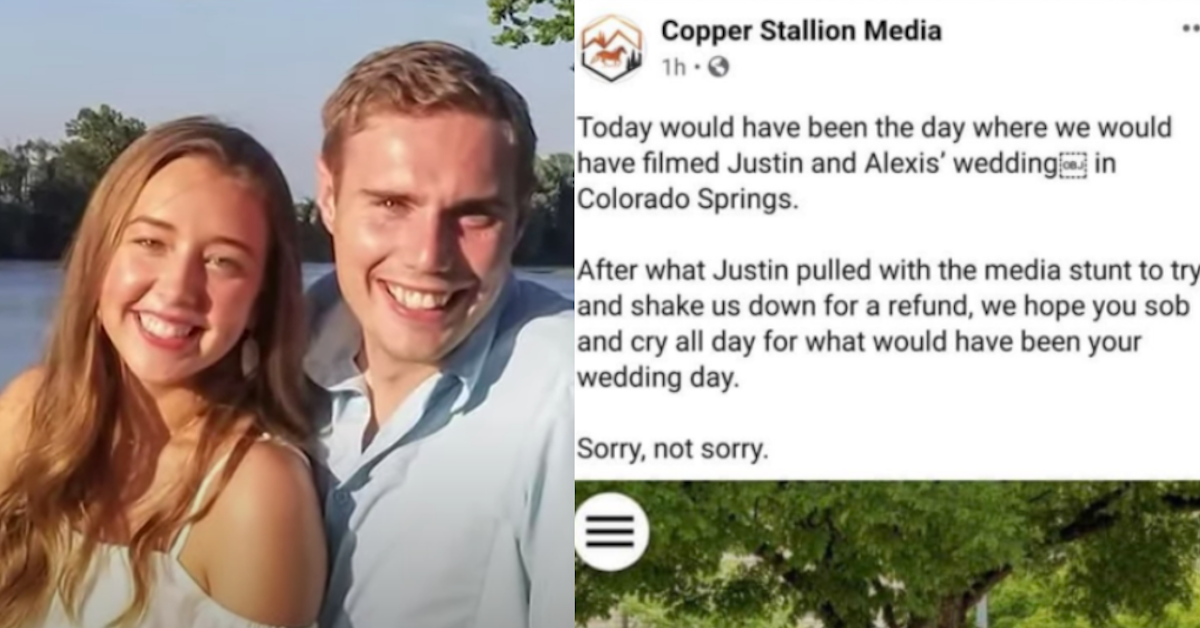 Wedding Videographer Openly Taunted Man Who Asked for a Refund Because His Fiancée Died
Justin Montney and his fiancée, Alexis-Athena Wyatt, were supposed to get married in May until tragedy struck. Alexis died in a car crash in February, and Justin was forced to cancel the wedding. Most vendors completely understood and offered Justin condolences and refunds. Except for one.
Article continues below advertisement
Copper Stallion Media, a Texas-based wedding videography and photography company, refused to give back the $1,800 deposit Justin and Alexis had put down, claiming it was nonrefundable. I am telling you that you can't even imagine where the story goes from here.
Article continues below advertisement
In a fit of frustration after not hearing from Copper Stallion about his refund, Justin reached out to let the company know he would tell his friends about what happened and post it on social media, according to BuzzFeed News. That's when Copper Stallion Media struck back and threatened to sue Justin and Alexis' families.
Alexis' mom had written a review of the company on the popular wedding website The Knot, explaining just how "heartless" Copper Stallion Media was being by not offering a refund. The company's response was truly wild. It seems their page has since been deleted from the site, but there are screenshots.
Article continues below advertisement
"Nonrefundable means you cannot get your money back, even from the grave. It's the cost of doing business. Our attorney will be in touch and you will be served with a summons in our defamation case," the company's response reads.
Article continues below advertisement
That's when Justin decided to reach out to KRDO, a local TV news station, to tell his story. The story was published on KRDO's site on May 22, and Copper Stallion retaliated on their own Facebook page with a truly appalling post (screenshots below).
Article continues below advertisement
On the day that would have been their wedding, Copper Stallion Media posted on their Facebook page, "After what Justin pulled with the media stunt to try and shake us down for a refund, we hope you sob and cry all day for what would have been your wedding day. Sorry, not sorry." Talk about cruel.
But folks, it gets even weirder and scarier. Once their abhorrent behavior went viral, Copper Stallion Media was inundated with one-star reviews on Yelp and The Knot. The backlash was swift and plentiful.
Article continues below advertisement
Yet Copper Stallion Media kept insisting on digging their own hole deeper and deeper. First, it seems they changed their company name on Yelp to Justin's name and then posted a beyond insulting five-star review aimed at him. We'll link to a screenshot of the review, but be aware that it includes homophobic slurs.
According to one Twitter user, the company seemed to have posted an alarming update on its Facebook page claiming an employee took her own life because of cyberbullying spurred by Justin's actions. The post and the page have since been deleted, and there seems to be no concrete evidence this is true.
Article continues below advertisement
The company also created websites at justinmontney.com and justinmontneywedding.com, which were first used to explain their side of the story. According to BuzzFeed News, the website stated, "It is not right that people can go online and trash a company. The contract was non-refundable. We will NEVER refund Justin Montney even with the online threats and harassment. If we knew he was going to shake us down, we would have charged a higher deposit.
Article continues below advertisement
On justinmontney.com, the company used a Photoshopped picture of Justin from his college's website and linked to his personal Facebook pages and those of others they believed were involved in the "smear campaign" against them.
All of this information has since been deleted from the sites, and now both justinmontney.com and justinmontneywedding.com house a YouTube lyric video for the song, "Disillusioned" by A Perfect Circle.
Article continues below advertisement
There is an unconfirmed theory that Copper Stallion Media is owned by known wedding videography scammer Jesse J. Clark, according to the Daily Mail. A photographer who once worked for Copper Stallion said he stopped because he wasn't getting paid. He eventually got his last paycheck, which came from a company called Organized Weddings, LLC, which is registered to Jesse J. Clark.
Justin told BuzzFeed News, "[The company's owner] is trying to stir up a ruckus and defame my name, but obviously he doesn't have a ground to stand on. He kind of made his own smear campaign." I'll say.