Hilarious Wedding Fails That Will Make You Giggle With Schadenfreude
You prepare for months and months for your special day, trying to make it the most perfect celebration. But sometimes, you can't control when things go wrong.
Planning a wedding is an exercise in control. You do a crazy amount of work to make it exactly what you want, down to the forks and knives, and then when the day actually comes, you have to let it all go. You can't control the actions of other people, unfortunately, and things don't always go as planned. In fact, sometimes they go the opposite of the way you want them to.
Jimmy Fallon recently asked Twitter to share their most epic #WeddingFails, and folks, people had stories. These are some of the best ones.
Article continues below advertisement
1.
Oh my gosh. This is adorable. I like to think that at that age, I will find humor in accidentally wearing the same dress as someone else, unlike when I went to prom and there were literal Facebook groups where girls fought over who got to wear what dress and people cried if they showed up on the night of in the same frock as someone else. This is probably the tamest of the wedding fails we will encounter on this list.
2.
This is like that plot line in Love Actually where Andrew Lincoln creepily films Keira Knightly during their wedding and then shows up at the front door, makes her say, "It's carol singers!" and then shows her handwritten signs professing his love. Except this story is a little less creepy and happened in real life! At least it has a happy ending. Everyone ended up with who they were meant to be with!
Article continues below advertisement
3.
This is an amazing photo, and I hope they got this blown up and hung it on the wall right next to a nice portrait of themselves from the wedding day. Let me just say kudos to that woman's seamstress for really making that dress fit her like a glove and ensuring that nothing would...ahem...spill out if she took a tumble. At least wedding ceremonies this embarrassing are always also super memorable, right?
Article continues below advertisement
4.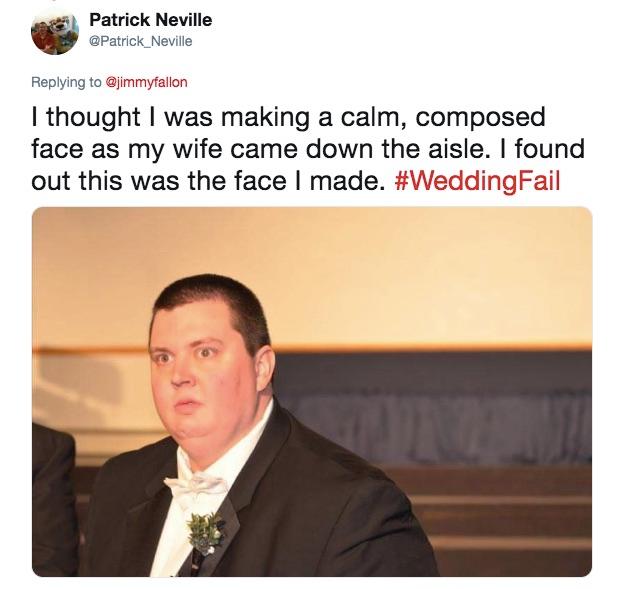 His inner monologue when this picture was taken: "I'm looking so good right now. Calm. Cool. Collected. Like Clint Eastwood. My almost-wife is walking down the aisle saying, 'Look at that hunk I'm about to marry. From the look on his face, I can tell that he has absolutely no doubts about what we are about to do. He is the picture of confidence.' Yeah, that's definitely the aura I'm giving off. No problem."
Article continues below advertisement
5.
Oh boy. Listen, I am getting married in a few months, and I decided not to do a garter toss, or a Father-Daughter dance, or nearly any of the traditions most wedding receptions have. It's just too much pressure. And then, sometimes, the DJ goes ahead and completely messes it up, and that's all that people talk about for the rest of the night. That's not how I want my wedding to go!
Article continues below advertisement
6.
I am so confused about this entire story. First of all, maybe this wedding happened decades ago, or involved like, fewer than 20 people, but $500 is not a very big food budget. There's not a lot of food you can get for $500, at least when it comes to wedding catering. Second of all, why would they put his dad in charge? Third of all, why would dad choose hot dogs and nothing else? This is like, nine different levels of crazy.
Article continues below advertisement
7.
I am very clumsy, and I like red wine, and those two facts about me already make me nervous for my own wedding day. I feel like I need to hire Rebecca and her chemical engineer friends to come to my wedding and follow me around with whatever concoction will get red wine stains out of white dresses. Hey, at least this momentary freak-out led Rebecca to figure out what she wanted to do with her life!
Article continues below advertisement
8.
Ah, the perils of an open bar. I can't believe the bartender accidentally gave a 12-year-old spiked lemonade. Either she looked extremely mature for her age or that bartender was messing with her to ruin things. Twelve-year-olds are already complete terrors; you don't have to get them drunk, too. I can't imagine what it would be like to be 12 and completely wasted on spiked lemonade. Probably way too fun.
Article continues below advertisement
9.
Let me say this loud and clear for any wedding photographer, any bride, or any person out there who has ever been to a wedding: The jumping photo is never a good idea. I repeat: never a good idea. Everyone looks ridiculous in it, and that's if you even get the shot. Most of the time, people don't jump at the same time, the timing is all off, or someone falls, rolls down the hill, and destroys everything.
Article continues below advertisement
10.
This looks like a still from a movie. This sounds like the plot of a Judd Apatow coming-of-age film. This does not sound like real life. But apparently, it's true. But also like, what happened to the wedding cake? Is it still in the backseat of the car? Did it melt in the fire? I need to know the fate of the cake! A suit jacket can be replaced fairly easily. A wedding cake takes time and effort and you don't just have a backup.
Article continues below advertisement
11.
This is so funny. I'm glad that the bride and groom had senses of humor about it because it could have gone either way, especially during a Catholic ceremony at a huge church. When you're 5 or 6 years old, and you see candles, you think it's someone's birthday! That's just the truth. I love the idea that this kid started belting "Happy Birthday" and it echoed throughout the whole church. Priceless.
Article continues below advertisement
12.
What a comedy of errors. Errors of arson that could have resulted in the loss of human life. Like the wedding cake / broken car story, this seems like something that could have only happened in the movies. Don't you think that at least after the second lantern failure, you know, the one that burned a giant hole in the bride's dress, they would just give up? Say, "Eh, maybe this lantern lighting business isn't for us"?
Article continues below advertisement
13.
I cannot get over this. These are clearly lovely and very professional pictures. They must have hired a great photographer for their wedding, and yet the photographer never once said, "Oh hey, what's on your hand? You maybe want to take that off?" So he ended up wearing a Minions Band-Aid in all of the pictures. All of them! There is not one picture that features this groom's left hand that also does not feature a Minions Band-Aid. It's perfect.
Article continues below advertisement
14.
What is this, that episode of Friends in which Ross says Rachel's name during his wedding to Emily? Again, only something that's supposed to happen on TV or in the movies, not in real life. That's extremely awkward and there's just no way in hell you recover from it. There's no, "Whoops, haha, said the wrong name! It's weird because I was thinking about you but looking at her..." Nope. None of that flies. This is so cringe-worthy.
Article continues below advertisement
15.
I'm not going to lie, this one made me laugh. If I was the groom, I probably also wouldn't find it funny, but I bet it went over great with the guests. Well, some of the guests, at least. Maybe not the groom's family...or the bride's family... OK, so maybe starting with that line was pretty ill-advised, but at least it was good for a bunch of Twitter reactions years down the road. Objectively, it's a good joke.