Destination Bride Demands More Money From Guests After Wedding
A bride sent a note to wedding guests after her reception when she discovered they didn't give her "enough" cash to cover their portion of the wedding.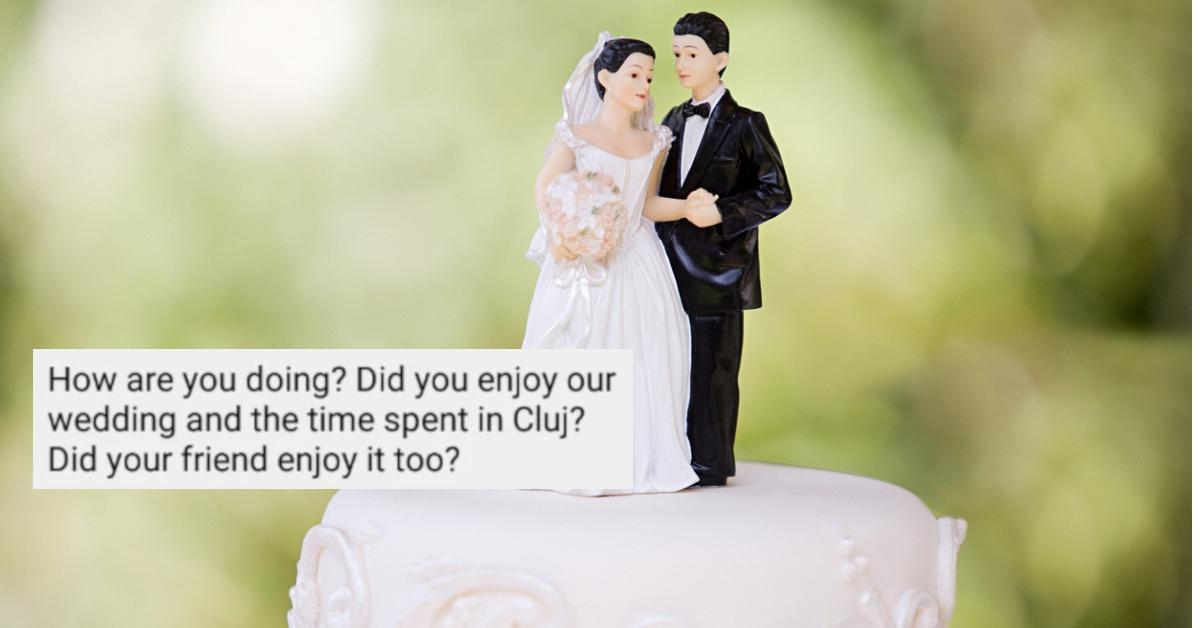 People are lambasting an angry bride who sent a message out to guests who she felt didn't give an appropriate amount of money at her wedding.
Getting married for most people isn't easy. It's a super stressful time because planning a wedding is a dedicated balancing act of making your dream celebration a reality, while also trying to deal with your limitations. You may need to make some cutthroat decisions; every guest needs to be accounted for, table arrangements have to be made, getting a DJ who isn't a cocaine addict is hard, etc.
Article continues below advertisement
Even if money isn't an obstacle, you'll still have problems when planning your "perfect" wedding, and when money is very much an obstacle, it becomes much harder. Finding an appropriate venue with the menu you want, that'll work for all the guests you want to bring is very, very tough.
Which is why a lot of people probably rely on the "typical" envelope from their wedding guests to help offset the costs of the ceremony.
While envelopes packed with cash are pretty much expected by every married couple tying the knot, and there probably isn't a single wedding attendee of sound mind who thinks it's "OK" to show up to one without an appropriate amount of moolah, it's still kind of grimy to expect a person to "pay" for technically being your guest at a party you decided to throw.
If someone didn't give you "enough" money for your wedding, do you think it would be right to call them out on it?
Article continues below advertisement
That's what Seyi Akiwowo experienced after she took a trip to Romania with her plus one to attend a destination wedding celebration held by her former friend.
This particular story occurred in 2015 and Seyi waited some time before posting it to social media. It quickly went viral and she made her Twitter private, but nothing is ever truly deleted on the internet.
Article continues below advertisement
In her posts, Seyi said the wedding was positively "dope" and that the guests were treated very, very well. The bride hooked them up with goodie bags and the venue was absolutely stunning.
The thing about traveling in a foreign country, however, is that getting your hands on cash sometimes can be a problem, especially when you don't trust sketchy ATMs or understand exchange rates.
Article continues below advertisement
At the end of the wedding, when guests were asked to stuff some cash into envelopes to help the happy bride and groom kick of their life together right, the two of them only had 25 euros on them. She tweeted:
"We ran out of cash. And we were in the village. We didn't see local ATMs. Most cabs refused to take euros so we literally only had enough local currency to get back to the hotel and to the airport at 4am."
Seyi went on to say that right when they got back to their hotel, she and her friend started coming up with ideas on what to give the bride and groom:
"While panicking about our flight, we said, 'That was such a good wedding...Let's think about a proper gift for them,'" she said.
But when they woke up the next morning, Seyi saw this message from the bride.
Article continues below advertisement
In her note, she blasted Seyi for her contribution, mentioning that the amount she gave was completely "insufficient" when considering the quality of the wedding they provided to their family and friends.
She also brought up the gifts that were given to the guests and "apologized" for not making it "clear" that all guests were expected to give anywhere from 75-100 euros.
Article continues below advertisement
But that's not all. The bride then provided her wire transfer details and asked the guest to please send her 125 euros (75 minimum per person). She then tries to undercut the message by "nice bullying" saying she hopes she made it home OK and that she had a great weekend.
Article continues below advertisement
Seyi concluded her story by saying, "Safe to say I am no longer friends with the debt collector" and that she "still wants [her] 25" euros back.
The married couple in question is still together, according to Seyi, and they just had their first baby.
Reactions to Seyi's story varied online. Most people asked if 125 euros was worth putting someone on blast like that and ruining a potential long-time friendship, while others brought up that if you don't have enough money to cover the cost of a wedding by yourself, then you can't afford a wedding. I echo that sentiment.
Article continues below advertisement


Article continues below advertisement
Not to mention the fact that it's a destination wedding. Sure, some people brought up that the 5 and 20 euro contributions from the guests were "insulting," and I kind of agree. Maybe Seyi should've included a note that they'd be sending them cash when they got back home or something.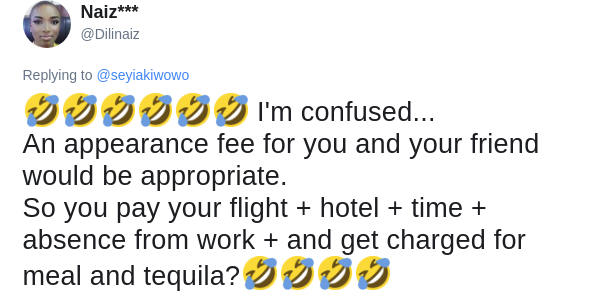 Article continues below advertisement

But at the end of the day, no one forced you to get married and no one forced you to throw an expensive destination wedding.
That being said, you should always give a decent envelope or a follow-up check when payday rolls around.