Bride Demands $30K From Friend for "Upstaging" Her at Wedding With Her Pregnancy
A bride asked people online if she's wrong for thinking a bridesmaid owes her money for basically "upstaging" her wedding.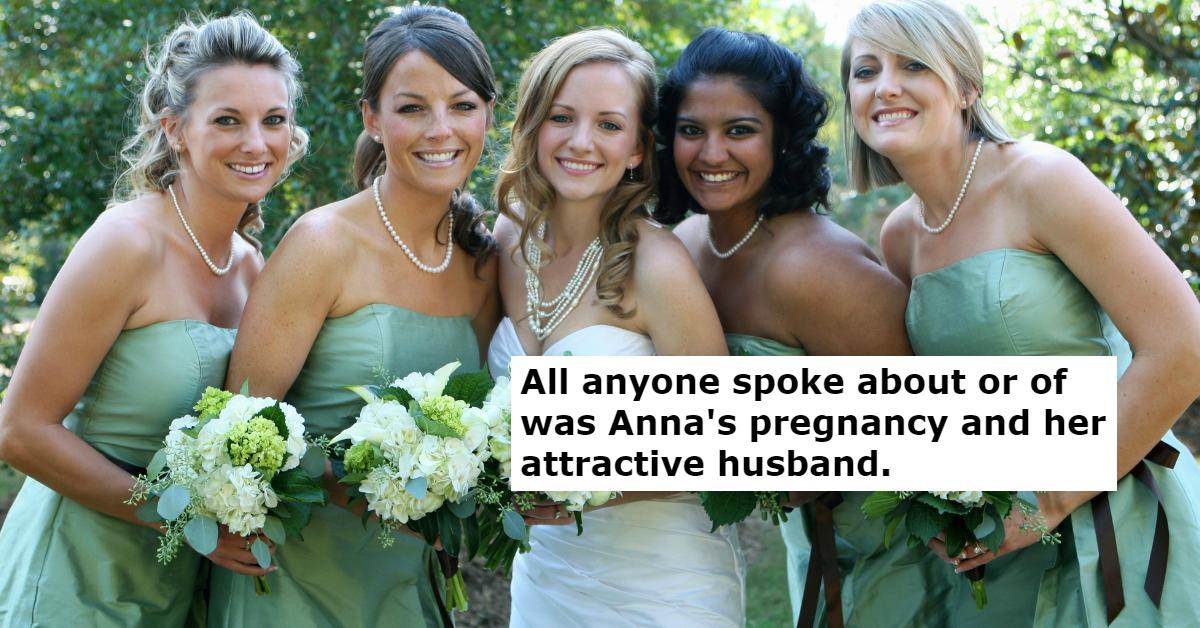 A vindictive bride didn't get the response she was probably hoping for when she posted to Reddit and asked if she was a jerk for wanting a bridesmaid to "refund" the $30K she spent on her wedding.
Article continues below advertisement
It seems for some people that their actual wedding celebrations are more important than the relationships they are supposed to celebrate. The party itself shouldn't be what you're celebrating, but some seem to lose the meaning of what a wedding is supposed to be all about.
Call it cheesy, corny, or whatever, but two people falling in love, really falling in love and committing to each other, should be what your wedding is all about.
Article continues below advertisement

The story starts off innocently enough, with IgnoredBride detailing an offense that occurred years ago. Because she was planning her wedding for so many years, she got really meticulous with the guest list. At the time, she only allowed married bridesmaids to bring plus ones, and she didn't give her friend, Anna, that option.
Article continues below advertisement
Anna was apparently offended by this even though her relationship at the time, according to IgnoredBride, was just "casual." The story then takes a turn and becomes all about Anna and her boyfriend, who eventually got married and pregnant together.

Article continues below advertisement
The marriage and pregnancy part seems like an extraneous detail, because Anna does something a little on the shady side, but only kinda sorta. She asked another bridesmaid who had a plus-one to bring her friend as her date to the wedding. Apparently, IgnoredBride and her husband didn't like the friend Anna snuck into the wedding, either.
After this point in the story, IgnoredBride's gripes with Anna become a little weird. No, you're not seeing things, she actually is getting mad at the fact that Anna dared attend her wedding while pregnant and while also having an amazing personality that people are drawn to. And she's mad Anna's husband is a tall, good-looking dude that who drew attention away from her and her groom.
Article continues below advertisement

Then, IgnoredBride goes on to blame Anna for having a great life and putting it on display at her wedding. Here's a thought: maybe if you were just focused on trying to be happy and enjoying your own life rather than worrying if other people were "stealing" your thunder at your own wedding, you would have actually had a great night?
Article continues below advertisement

IgnoredBride then oddly blames Anna's friend for "forcing" her brother to come out of the closet after the two of them hooked up. That doesn't sound like a scandal to me — that sounds like a hell of a wedding.
Article continues below advertisement
But she didn't seem to think so, and had to tap out of her own reception. That's how distraught she was over everything that went down.
The kicker is, she can't even look at her own wedding pictures without feeling sad about the whole thing, and thinks that, since Anna and her husband were the "stars" of her wedding, they owe her money for a new one.

Article continues below advertisement
She then insists she is not, by any means, a bridezilla, just someone who poured a ton of effort and planning into her wedding and didn't appreciate it being "hijacked" by someone else.

Article continues below advertisement
Since the subreddit she posted to is appropriately titled, "Am I the a**hole?" plenty of Redditors were quick to let her know who they thought she was in the wrong.
The consensus is she most definitely was the a-hole in this situation.

Article continues below advertisement

Some conceded that yeah, maybe Anna was wrong in convincing a bridesmaid to bring a plus one she didn't really want there, but still, IgnoredBride is just hella crazy.
Article continues below advertisement

Remember kids, if you're charismatic or are really pretty and are dating someone who's super attractive, best to keep that to yourselves when you're attending a wedding. Otherwise, you'll have someone who wants you to foot the bill for the entire thing.