Bride Demands MIL Wear Pantsuit to Wedding Because Her Dress Wasn't "Motherly" Enough
In a viral post, a woman reveals that her daughter-in-law wants her to wear an ugly pantsuit to the wedding. Read on for the whole story.
There are countless ways to ruin a wedding, but each and every curveball can be avoided if there's enough time to prepare. However, instead of worrying about common last-minute crises (like the weather or vendor issues), this one bride in the "AITA" subreddit has decided to focus all her energy on her future mother-in-law's dress.
Article continues below advertisement
The original poster, who goes by the handle u/BeeNo5344, revealed that her daughter-in-law wants her to wear a pantsuit to the wedding because her original dress wasn't "motherly enough." Um, what the hell?!
Read on for the full story. Plus, stick around to hear whose side the internet is on!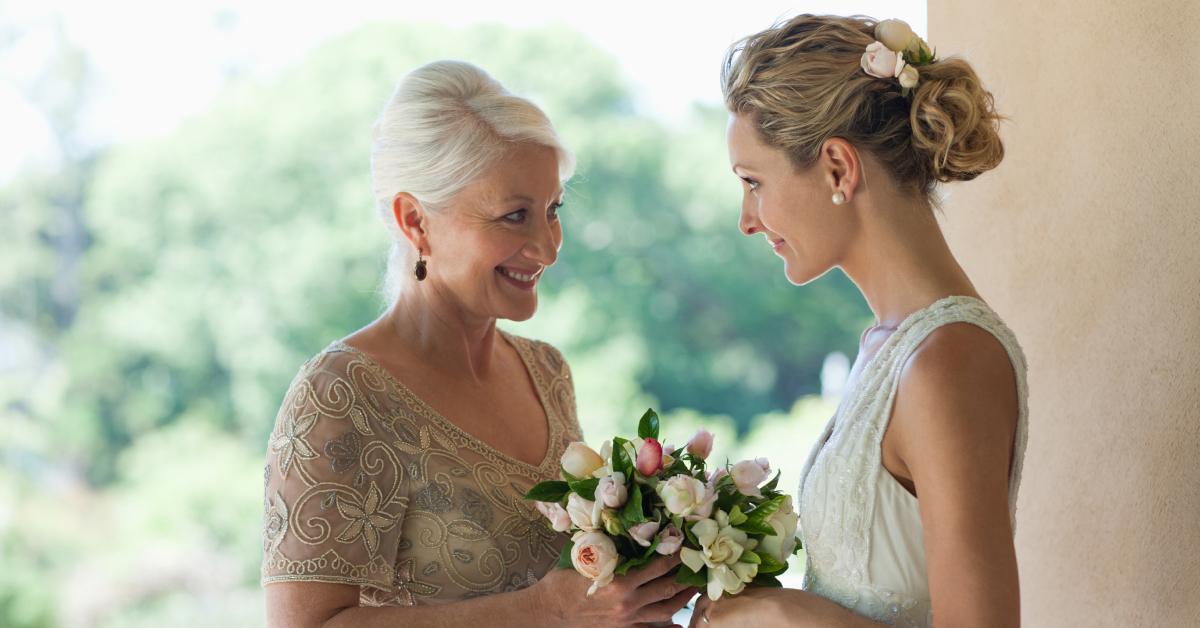 Article continues below advertisement
A bride wants her MIL to wear an "ugly chiffon pantsuit" to the wedding.
The OP began by announcing that her son and his fiancée are getting married in early September 2023. Her future daughter-in-law assigned her "coral" for her dress color, and she eventually decided on the "Calvin Klein Starburst Sleeveless Sheath Dress." However, things didn't go very well when she tried on the dress for her DIL.
"She wanted me to try it on the other day and has now decided it's not motherly enough and wants me to wear this ugly chiffon pantsuit," the OP wrote. "I told her, 'I'm fine with what I got, and I'm not sure precisely what the issue is with my dress.'" Now, here's when things took a turn for the worse.
Article continues below advertisement
The OP even offered to wear a shawl, but her DIL said the dress was "too sexy" and claimed that the OP needed to "look like a mother and dress my age. I told her she is being ridiculous and I would rather just not go. Now she is all mad, and my son is upset and trying to mediate."
Article continues below advertisement
Redditors unanimously agree that the OP's daughter-in-law is in the wrong.
As expected, many fellow Redditors rallied in support of the OP!
One person took to the comment section and wrote, "I'm almost the same age as you, and I'd honestly be furious if someone told me that I needed to dress more 'motherly' and especially if they tried to force me to wear the hideous outfit that your FDIL is trying to make you wear. I cannot understand for the life of me why some people go bats--- crazy the moment [they] start planning their wedding."
Article continues below advertisement
"Why do the groom's [mother] dirty like that?!?!" a second Redditor said. "That pantsuit is ugly; no one deserves to wear that thing and have it forever memorialized in photos."
A third Redditor commented, "I work with Alzheimer's affected women in their 90s who wouldn't let me put that on them if they had to break a hip fighting it. They've lost their memories, not their good taste."
Article continues below advertisement
Another person penned, "I'm four years younger than you, and I'd be livid if someone told me to 'dress my age' and suggested that ugly pantsuit. NTA."
"Why is there such a big deal about what other people wear to a wedding?" someone asked. "I get that wearing white would be tacky, but must the BRIDE dictate what everyone is wearing?" OK, say it louder for the people in the back!
Article continues below advertisement
"NTA, she's probably insecure you'll look better than her mom. I don't know why else it's a big deal," one Reddit user added. "You're young and most likely younger than her mom, but the wedding isn't about the parents, it's about them. So why make a big fuss over it? She has other things to worry about."
Another person agreed, stating that the Calvin Klein dress is "gorgeous. Very clean, elegant, [and] classic. MORE than appropriate for someone who's mid-40s. Your future DIL's comment about dressing your age? Yeah… I'm guessing her mom is older than you, and she's trying to make you look frumpy."
What do you think? Should the OP suck it up and wear the hideous pantsuit, or should she stay strong and stick by her dress? Hopefully, they get it all figured out before the big day. Let us know what you think!