This Man Refuses to Invite His Friend's Wife to His Wedding — Is He Wrong?
In a viral post, a soon-to-be-married man reveals he will not invite his friend's wife to the wedding. Keep reading to find out why!
When it comes to planning a wedding, there are many difficult decisions to be made — but perhaps the most stressful part is deciding who to invite. Narrowing down the guest list to a reasonable amount isn't an easy task, but somehow, this man in the popular "AITA" subreddit had no problem cutting people out.
Article continues below advertisement
The original poster, who goes by the handle u/throwawaylefty56, revealed that he didn't give his college friend (who's married, by the way) a plus one to his wedding. Wait, why? Keep reading for the whole story. Plus, stick around to hear whose side the internet is on!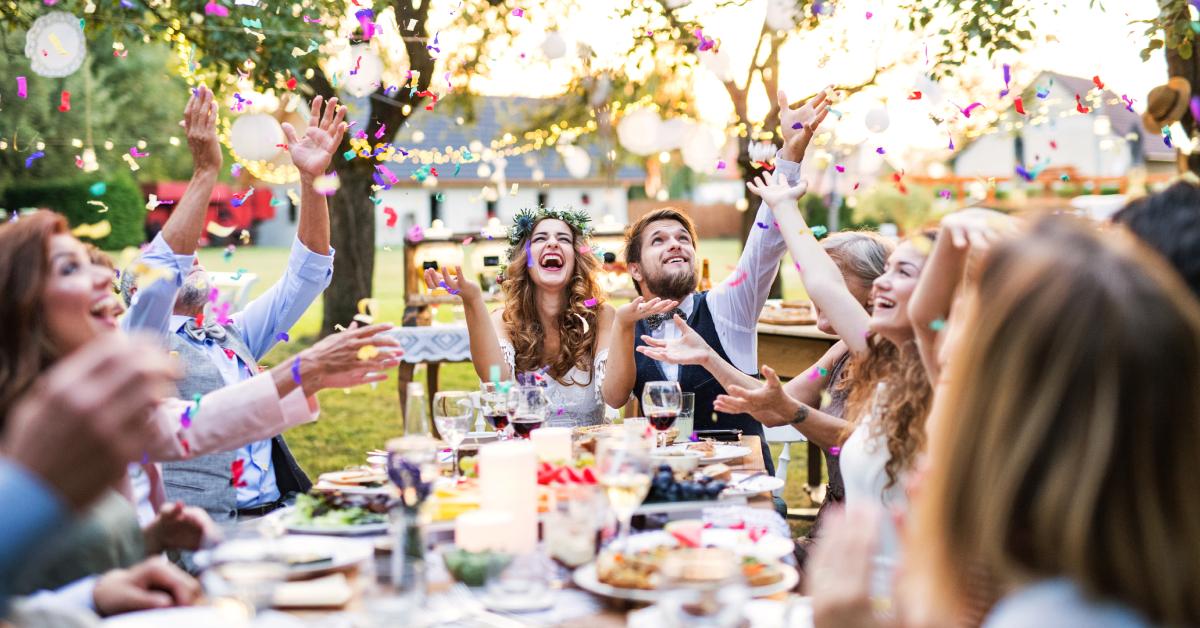 Article continues below advertisement
A man refuses to invite his friend's wife to his wedding.
After announcing that he's getting married next summer, the OP disclosed that he deliberately didn't offer his college friend a plus one for his wife. Now, it's usually best to invite both people in a married couple, so what happened?
Well, the OP said he and his friend's wife don't get along at all. They had their "fair share of fights" back in college and got into a heated argument a few years ago. Luckily, the OP provided further context in an update and explained why he isn't too fond of his friend's wife. As it turns out, she cheated on the OP's friend in college.
Article continues below advertisement

They broke up, but she eventually wanted the OP's friend back. After asking the OP for advice, to which he told him to move on, the friend got back together with her. The OP said he distanced himself and wasn't very kind to her. A few years later, the OP called her out for her "b----- behavior" after she hurled multiple rude comments at him.
Article continues below advertisement
They got into it, but by the following day, the OP apologized to her — but she rejected it and refused to apologize or accept any blame for her part in the argument.
Flash forward to the OP's friend's wedding; the OP wasn't invited, and though his friend said he wanted him there, his wife didn't. As expected, the OP was disappointed, but he understood and didn't let it affect their friendship.
The OP is getting married soon, and like his friend's wife, he doesn't want anything or anyone to ruin his big day — so he won't invite her. His fiancée is "fully supportive" of the decision, and although he said he's OK with the fact that his friend might decline to attend, the OP's other friends told him he was being ruthless.
Article continues below advertisement
Redditors unanimously agree that the OP is free to do what he wants.
The post racked in thousands of comments, with fellow Redditors agreeing that the OP is not the wrongdoer.
"NTA. I was leaning you're the AH, until you said that you weren't even invited to their wedding. So I think it's fair not to invite her," one Reddit user wrote.
Article continues below advertisement
Another user said, "It's perfectly normal to want to be surrounded by your loved ones on your wedding day, and not invite someone who you don't get along with and have had several fights with, including a big one fairly recently."
"NTA, she didn't want you at her wedding, you don't want her at your wedding. I don't see an issue," a third Redditor added (and we couldn't agree more!)
"What exactly is ruthless here?" one Reddit user asked. "You have direct evidence that she feels the same way, and it prevented you from going to a good friend's wedding. It's not like you're shocking her with the fact that your feelings aren't reciprocated. I would communicate with your friend, though, that she is not invited."
Article continues below advertisement
Someone else commented, "Why would you allow someone you dislike to be at your wedding? It is about celebrating a joyous day with the people you love, and if she is going to put a damper on the day, then you have every right not to invite her."
"It's your wedding, and you can invite or not invite whomever you want," penned another fellow Redditor. "I don't get anyone saying it's rude/uncalled for. Could it end your friendship? Maybe, but seeing as you let it go after not even being invited to his, that'd speak volumes about your friend than you."
What do you think? Should the OP invite his friend's wife? Let us know!