Man Finds Dog Hair in His Food at a Potluck, Throws Entire Dish Away — Is He Wrong?
In a viral post, a man wonders if he's wrong for throwing away an entire potluck dish because it was full of dog hair. Read on for the whole story.
We love dogs, and we love food — but we don't love dog hair in our food. Take it from this man in the popular "AITA" subreddit, who said he found several strands of fur in his food at a potluck party.
Article continues below advertisement
The original poster, who goes by the handle u/PotluckThrowaway3, revealed he threw away the entire dish because it was full of dog hair and he didn't want anyone else to eat it. Was he wrong for doing this?
Read on for the full story. Plus, stick around to hear what the internet has to say.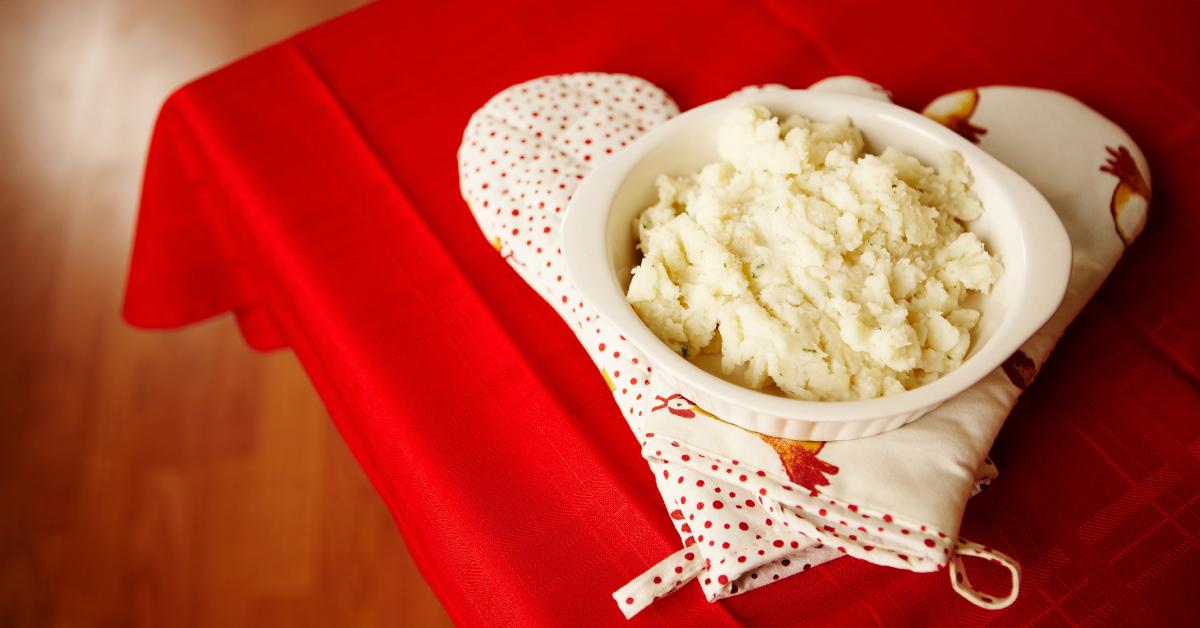 Article continues below advertisement
A man found dog hair in his food, so he threw the entire dish away.
The OP explained that he and his friends have potluck parties occasionally, but one of the rules is that the dish has to be store or restaurant bought. We know it sounds very odd, but the OP said there was a food poisoning incident in the past, so homemade dishes are no longer allowed.
At their most recent potluck dinner, one of the OP's buddies invited someone he never met before — and she brought homemade mashed potatoes. When the OP took a serving, he noticed a few dark spots but didn't think anything of it, simply brushing it off as pepper. However, nothing could've prepared him for what he was about to find in his food.
Article continues below advertisement

The OP said he felt "something weird" in his mouth and fished it out, only to discover it was pet hair. He examined the mashed potatoes and found a couple more hairs, so he threw the entire dish away.
Article continues below advertisement
The woman yelled at the OP for throwing her dish away, and he then confronted her in front of the whole party: "I tell her that dish has animal hair in it, it's disgusting. I ask her if she is trying to make us all sick," the OP wrote. "She starts crying, calls me an a------, and just leaves the party."
"I found out she has four dogs; if I knew that, I would have never gotten a scoop of potatoes," the OP added.
Reddit agrees that the OP could've handled the situation better.
The viral post has left fellow Redditors divided; some believe the OP is the wrongdoer, while others think the woman who brought the dish is the villain. On the other hand, a few people feel that everyone in this situation sucks.
Article continues below advertisement

"I cannot imagine anything worse than a potluck where everything is store-bought," one Reddit user said, adding, "OP doesn't suck for throwing it out or hosting the worst potlucks ever, but for overreacting ... and treating the person who did it like it wasn't an accident, asking if she was trying to make them sick, etc..."
Article continues below advertisement
Another person replied, "No one wants potatoes with dog hair in it, but why couldn't OP just take the dish off the table and tell the visitor to take it home afterward? I'm sure the visitor still would've eaten her own dog hair potatoes."
Article continues below advertisement
"Yes, the dish needed to be thrown away, but you could have handled it better," a Redditor wrote. "Nobody wants that sort of public humiliation, and it could have been a side conversation instead of something so dramatic."
A fourth Reddit user commented, "YTA. You could have removed the dish from the table, and taken her aside, shown her the dog hairs, and not caused a scene. Yes, it's revolting, but public humiliation isn't called for in this case."
What are your thoughts? Let us know!