This Father of Five Told His Son He Needs a Job if He Wants Better Clothes and Food
In a struggling family of five kids, should the children have to pitch in financially? A dad thinks his son needs a job if he wants food and clothing.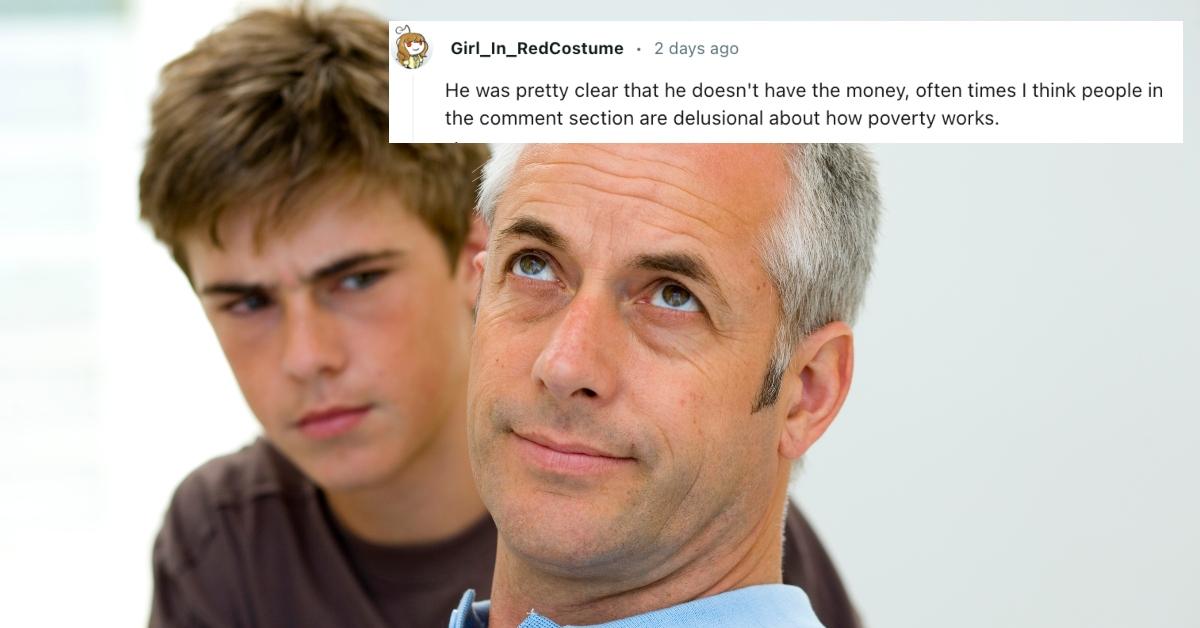 Mark Twain once said, "The lack of money is the root of all evil," and boy oh boy can that be interpreted more than one way. On the one hand, it could be a scathing indictment of how some view poverty, like it's a contagious disease instead of what it really is: a symptom of larger issues. On the other, this statement is also an acknowledgement of what it's like existing in a capitalist society. Less money equals more problems (no offense to the Notorious B.I.G. who said otherwise).
Article continues below advertisement
Anyone who says money can't solve problems has clearly always had money. It certainly makes life easier. For one man who took to Reddit to air his financial woes, a lack of money has led him to establish some rather unorthodox family rules. And when his 15-year-old son wasn't following them, he suggested the kid get a job if he wants better food and clothing. Is this a reality check or a reality TV show? Here's the scoop.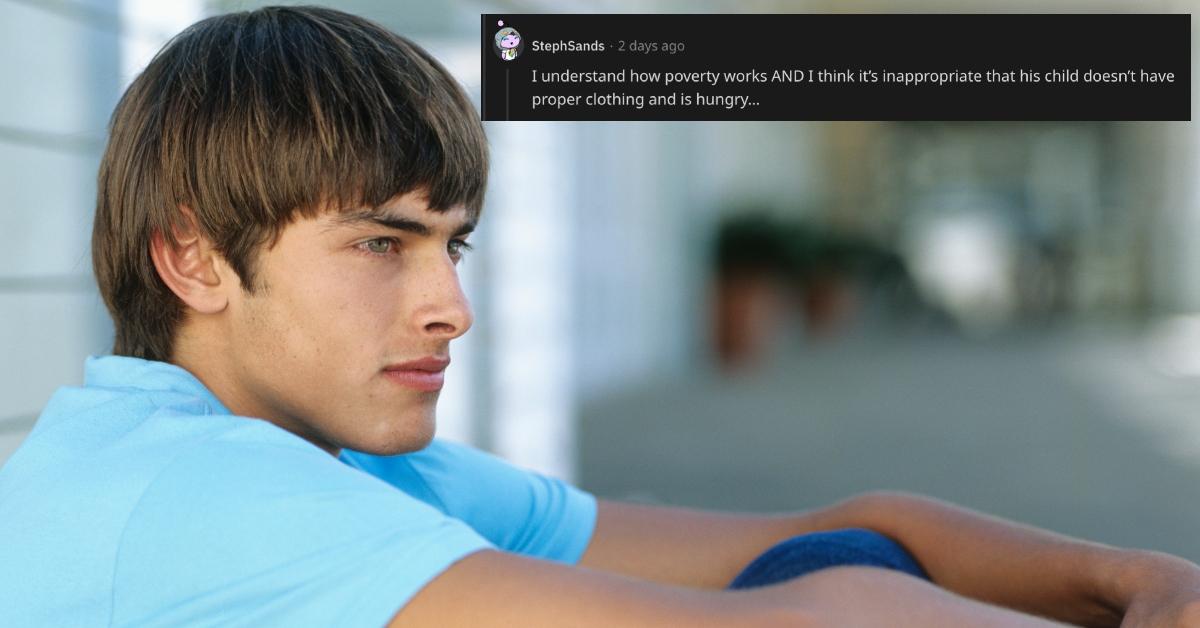 Article continues below advertisement
Is this a child labor of love?
In a Reddit post that has since been removed due to its confusing spam filters that don't seem to catch racist subreddits, an exhausted father was genuinely concerned that he was being too hard on his son. The single dad has 18- and 17 year-old sons from a previous relationship, as well as three younger boys (15, 13, and 11) with his late wife.
The older boys have jobs and are able to buy their own food and clothing but his 15-year-old, who he calls Jack, does not. While the dad has no issue with Jack's lack of teenage employment, it is a significant piece to this puzzle.
Article continues below advertisement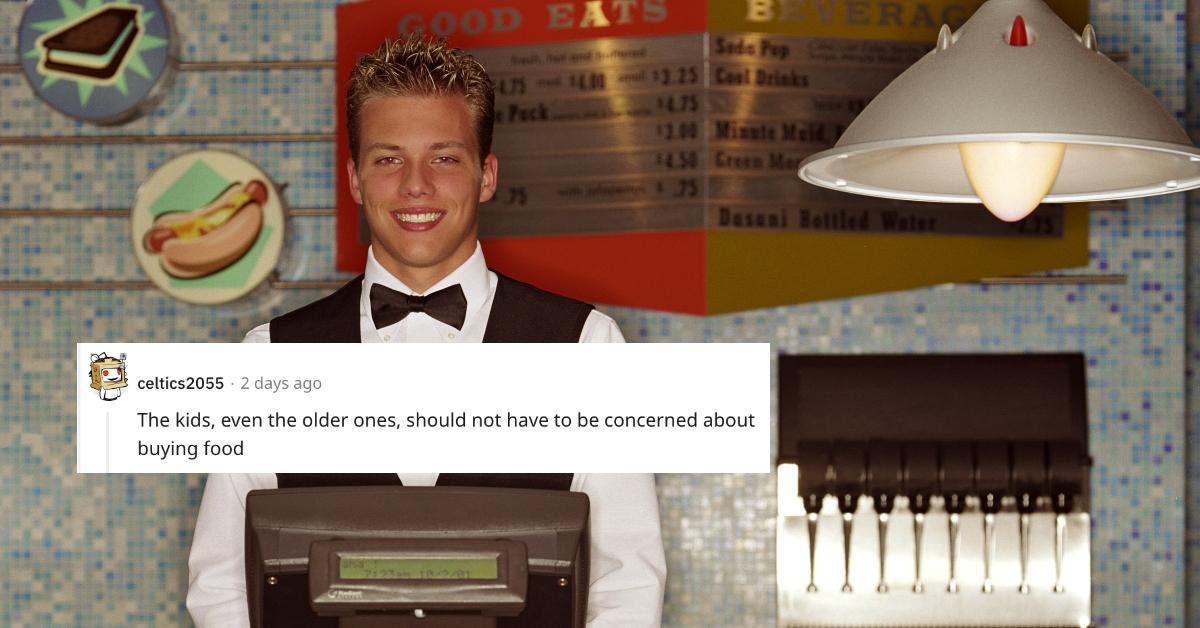 "We're not badly off but I'm far from wealthy, and with five kids in the house I have to budget carefully," says the dad. "I can only buy but so much food and so many clothes, and the rule is unless you have your own money you have to accept what's there and that's it or there won't be enough to go around." This seems more than fair considering he's going about this on his own.
Article continues below advertisement
Unfortunately, Jack has had a couple of jobs but hasn't been able to hold onto them. His issues with the status quo stem from two places. One is deeply rooted in the horrors that come with being in high school and on social media in particular. By this I mean, Jack is comparing himself to his friends, which is normal. He complains to his dad that his clothes are both too small and uncool. Plus, he can't eat out at fancy restaurants like his friends.
Jack's dad is very sympathetic to these grievances because he "grew up less fortunate than my friends as well and I hated it," but points out the obvious by saying he can't change this. Basically he's doing his best. The other hiccup in this scenario is what Jack is doing at home. When the younger boys couldn't find the family peanut butter, they found that Jack ate it all. That shouldn't be a problem though.
Article continues below advertisement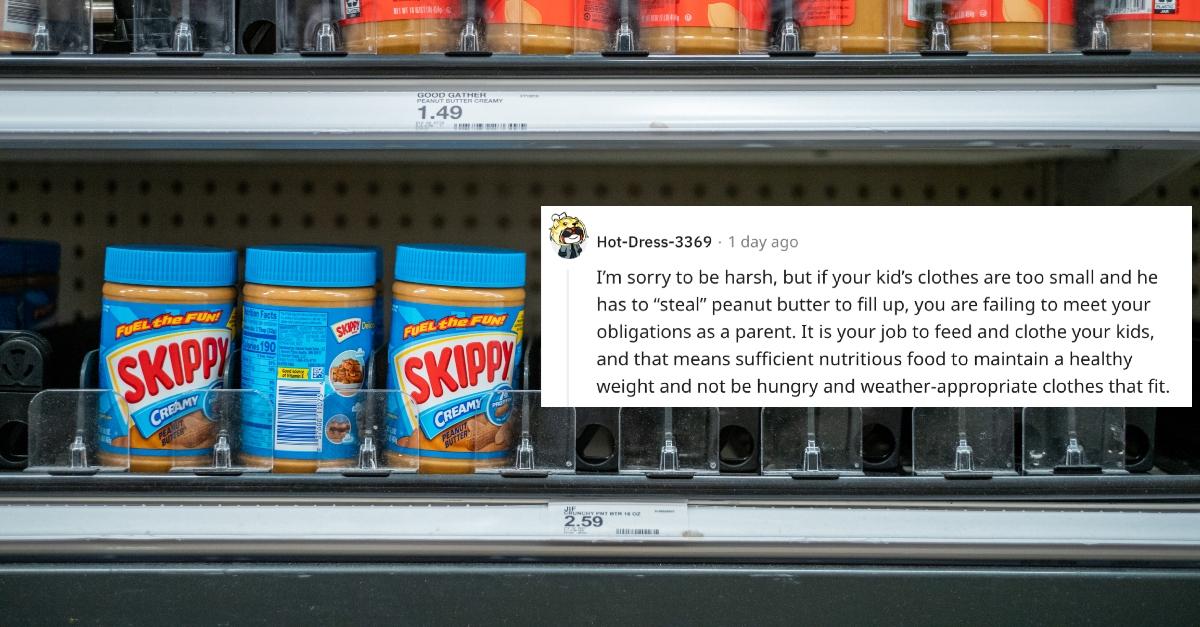 It sounds as if the peanut butter is fair game as it belongs to the whole family. The real trouble comes with the reveal that Jack has been stealing food from his older brothers. "I told Jack he was way old enough to know stealing is wrong and that he can't eat food that his little brothers need," writes the dad. Jack's response was to ask if he should resort to eating out of garbage cans.
Article continues below advertisement
The comments from Reddit users were as divided as a jar of natural peanut butter.
The dad's final word was to let Jack know that if he "wants to buy fancy foods and snacks he's going to have to get a job and pay for them himself." The responses were all over the place. Folks really got lost in the weeds when it came to who the peanut butter actually belonged to, and was it OK for Jack to eat the peanut butter?
More than one person accused this man of starving his children and even suggested he shouldn't have had them to which the dad pointed out, it's too late for that now. I think the real problem here is not what Jack did, but the system Jack is working in.
Article continues below advertisement
The father inadvertently established a caste system within his own family. Within, there are the haves and the have-nots. It makes sense that kids should pay for extra things, like nicer clothes, with their own money. Food, however, is a different story.
Everyone with a job should pitch in for a family food fund that the whole family will have access to. As of now, the kids are living in a college dorm/roommate situation, where I assume food is labeled and kept track of. It really fosters in-fighting and jealousy. I think the dad should establish a family food fund that he asks his kids to contribute to with part of their paychecks. The rest can be used for whatever they want. This will also help Jack feel less resentful toward his family.