Son of School Janitor Quietly Watches Students Trash Bathroom, Gets Put In Difficult Spot
TikTokers are feeling for a student who watched other kids trash the school bathroom — his mom is the janitor.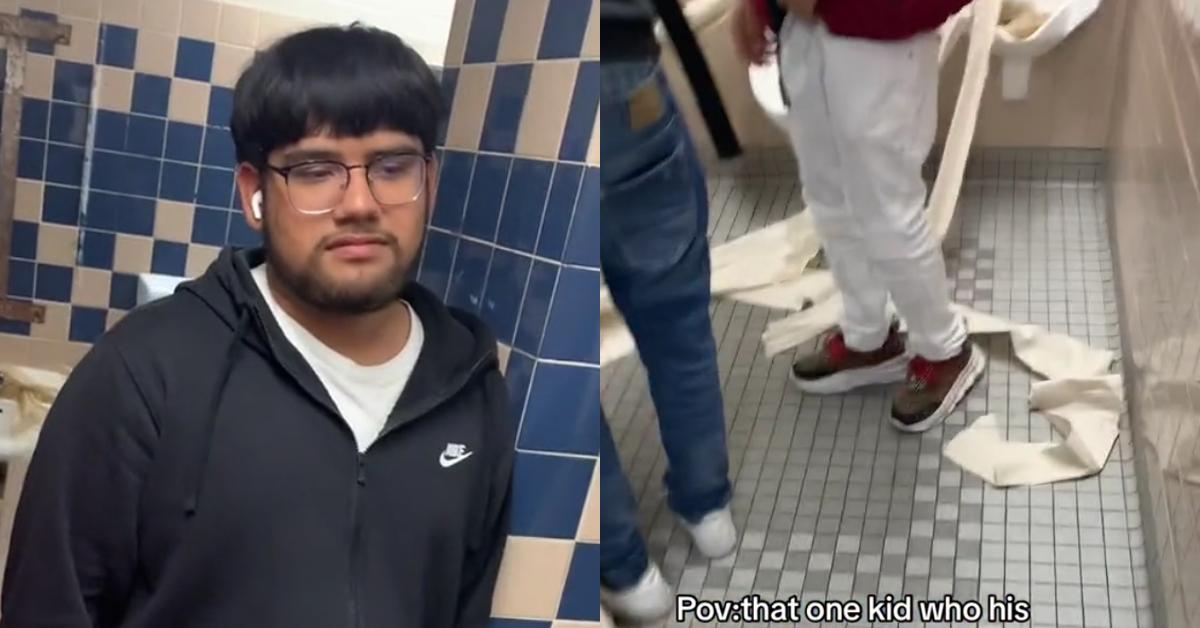 Some kids can be really brutal. Maybe it's because they haven't been raised to know/behave any better, or maybe it's because they're just still maturing and want to naturally test the boundaries of every single situation that they're in, but there are young people who will do and say things that are completely out of line.
Article continues below advertisement
This can be especially the case whenever they're hanging out in groups or are among friends in school. One person starts to do something ridiculous and then someone else piles on the ridiculousness and then before you know it, the principal's car is painted like Homer Simpson's.
But there is one common area of the school where mischief almost always seems to go down or trouble starts brewing, and that's the boy's room. This makes sense: it's one of the areas of the school where kids know, more than likely, there won't be an administrator or teacher checking in on them.
Article continues below advertisement
Back in 2021, a viral TikTok trend took this tried-and-true tradition of bringing the ruckus to the bathroom to the internet, which saw throngs of wannabes re-creating or upping the ante on footage they watched of restroom destruction.
And it looks like there are some people who are a bit late to the party. TikTok user GMB (@sheluvmora1) uploaded a clip featuring a bunch of high school-aged kids standing in what looks like a school bathroom.
Article continues below advertisement
In the video, toilet paper can be seen strewn all over the place. There are wads of it jammed into the urinals, its decorating the floor and pulled from one side of the room to the other.
There is one person in the clip, however, who doesn't seem to be on board with the prank, nor does he seem comfortable with how to process or even address the situation: someone whose mom is a janitor in the school.
Article continues below advertisement
Someone writes in a text overlay of the video: "Pov:that one kid who his mom is the janitor just seeing how all the kids making a lot of mess"

Article continues below advertisement
GMB further drives their point home in a caption for the video, writing: "girls and boys pls be mindfull that these janitors are someones mom pls be clean as posible to maintain our schools clean"
It's not difficult to imagine the predicament the young man in the video is in. If he opens up his mouth and protests to what the other students are doing, they may ridicule him for not getting in on the fun.
Article continues below advertisement
And if he brings up the fact that his mother is the one who is going to have to clean it all up, again, there are some kids who are brutal and may try to take advantage of that fact and only make a bigger mess or make remarks that it's his mother's job to clean up after them.

Article continues below advertisement
Judging from some of the comments left by fellow users on the platform, however, it seemed that there were a lot of folks who sympathized with the young man's dilemma.
One person wrote: "Back when my mom was a janitor , I would feel so bad cs of how kids would leave the restroom so dirty"
Someone else just couldn't wrap their heads around why anyone would even want to do that in the first place: "Honestly like why do they think it's funny"
Article continues below advertisement
"Bro u could see the sad on look his face," another commenter remarked.
GMB responded in the comments section that they "woulve trow hand" while someone else also said they would've been angry had they found themselves in the same situation.

Article continues below advertisement
"Me too it makes me mad knowing these kids especially these teenagers don't have manners & respect especially knowing that my mom is a janitor too," they wrote.
What do you think? Have you ever been in a situation where a classmate of yours found themselves in a tight spot because one of their parents was a staff or faculty member at the school?