Vet Technician Reveals Why Dogs Lick Their Owners Before Bed
In a viral video, a dog owner explains the reason why dogs lick their owners before bed — and it makes so much sense. Read on for more details!
If you've ever wondered why your dog licks you before bed, you've come to the right place because we — with the help of a TikTok-using vet technician — have all the answers you're looking for!
Article continues below advertisement
So, without further ado, read on to learn more about your furry friend's bedtime licking habits. Plus, stick around to hear what the internet has to say about this adorable trait.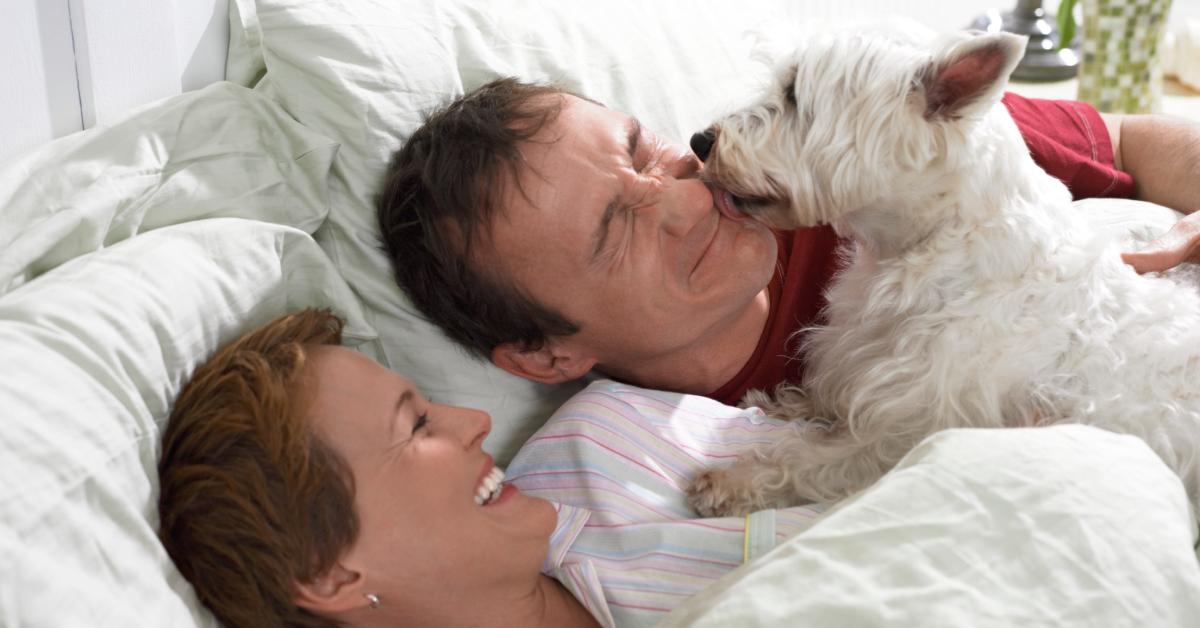 Article continues below advertisement
Why do dogs lick you before bed?
In the viral video — which has amassed 1.6 million views— the creator, Gabby (@winston_thebeagle) showed her lovable beagle pup, Winston, licking her hand before bed.
Gabby wrote in a text overlay, "It may be bothersome to some people to be liked by your furry one before you go to sleep ... but next time you get annoyed, remember: This releases endorphins that soothe your pup to sleep and gives them a sense of security and reminder of puppyhood (of them being groomed by their mothers) and is their natural way of expressing their affection toward you and thanking you for another day of love and care."
Article continues below advertisement
The video brought many dog owners to tears: "I just started crying," one person commented alongside numerous heart and face holding back tears emojis. Another wrote, "Well, I'm crying now."
Article continues below advertisement
A third person said, "Yet another reason to weep uncontrollably about my beloved fur child."
"I'm literally in tears. I love my boy so much," penned another dog owner.
One person revealed that the video made them cry because they told their dog to stop licking them. Well, let's hope that from now on, their fur baby gets to give all the licks they want now for the rest of their life!
Article continues below advertisement

Others took to the comment section and advised current pup owners to cherish these moments with their dogs.
"I miss my girl so much. She passed away in April," one user said. "Cherish all the moments, even the frustrating ones, you never know when it will be over."
Article continues below advertisement
Another person broke our hearts, saying, "If my baby could go back to my arms again, I'd let him do this too more and more. I miss you my Coco, my life isn't the same without you."
"The licking triggers me, but I have to remember that I'll miss it so much when she goes," someone wrote.

Article continues below advertisement
Gabby recently spoke with Newsweek about the video and opened up about why she shared it in the first place.
"I thought the video was cute and was always curious as to why dogs do that. Then I realized over time after working in the field why dogs do that with their owners or the ones they love, and it's because it releases endorphins which is very calming for dogs," she told the outlet.
As for why the video became so popular? Gabby believes it's because "people love dogs and are always looking for a better understanding of their dogs."
Article continues below advertisement
However, she also highlighted that not all licking relates to affection: "Incessant licking or doing it for long periods of time may be indicative of something else, but if your dog wants to give you an occasional lick on your hand, then we should oblige as pet owners."
We don't know about you, but we're running to give our dogs the biggest hug right now!