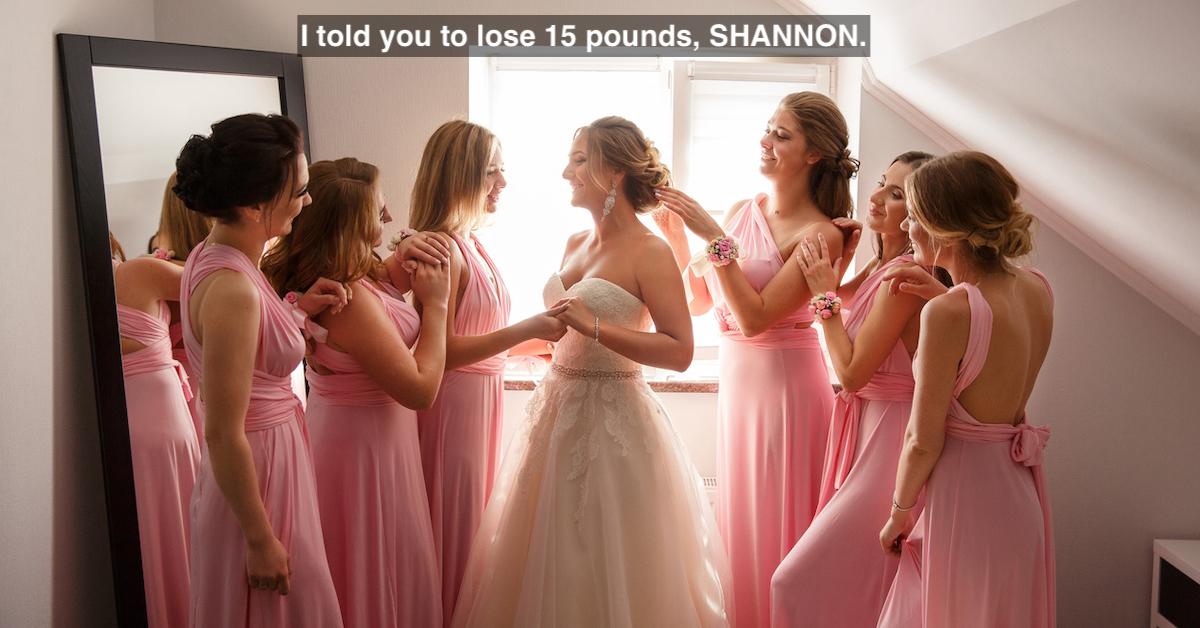 These Bridezillas Are Asking Guests to Alter Their Physical Appearances
Some time in the last couple decades, weddings transformed from being a couple's special day to becoming a couple's excuse to transform into entitled jerks and make unreasonable demands on their supposed loved ones. Is it any wonder so many friendships seem to disintegrate between the engagement party and the tossing of the bouquet?
Perhaps the most outrageous category of demand brides and grooms put on their wedding party members and guests involves altering their physical appearance for the occasion. It takes a stratospheric ego to think one's desire for "perfect" wedding photos is more important than respecting their friends as they are.
Article continues below advertisement
Take this surly Aussie bride.
A wedding guest recently shared her text exchange with a buddy's fiancée on a bridezilla-shaming Facebook group — and that's definitely where these texts belong. The shamer wishes to remain anonymous, not because she cares what this bride thinks of her, but because she doesn't want to cause (more) drama with the groom.
"I have worked really hard to get along with this girl," the original poster says. "I was originally friends with her fiancé and when she and him got together my partner and I were not fans of her." However, despite finding the bride "challenging at times," it sounds like this guest has tried her best to get along with her friend's girl.
But then here comes the bride, asking that she alter her hair color before the wedding and cover up her tattoos for the big night. These would be annoying but somewhat reasonable demands if this person was part of the bridal party, but apparently she would just be a guest at the wedding.
Apparently the OP isn't the only potential guest who has to cover up their ink, as the bride suggests a shopping partner for her fiancé's friend to go on the hunt for long-sleeve dresses of jackets to wear. There's just a slight problem.
Article continues below advertisement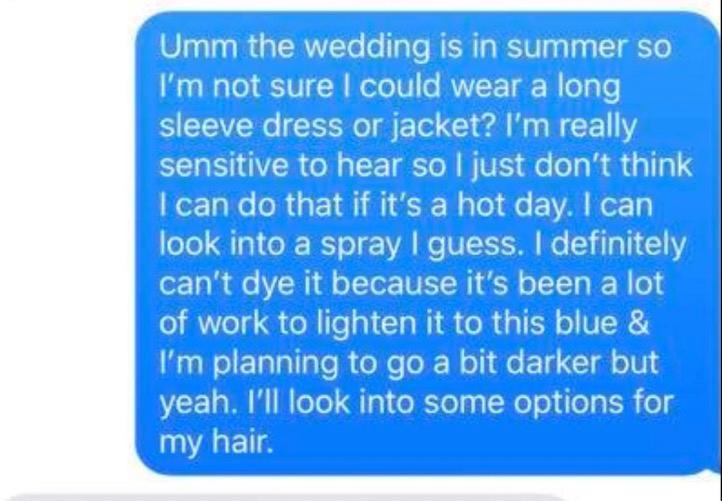 The wedding is taking place in December in Australia, which can get quite warm, so the beleaguered guest is naturally concerned that wearing long sleeves will be an issue.
Despite feeling prickly about these demands, she does say she'll look into a temporary spray for her hair so it's a more "natural" color on the day of the wedding, which to me shows she's at least open to "reasonable" accommodations. But rather than appreciate her guest's willingness to compromise, the bride accuses her of not caring about her or her fiancé if she "can't suck it up" for her "one day."
Article continues below advertisement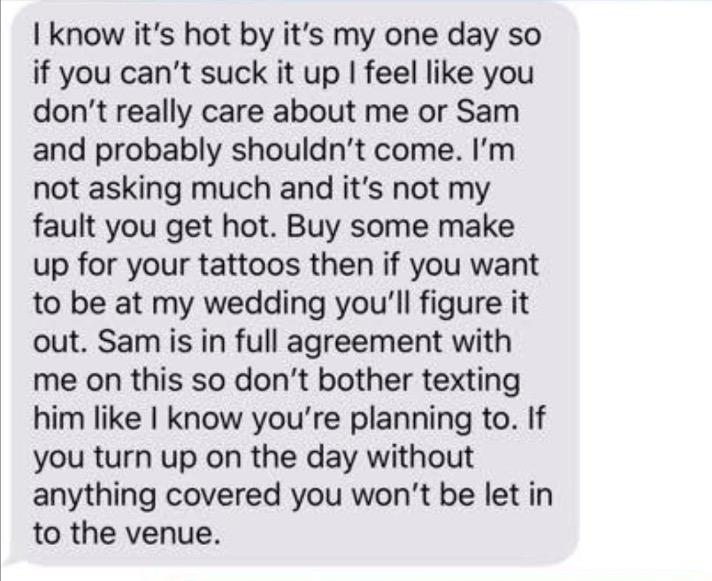 "I'm not asking much and it's not my fault you get hot," she says. I would say inviting someone to attend your wedding only on the condition that their looks conform to your arbitrary standard is asking a lot.
Article continues below advertisement
The bride claims to speak on behalf of her future husband as well, "so don't bother texting him like I know you're planning to." Seems to me that's a clear indication he has no idea she's making these demands of his friends and would rather he didn't see this side of her.
Even if that's not the case, the bride clearly feels threatened by her fiancé's tattooed friend. "Anytime I text him about plans she gets super pissed and claims I'm trying to cut her out — even though they're both always invited," the friend explains.
Despite the escalating rudeness of the bride's tone, "Tattooed Girl" keeps a cool head but does take exception to having her friendship called into question just because she's not interested in getting heat-stroke over her tattoo sleeves.
Article continues below advertisement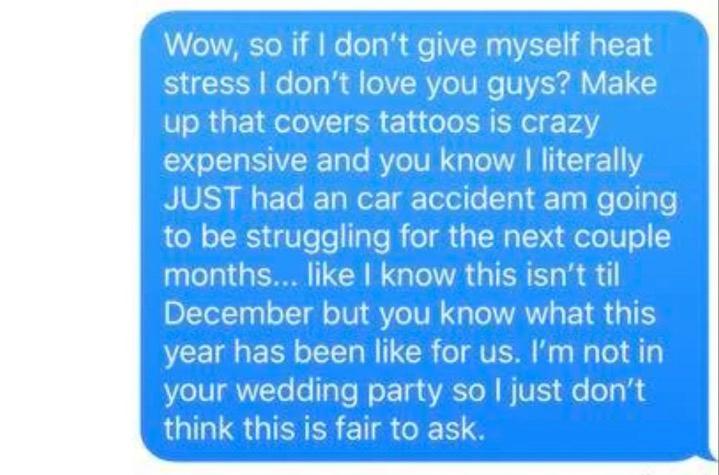 She rightly points out that the kind of makeup that covers tattoos like hers, which extend down both arms to her wrists, is pretty expensive. Dermablend is the most prominent product on the market and starts at $34 a bottle. As the tattooed guest points out, she's also recovering financially from a recent car accident and, it bears repeating, not a member of the wedding party, just a guest.
But the bride rather callously claims none of this is her problem.
Article continues below advertisement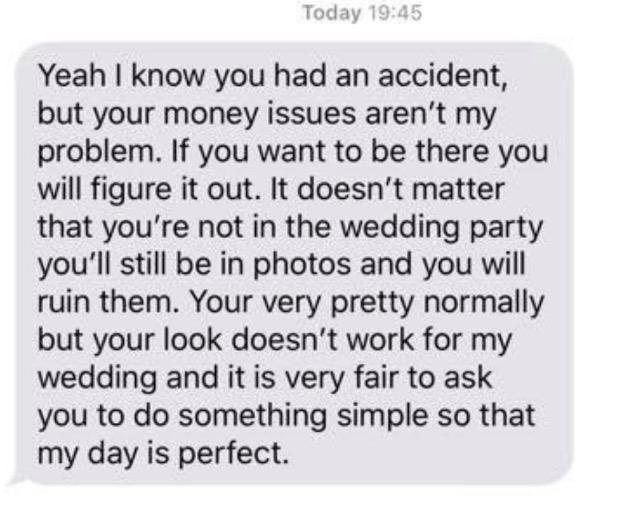 She claims even as a guest the mere presence of her tattoos and blue hair will "ruin" her wedding photos. "Your [sic] very pretty normally but your look doesn't work for my wedding and it is very fair to ask you do something simple so that my day is perfect," she says, doubling down.
Article continues below advertisement
Some people have really strange definitions of "simple." Also, is now an OK time to mention how weird and low-key disturbing it is in 2019 to expect everyone in your "special day" photos to conform to a specific aesthetic? Diversity is the spice of life!
So far, the tattooed guest hasn't yet discussed the texts with Sam, but she plans to when they see each other in a couple weeks rather than "making things worse by texting him."
Sadly, Tattoogirl234 is far from the only wedding attendee to be asked to change how she looks for someone else's nuptials.
Article continues below advertisement
Imagine being told to lose weight and get plastic surgery to be in your friend's wedding.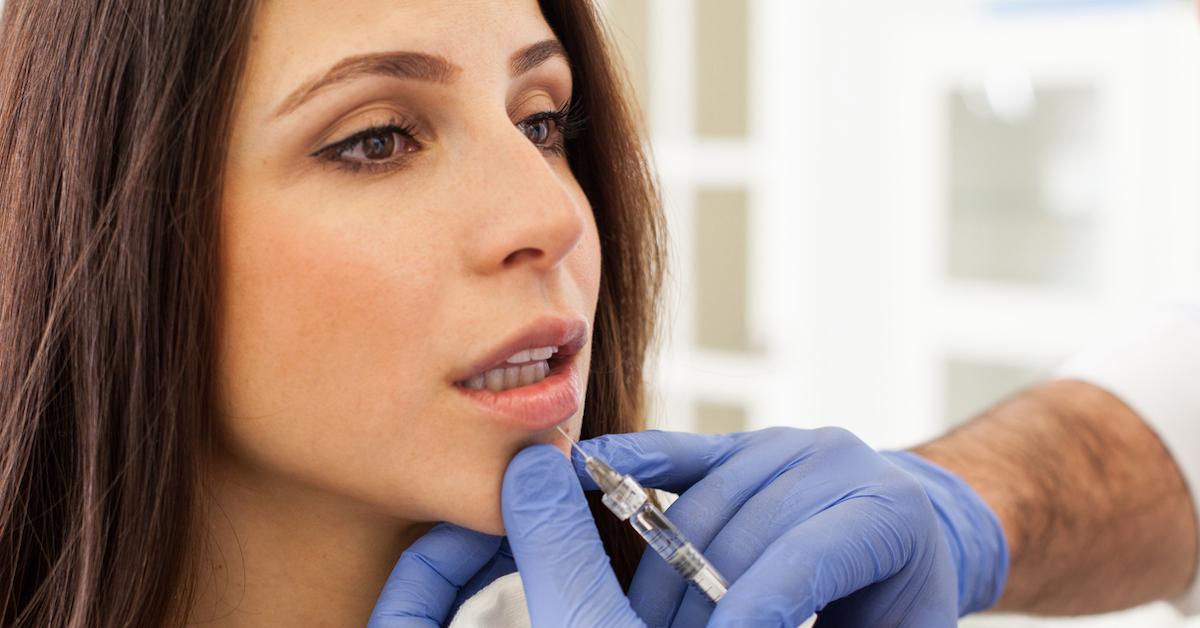 You always hope your friends like you for who you are, but some people are finding all those years of friendship mean nothing if you're going to have the audacity to be chubby in their wedding photos. It's bad enough when brides put these kinds of pressures on themselves for their wedding, but to also encourage disordered eating and low self-esteem in their friends is pretty low.
Article continues below advertisement
It's bad enough when brides put these kinds of pressures on themselves for their wedding, but to also encourage disordered eating and low self-esteem in their friends is pretty low. The NY Post reported about a bride who even suggested a friend who had just given birth could stand to shed a few pounds.
She also encouraged her bridesmaids to get Botox and even suggested one friend have her earlobes altered so she could wear chandelier earrings saying, "I can't have her in studs." No, surely not! How could you even face the day with that kind of hardship?
Article continues below advertisement
There there was the bride who dictated a dress code according to weight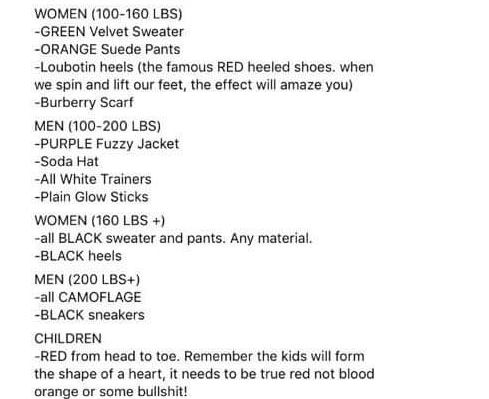 Last year, a bride was mercilessly trolled for enacting a weight-based dress code for her destination wedding guests. At least in this case being overweight by the bride's standards meant guests might be able to save a little coin. She was making some very expensive demands in particular of her friends who fell into the "Women (100-160 lbs)" category, asking them to procure Louboutin heels, which cost around $700, and Burberry scarves, which are around $400 each.
Article continues below advertisement
Also, keep in mind this was a dress code just for a "synchronized dance" along the beach for this Hawaiian celebration. Guests, who ostensibly were traveling from afar and covering their own travel expenses, would also have to pack formal attire to change into after they finish their big dance number. "All jokes aside, we want you to invest in an outfit valued at at least $1,000."
Article continues below advertisement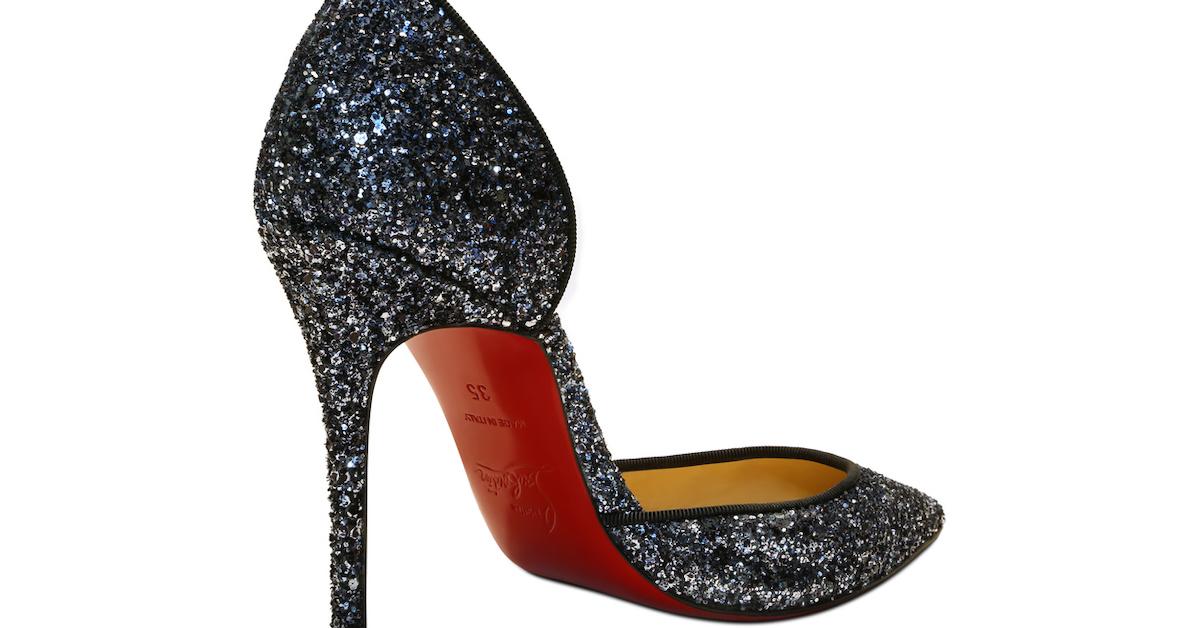 I get that the age of Instagram has made people feel pressure to have carefully curated wedding photos, but if that's your primary concern about your wedding, please do yourself a favor and don't get married, lest you end up alienating your friends and family — and even your future mate — in the process.