A Bride Is Demanding Her Bridesmaids Bleach Their Hair and Wear Color Contacts for Her Wedding
A bride-to-be wanted her bridesmaids to bleach their hair to fit the aesthetic of her wedding, but one of them refused. Read on for more details.
As we all know, weddings are supposed to be the best day of everyone's life. But for some reason, getting married often leads brides to make insane requests for her bridesmaids. Take it from this young woman in the popular "Am I the A------" (AITA) subreddit, who may have to change her entire appearance for her friend's big day.
Article continues below advertisement
The original poster, who ironically goes by the handle u/bleachdyeproblem, said that her friend is getting married, and she has a specific idea for how the bridal party should look on her big day. And so, she has demanded all of her bridesmaids to bleach their hair to fit the wedding aesthetic — but the OP refuses to do it.
Read on for more details. Plus, stick around to hear what the internet has to say.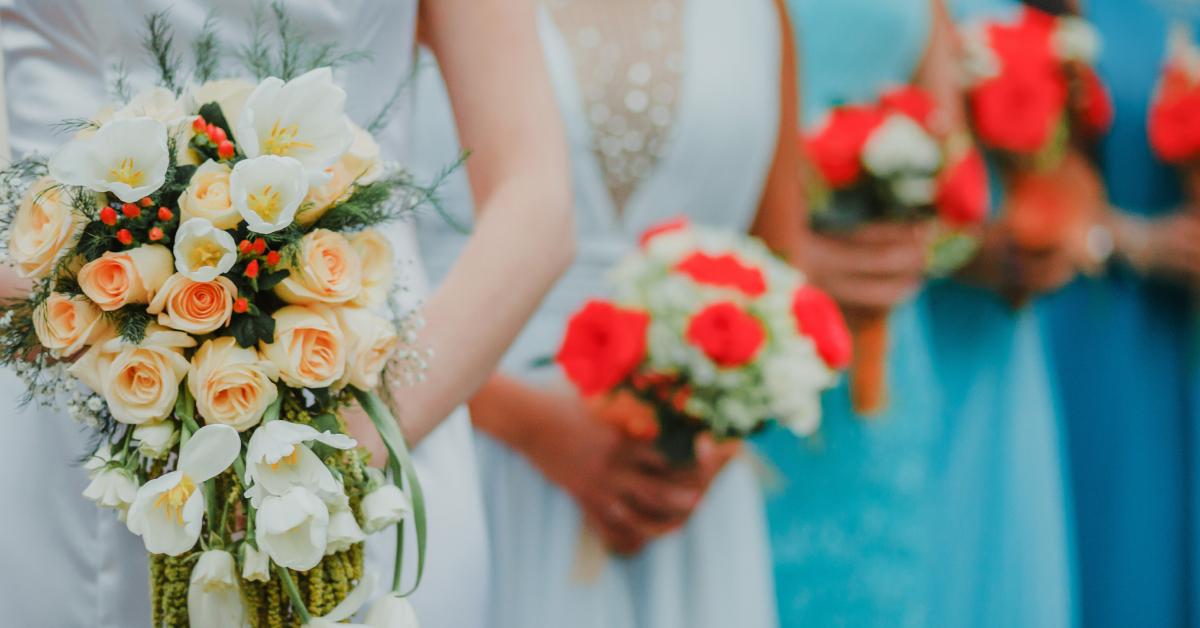 Article continues below advertisement
A bride-to-be demanded her bridesmaids bleach their hair for her wedding.
The OP revealed that her friend Zoe is getting married in December 2024, and she's been asked to be a part of the bridal party. A couple of days before taking to the subreddit, the OP met up with Zoe and the other bridesmaids to discuss the wedding. Zoe said the wedding will have a "winter wonderland" theme, so the bridesmaids will all wear blue dresses with "silvery accents, snowflake jewelry, and soft makeup."
OK, that sounds reasonable — but it gets progressively worse. As it turns out, Zoe requested that those who don't have blue eyes wear colored contacts and demanded all her bridesmaids bleach their hair. Um, what the heck?!
Article continues below advertisement

The OP is the only one in the group who hasn't dyed or bleached her hair; plus, she has damage from flat ironing it every day for many years. She doesn't feel comfortable taking the risk, so she told Zoe she couldn't do it — but she wouldn't take no for an answer. The bride-to-be insisted it would be fine, adding that she would pay for it.
Article continues below advertisement
The OP declined the offer and asked if she could wear a wig, but Zoe turned her down, claiming that "wigs are cheap and unnatural." She just wants everyone to bleach their real hair.
After getting nowhere, Zoe told the OP to go home and "think about the fact that I'm ruining her vision and that I'd be ruining the photos" and wedding video that she and her fiancé would put together "for his grandparents to view since they won't be able to fly in from Argentina."
In the end, the OP said she really doesn't want to bleach her hair — but she also doesn't want to ruin her friend's so-called "picture-perfect" wedding day. So, is she wrong for refusing to dye her hair? Keep scrolling to find out!
Article continues below advertisement
Reddit agreed that Zoe's "vision" for her wedding is totally absurd.
The post, which was published on Sept. 18, 2023, has received more than 2,000 fellow Redditors who agreed that Zoe is totally out of line for making such outlandish demands.
"I would've backed out on the demand to wear contacts," one person said. "Trying to force others to bleach [their] hair for a wedding? Absurd. Just back out now... She's only going to get worse. Run."
Article continues below advertisement
A second user agreed, writing, "I would run far from this wedding and not look back. Dyed hair and colored contacts for the bridesmaids? ... Maybe the bride could line up the bridesmaids by hair color, light to dark, and coordinate the gradient blue dresses to that?" That's actually a really great idea!
"This is beyond a reasonable ask," another user added. "No one should have to make any significant changes to their appearance for someone else's day. The bride can ask, you can decline, and that should be the end of the story."
Someone else stated, "The bride is far more concerned with her (extremely strange) vision than she is with honoring her friendships with actual human women."
Article continues below advertisement
"If you are so inclined, tell her that bridesmaids are meant to support the bride as her close friends. You are not props in some Broadway musical," a fifth person commented. "If your hair is more important to her than your support on her big day, her vision is more impaired than coordinating colors can fix."
What do you think? Should the OP stand her ground or bleach her hair? Let us know!