YouTuber Brooke Houts Abused Her Dog on Camera and People Aren't Having Her Apology
YouTube personality Brooke Houts uploaded a video where she slaps her dog and people are furious. Details on the abuse and subsequent "apology."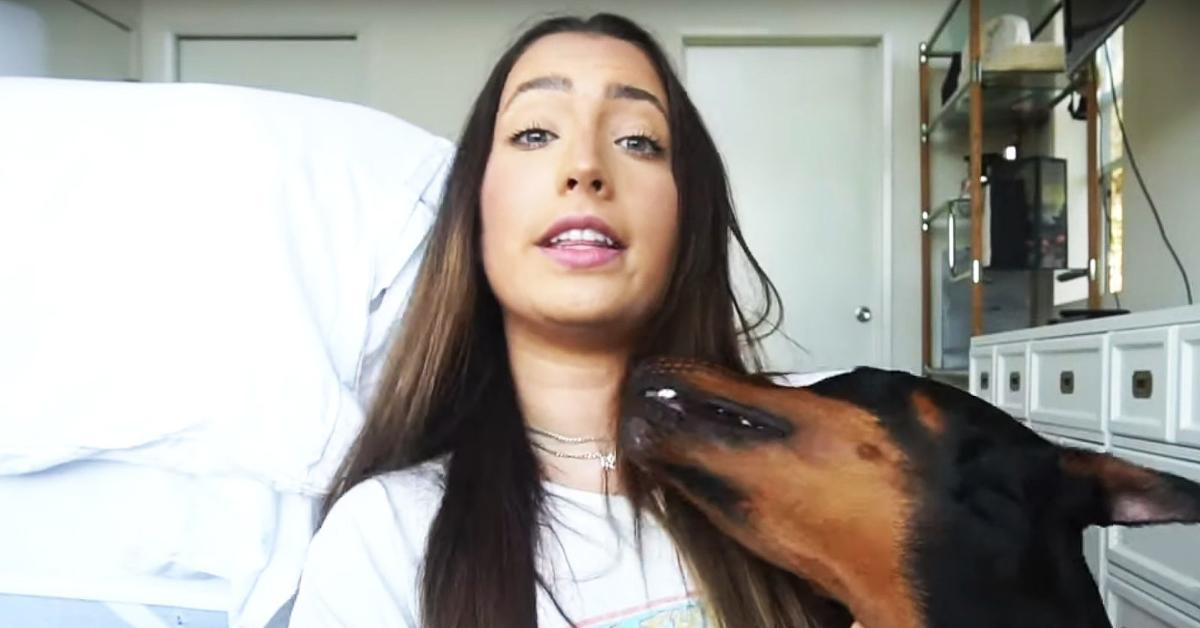 YouTuber Brooke Houts has built a large following of around 340,000 subscribers, most of which she owes to her dog, Sphinx.
Much of her content features her getting into all types of shenanigans with her lovely pet doberman, which is admirable because there's a saying in show business: never work with children or animals.
Article continues below advertisement
But Brooke's made it work for her and she's been enjoying a steadily growing career as a content curator for YouTube without controversy. That is, until she accidentally uploaded an unedited clip of a video where she's clearly abusing Sphinx for likes, which understandably pissed a lot of people off.
Now I'm going to provide everyone with a hot take: I think most people who have pets are abusing their animals whether they know it or not. Imagine you're a puppy, you're chilling with your siblings and mom and dad, and all you do is play all day with your lovely family.
You just stopped drinking milk from your mom's boob when all of a sudden these enormous life forms speaking another language stand above you and your brothers and sisters.
Article continues below advertisement
You're all playing and having a good time, when one of these ugly beings lifts you up out of the box and then carries you away from everything you've ever known and loved. You never see your family again.
You're locked up in a strange home, all of your animal instincts quelled and suppressed as your repetitiously trained to perform tricks and tasks on command for another species. Then they have the nerve to dedicate Instagram accounts to you, the monsters.
Article continues below advertisement
Obviously this isn't the case for all pets, rescues and such need tons of love, but there's something a little sadistic about thinking it's perfectly normal to kidnap a living being from their family just so you can have a cuddly slave.
While everyone may not agree with my take on pet ownership, pretty much everyone can clearly see that Brooke Houts hits and then spits on her pup and the way she's treating her doggy is not OK.
Brooke Houts abuses her dog on video and then attempts to apologize. Twitter isn't having it. 
Twitter went absolutely bananas on Brooke, which prompted a quick apology from the YouTuber. She responded by saying she is "NOT a dog abuser or animal abuser in any way, shape, or form." She then immediately deleted the video, but, as we all know, nothing is truly ever gone from the web.
Article continues below advertisement
Twitter user @shoe0nhead grabbed a mirror of the video and then uploaded it to Twitter, with a message for Brooke apologists who said that they claimed to know where she was coming from when she hit Sphinx.
Article continues below advertisement
Shoe points out the dichotomous actions Brooke has toward her dog: at one point she's rewarding Sphinx for being energetic, playful, and fun, but then when she doesn't want him to be "on," she chastises him, slaps him down to the ground, and spits on him. It's a very confusing situation for the pet.
Article continues below advertisement
After the collective outrage of Twitter and the internet began raining down on Brooke, she took to social media to plead her case in a screencapped note of apology.
Her statement included an excuse for her behavior, stating that she was going through an emotionally trying time during filming. Brooke also insisted that she was "rarely upset as what was shown in the footage."
Article continues below advertisement
She continued by saying that she didn't believe her emotional state justified how upset she got at Sphinx, but averred that she didn't spit on her dog:
"Anyone who knows me personally knows I have an immense love for animals, including my own. I would never do anything to purposefully physically or mentally harm any animal. Again, I should NOT have yelled at him or as been as physically aggressive as I was, and I'm fully aware of that. He was not hurt, nor has he ever been physically hurt by me. I know I'll be in many future situations where he's being physical, but I will not respond this way again."
Article continues below advertisement
And now TMZ is reporting that "LAPD's Animal Cruelty unit is aware of the video and is investigating."
What do you think? Was it a momentary lapse in judgment? Or is this just the first time that she's getting caught abusing Sphinx on camera?