Twin YouTube stars, Brooklyn and Bailey McKnight, rose to fame back in 2009 when their mom, Mindy McKnight, started a YouTube account for kids' hair tutorials called Cute Girls Hairstyles, according to NickiSwift. Now, 11 years later, the girls run their own account that boasts almost seven million followers called Brooklyn and Bailey which is primarily comprised of vlogs, beauty tutorials, college hacks, and more.
While their YouTube account is simply devoted to "all things fun," as they say, Brooklyn and Bailey's TikTok account is comprised of all the hilarious and undeniably entertaining behind-the-scenes moments and shenanigans that don't make it to YouTube. So, lo and behold, here are the best videos they've made so far.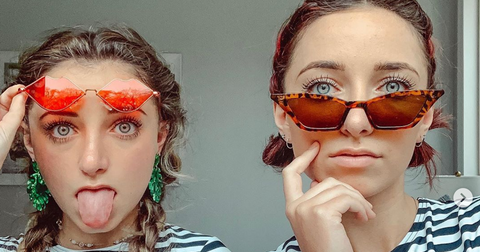 Brooklyn and Bailey are clearly talented dancers, as they've tackled several popular dances.
Back in 2017, according to Tube Filter, Brooklyn and Bailey briefly dove into the music scene, which started with a single called "Dance Like Me." After the song garnered a decent amount of attention, the twins ended releasing a few different songs, a handful of music videos and even embarked upon a few concert tours.
Although the twins didn't continue to pursue their music careers, and instead enrolled in college at Baylor University, they both seem to be relatively talented dancers, based on a few choreographed videos they've posted to TikTok. Check out a few of the best ones we've seen so far below.
Some of Brooklyn and Bailey's TikTok videos are straight-up hilarious.
Most of us were already aware that Brooklyn and Bailey had shining personalities, considering their ability to captivate an audience of almost seven million subscribers. However, we had no idea that the twins had such a great sense of humor, as a handful of their TikTok videos are actually hilarious.
Check out some of Brooklyn and Bailey's funniest TikTok videos they've posted to the app so far. They're seriously hilarious.
And like every other person on TikTok, they're not afraid to take on a few challenges.
One reason why so many people use TikTok to pass the time during quarantine is because the app is full of so many trending challenges, and as expected, Brooklyn and Bailey aren't afraid to try them out. Sometimes inviting "special guests" such as siblings, their mom, their dog Finn or Bailey's boyfriend, Asa, they're always looking to try new ones.
We've compiled a few of Brooklyn and Bailey's best — and most entertaining — challenge videos. From the slo-mo pool trend, to freeze frame, truth or truth, and flip the switch, their TikTok challenges are undeniably entertaining.
While Brooklyn and Bailey's YouTube videos provide us with good-mood long-form content, and their Instagram account gives us the style inspo we all need on a regular basis, their TikTok videos give fans more insight on their personalities and everyday lives. If you need a total time-suck to pass the time today, we strongly suggest doing a deep-dive into their TikTok account — it's seriously entertaining.