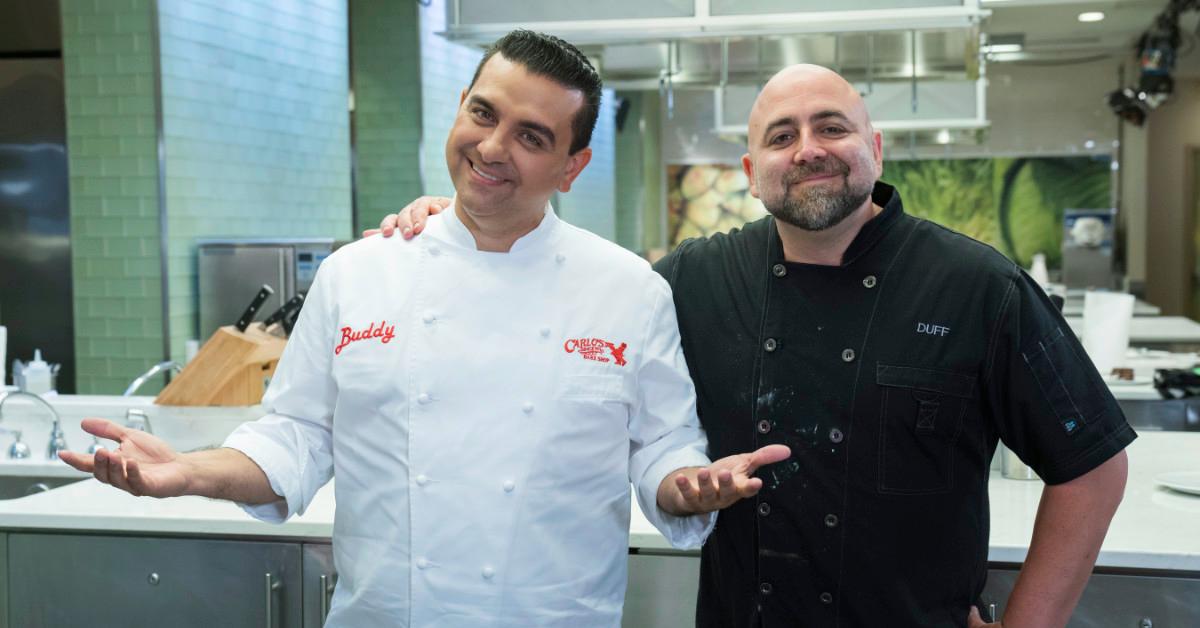 Viewers Slam 'Buddy vs. Duff' Judging: "Don't Know Why I Still Watch"
Another holiday edition of Buddy vs. Duff wraps up with the episode airing on Food Network tonight, Sunday, Dec. 19, at 8 p.m., with Team Duff and Team Buddy "construct[ing] arctic creatures and their habitats in displays of massive proportions" in competition for the King of Holiday Cakes crown, as the cable channel.
Article continues below advertisement
And Ace of Cakes' Duff Goldman, who battles Cake Boss' Buddy Valastro on the show, says tonight's installment is appointment television. "You really don't want to miss this episode," he tweeted on Sunday. "We create our own magical winter wonderlands! It's going to be awesome."
But it sounds like some Buddy vs. Duff fans, the ones who have been complaining about the show's judges recently, are ready to tune out…
Buddy and Duff's close scores in Seasons 1 and 2 had one TV critic suspicious of the judging.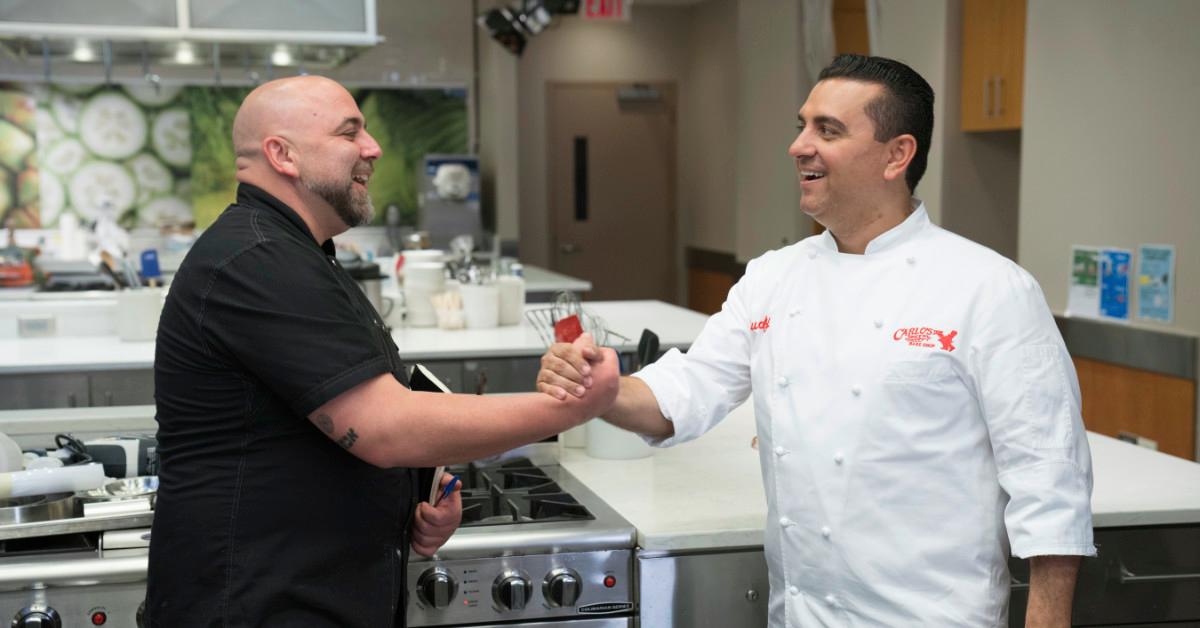 In a May 2020 post on his site Reality Blurred, reality TV critic Andy Dehnart cast suspicions on the Buddy vs. Duffjudging process. He said the show's point system in Season 1 was "super sketchy," especially because Buddy and Duff were somehow "perfectly tied" going into the first-season finale.
Article continues below advertisement
Then, in Season 2, Buddy took the crown with just a 1.5-point margin, even though he lost five of the eight competitions, including the final bake-off. "All of this allowed Buddy vs. Duff 2 to have it both ways: Duff has the most victories, Buddy has his win, everyone goes home happy," Andy observed. "But this certainly wasn't a surprising outcome."
And as Andy pointed out, the Buddy vs. Duff judges didn't explain their numerical scores either, in the way that the judges do on Food Network's Tournament of Champions. Plus, the Tournament of Champions judges also judge blindly, averting any suggestion of bias or rigging.
Article continues below advertisement
Viewers think Team Duff got "hosed" on 'Buddy vs. Duff' last week.
This current Buddy vs. Duff season is baking up controversy, too. Many fans complained about last week's competition, in which Buddy and Duff created cakes recreating scenes from the classic Christmas ballet The Nutcracker. Team Buddy created a display of the Mouse King towering over a four-layer cake, while Team Duff depicted the Mouse King facing off against the Nutcracker Prince.
In the end, it was Team Buddy that won… much to fans' dismay. "So over #TeamDuff losing to Buddy," one commenter wrote on Duff's post about the Nutcracker showdown. "Your cake told a story. His was a wedding cake with a topper. Again #TeamDuff was robbed. It's so annoying."
Article continues below advertisement
Viewers also expressed their frustration on Twitter.
"Don't know why I still watch," one person wrote. "The judges suck at representation of theme definition. @DuffGoldman nailed it. Anyone who's seen The Nutcracker knows the Mouse King, Clara, and Nutcracker are three primary characters and should be seen as such. #TeamDuff clearly knows this."
Another person tweeted, "I don't know why I watch #BuddyVsDuff anymore. Every season they pick judges whose sole purpose seem to be praising Buddy for making things that are completely unrelated to the theme."
And a third naysayer wrote, "Team Duff got hosed. Duff's Nutcracker scene was so much better than Buddy's. The East Coast judges got bullied into submission by West Coast judges. Bulls—t."