Mom Who Planned "Cruelest Birthday Party" at Build-A-Bear Doesn't Think She Was Wrong
This parent attended a birthday party at a local mall that seemed like it was going great, up until the kids went into a Build-a-Bear...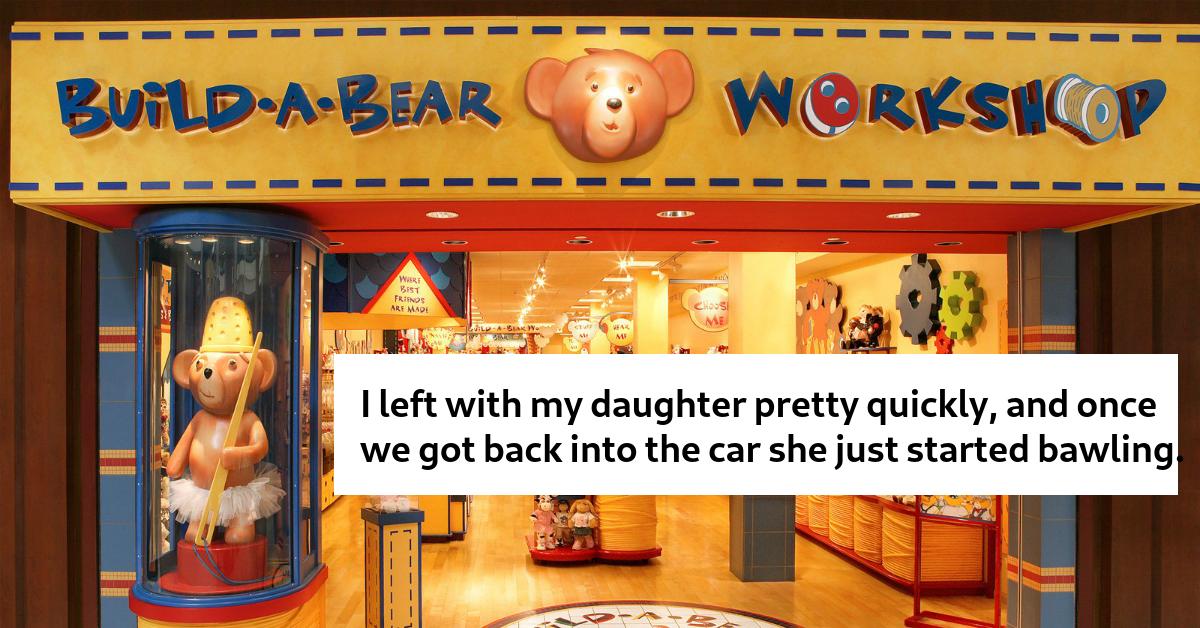 There are fewer things more magical for kids than going to a birthday party. You have free license to run around and be as silly and crazy as you want. All the junk food your parents keep you away from are all available to you.
Article continues below advertisement
Sometimes they're low-key gatherings at friends' houses. Sometimes, they're huge extravaganzas at a local theme park or miniature golf course or bowling alley. Wherever it is, it's almost always an awesome time for everyone involved. Often it's enough just to be with all of your friends and family.
For the kids who attended this birthday party, however, it sounded like a pretty awesome event at first.
The kiddos were told that they would be having a party at the Build-a-Bear Workshop, which is a dream come true for any child. You get to customize your stuffed animal exactly how you want it.
They all went to the mall and, before heading into Build-a-Bear, got themselves some pizza at the food court.
Article continues below advertisement
After they were done with their meals, the kids were unleashed into the Build-a-Bear store and were told to create any bear they wanted. The Redditor telling the story says that, since they know these bears can get pricey, they chipped in $30 and told their daughter to keep the bear as simple as possible, just clothing it in a shirt and making sure they didn't put all of the other crazy add-ons and accessories with it.
Article continues below advertisement
The children had a blast designing their bears, but after they were all paid for by the mom who threw the birthday party, things got a little dicy.
As they left the store, she told the excited kids who just created these stuffed animals with their own two hands that they needed to hand them over to the birthday girl as part of her gift.
Article continues below advertisement
You can imagine how well the children took the news. Some didn't want to give up their toys and the birthday girl literally rippe it from the kid's hands. Others agreed to do so, dejectedly.
The worst part is that there was still another half of a party to attend at the girl's house, so the kids were expected to head over there and put a smile on their face and pretend to be happy about celebrating greedy child's day of birth.
The mom wanted to know if she was in the wrong for finding this entire fiasco out of the ordinary, and turned to Reddit for some sympathy.
Article continues below advertisement
Pretty much everyone in the comments section agreed that this was a "cruel" trick to play on the children involved with the birthday party and it definitely wasn't normal for the birthday girl's mom to do that.
Some even suggested the mom relaying the story should talk to other parents about the whole thing.
Article continues below advertisement
Article continues below advertisement
As it turns out, the mom telling the story decided to bite the bullet and confront Birthday Mom, who she calls Karen, for the sake of the story, about the incident.
It was pretty darn awkward.
Article continues below advertisement
As the conversation escalated, it became very clear that Birthday Mom didn't want to engage. So she employed a perfect tactic for extricating herself from unsavory social situations:
Article continues below advertisement
What do you think? Was the birthday party a totally weird one that should've gone down a whole lot differently? Or are you of the belief that if it's a kid's party that anything goes, and a birthday girl or boy is the "boss" for that day?