Bullied Teen Book Lover Goes Viral for His Book Reviews on Instagram
After being bullied for his book review Instagram, Cal's Book Account author Callum Manning has become a viral superstar.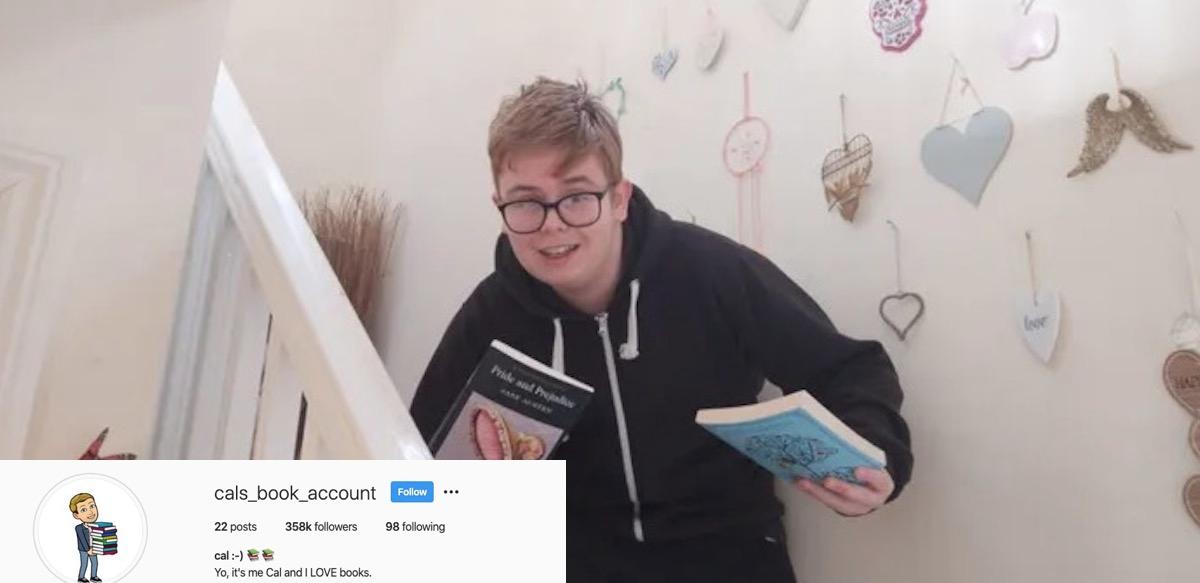 There is nobody crueler than a middle school-aged adolescent. They have an innate ability to hone in on whatever makes you unique and gives you joy and then turn it into a source of ridicule. U.K. teen Callum Manning unfortunately found himself a target of bullying over his love of reading. Reading. It boggles the mind, I tell you, to make fun of somebody for liking books.
Article continues below advertisement
However, Cal has gone from bullied teen to social media superstar in the past few weeks, thanks to a viral tweet from his big sister. That, and the fact that his Instagram is a delightful must follow for bibliophiles who love everything from YA to classic Russian literature.
Article continues below advertisement
His newfound fame began when his big sister, Ellis Landreth, tweeted about the cruel way his classmates bullied him for his Instagram book reviews. Not even content to make fun of him behind his back, one of the kids added him to the mean-spirited group chat so he could see what they were saying about his reviews, one of which included the Caroline Kepnes novel You, which has been adapted into a television show for Lifetime and Netflix.
Cal has rebounded quite nicely from that stunt, though. Thanks to Ellis's viral tweet, his account, which was created mere weeks ago, has amassed quite a following — like over 350K followers. And Cal's tastes seem pretty varied for being just 13. He opened his account with Stephen King's The Shining (an absolute must-read for horror fans), but he is also a fan of Dostoevsky's Crime and Punishment, which honestly, most adults who majored in literature couldn't chew through.
Article continues below advertisement
The 13-year-old from Gateshead, England has tastes that run the gamut. He's read George R. R. Martin's Song of Ice and Fire series and his latest read is Pride and Prejudice by Jane Austen. "So I've started reading this cause I saw some good reviews," he writes in his post. "It's great I wasn't expecting it to be as good as it was but it's great for you guys who like romance/old English literature."
Article continues below advertisement
Ellis, who is 24, didn't expect her tweet to attract as much attention as it did. "All I was expecting was a few of my followers to show him some encouragement and support, and that he wasn't 'weird' or 'sad' for preferring to read," she told CNN. Soon, celebrated authors and celebs were following his account and reveling in their shared love of literature.
Article continues below advertisement
In fact, Cal's biggest fans include some of his literary faves, like Stephen King himself. "Hey kiddo, I got bullied for reading, too," the icon said. And look how he turned out!
Cal won't soon run out of new books to devour. Thanks to the attention his account has received, strangers are fulfilling his Amazon wish list, writers are sending him signed copies of their books, and publishers like Harpercollins have reached out to ensure he never lacks for new reading material. "We are huge fans of what you're doing to share your love of books and would love to support you on your reading journey with more books!" the U.K. branch of the publishers commented to his Instagram.
Article continues below advertisement
In honor of World Book Day, Cal was selected by Huffington Post UK to share a list of his favorite books, and based on that and his Insta, this kid is definitely a tastemaker. His top 6 picks are:
Article continues below advertisement
Charlie and the Chocolate Factory by Roald Dahl
Paper Towns by John Green
You by Caroline Kepnes
A Christmas Carol by Charles Dickens
The Shining by Stephen King
The Boy In The Striped Pajamas by John Boyne
Thanks to his newfound fame, he's even caught the attention of his favorite author of the moment, Caroline Kepnes, who is not the only author eager to send him books.
It's wonderful that this experience that so easily could have left Cal feeling ashamed of his love of literature has probably made him a reader for life.