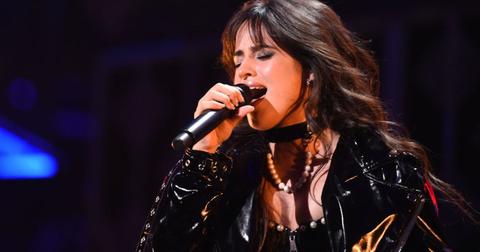 Normani Speaks out About Camila Cabello's Racist Comments: "I Face Senseless Attacks Daily"
By Lizzy Rosenberg

Apr. 24 2020, Updated 5:44 p.m. ET
There's no denying that 2019 was Camila Cabello's breakout year — she released several pop songs that topped the charts, she began dating Canadian heartthrob, Shawn Mendes, and she officially broke away from Fifth Harmony as a solo artist. But as you may already know, the "Consequences" singer is currently under fire for some alleged racist comments she posted to Tumblr several years ago. 
Article continues below advertisement
The Cuban-American pop singer has released an apology for the racist comments, but the apology came rather late and she inadvertently hurt her old band mate: Normani.
Article continues below advertisement
What were Camila Cabello's racist comments on Tumblr?
On Camila's now-defunct Tumblr account (URL: vous-etess-belle), the pop star posted and reblogged a wide variety of racist content, spanning from text posts that use the n-word, to jokes about domestic violence, and even racist memes targeting African-American and Asian people. Sources say she was 16 years old at the time of posting. 
Since her account has been deleted, these highly questionable Tumblr posts were screenshotted and posted online, which you can see in a thread here. Chances are, you'll be seriously surprised by what you see. 
Article continues below advertisement
Camila released an official apology on social media. 
The singer addressed the fact that she used inappropriate language when she was younger, that she will "regret forever." She proceeded to inform fans that she was uneducated and unaware, but she learned more about what using that kind of language meant socially. She apologized from the bottom of her heart, wishing she could take it back.  
Article continues below advertisement
"I'm 22 now, I'm an adult, and I've grown and learned and am conscious and aware of the history and the pain it carries in a way I wasn't before. Those mistakes don't represent the person I am or a person I've ever been. I only stand and have ever stood for love and inclusivity, and my heart has never, ever even then, had any ounce of hate or divisiveness," the apology read.
Article continues below advertisement
Fans have taken to Twitter to express how they feel about her apology and some are still angry.
Although Camila's apology was long and appeared heartfelt, it came years after she posted the racist content – and only after she got called out for it. Several fans aren't quite ready to forgive the singer for what she posted on Tumblr. Check out what her unforgiving fans had to say about it below.
I just read that entire thread of all the racist things Camila Cabello said on her tumblr and I'm still surprised people are using the excuse "she was only 15." I KNEW NOT TO SAY THE N WORD WHEN I WAS LIKE EIGHT THATS NOT A FUCKING EXCUSE

— Elina ☘️ (@eeelinasl) December 19, 2019
Article continues below advertisement
sis you said what you said. don't feel bad about it now

— nas 🦋 (@nasimani_) December 19, 2019
Article continues below advertisement
Article continues below advertisement
Others are totally over it. 
 Some of the Camila's fans can't understand why this is even still an issue as she's apologized and admitted her mistakes. 
This trend of hating on Camila Cabello needs to end. She apologized, (just like every other artist who has been in the same situation) so how can you justify immediately forgiving them and not Camila? I'm not a fan, but even I can see that you guys are taking things too far.

— k (@sorrybabyxx) December 19, 2019
Article continues below advertisement
it's insane how y'all can be so biased sometimes. you're not letting camila cabello breathe for things she said a decade ago, how do you expect someone to change when everything you do is judge them? help them understand the things they made and care about their mental health too

— cargel. (@bagdadrosalia) December 19, 2019
Everyone says things they wish they could take back.
She's trying to move on and be positive.
People who don't have anything nice to say in this thread are contributing to the hate that they feel she spread. Stopppp. And forgive each other.
I love you.

— aw (@aw131734) December 19, 2019
Article continues below advertisement
Stop acting like a child, get over it. We all do stupid things when we're young. I'm half black (not that it's your business) and I can forgive her for something she did Y E A R S ago. Quit clowning🤡

— Sade (@Sade57513664) December 19, 2019
y'all canceled camila cabello for saying the n-word, then maybe it's time for y'all to cancel WHITE MEN who actually got caught saying the n-word since y'all were quick to forgive them. pic.twitter.com/u7CrSAWu66

— sam ❁ (@samanthaswft) December 19, 2019
Article continues below advertisement
Camila's former Fifth Harmony bandmate Normani spoke out about the comments.
When asked about Camila's comments in an interview with Rolling Stone, Normani explained why the comments – and the apology – display a larger issue. 
"I face senseless attacks daily, as does the rest of my community. This represents a day in the life for us. I have been tolerating discrimination far before I could even comprehend what exactly was happening. Direct and subliminal hatred has been geared towards me for many years solely because of the color of my skin," she said, of her own experience with racism online.
Article continues below advertisement
"It would be dishonest if I said that this particular scenario didn't hurt me. It was devastating that this came from a place that was supposed to be a safe haven and a sisterhood, because I knew that if the tables were turned I would defend each of them in a single heartbeat," she went on to say.
"It took days for her to acknowledge what I was dealing with online and then years for her to take responsibility for the offensive tweets that recently resurfaced. Whether or not it was her intention, this made me feel like I was second to the relationship that she had with her fans."