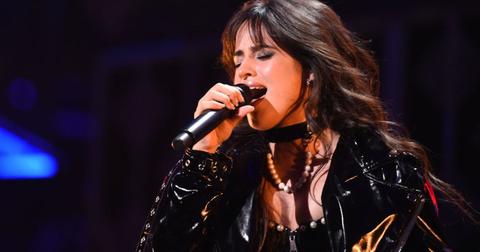 Camila Cabello Has Apologized for Her Allegedly Inappropriate Comments
By Lizzy Rosenberg
There's no denying that 2019 was Camila Cabello's breakout year — she released several pop songs that topped the charts, she began dating Canadian heartthrob, Shawn Mendes, and she officially broke away from Fifth Harmony as a solo artist. But as you may already know, the "Consequences" singer is currently under fire for some alleged racist comments she posted to Tumblr several years ago.
And even though the Cuban-American pop singer has released a sincere apology for everything she posted to the Verizon-owned social media site, you might still be wondering, "what were Camila Cabello's racist comments?" So here is everything we know regarding her latest scandal.
What were Camila Cabello's racist comments on Tumblr?
On Camila's now-defunct Tumblr account (URL: vous-etess-belle), the pop star posted and reblogged a wide variety of racist content, spanning from text posts that use the n-word, to jokes about domestic violence, and even racist memes targeting African-American and Asian people. Sources say she was 16 years old at the time of posting.
Since her account has been deleted, these highly questionable Tumblr posts were screenshotted and posted online, which you can see in a thread here. Chances are, you'll be seriously surprised by what you see.
Like I said before, Camila released an official apology to social media.
The singer addressed the fact that she used inappropriate language when she was younger, that she will "regret forever." She proceeded to inform fans that she was uneducated and unaware, but she learned more about what using that kind of language meant socially. She apologized from the bottom of her heart, wishing she could take it back.
"I'm 22 now, I'm an adult, and I've grown and learned and am conscious and aware of the history and the pain it carries in a way I wasn't before. Those mistakes don't represent the person I am or a person I've ever been. I only stand and have ever stood for love and inclusivity, and my heart has never, ever even then, had any ounce of hate or divisiveness," the apology read.
Fans have taken to Twitter to express how they feel about her apology — some are still angry.
Although Camila's apology was long and heartfelt, it appears that several fans aren't quite ready to forgive the singer for what she posted on Tumblr — check out what her unforgiving fans had to say about it below.
Others are totally over it.
While Camila definitely could have done better back in the day, there isn't really anything she can do about it now — she just has to keep living and learning. Some of the singer's fans can't understand why this is even still an issue as she's apologized and admitted her mistakes.
There's no denying that 16-year-olds are totally guilty of saying stupid, regrettable things, but let's face it: Camila crossed a line. Hopefully the singer has learned from her mistakes, and will continue spreading love and positivity. Because honestly, we could definitely use more of that.