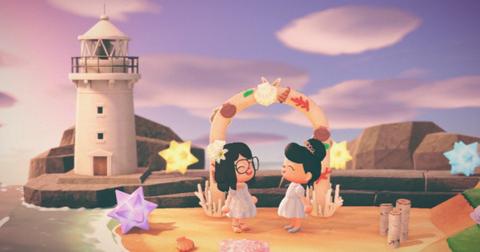 It's Wedding Season in 'Animal Crossing: New Horizons' — Who's Getting Married?
By Abi Travis

Updated
When you've played a lot of life sim video games in your life (like Harvest Moon and Stardew Valley), you start to notice that your in-game character's life follows a pretty similar trajectory in each one. Usually, your character arrives in a new place, invests time and effort into rehabilitating the area, and befriends the locals. Often, you have the option of getting married to one of those locals.
Animal Crossing: New Horizons is another life sim that follows a lot of these same plot points. Your character arrives in a new place: a deserted island. You invest time and effort into rehabilitating the area by cleaning up the island, spending money, and decorating everything so it looks super nice. You befriend the locals: in this case, the villagers who move to your island. But can you get married in Animal Crossing?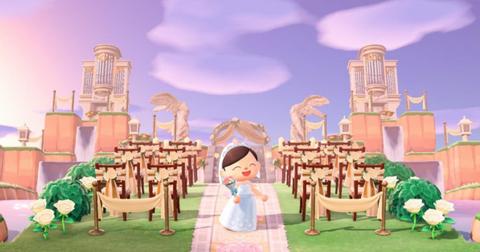 Can you get married in 'Animal Crossing: New Horizons'?
So, it probably goes without saying that you can't marry any of your villagers in Animal Crossing: New Horizons. Yes, it's kind of weird that you're the only human character in a world populated by talking animals and also non-talking animals that you can sell for money. The system kind of breaks down a bit with a bit of scrutiny, but we're not trying to ruin the game for anyone here. Anyway, your villagers are your friends.
You can have multiple human characters on your island if you have multiple accounts on your Switch (or by simply inviting people over), but there's no in-game way to marry another player. In the traditional life sim sense, there is no way to get married in Animal Crossing — but that hasn't stopped some players from holding a wedding!
Some 'Animal Crossing' players have held in-game "weddings."
As you already know, you can create just about anything on your island, provided you have the time dedicate to the project. People have created in-game versions of just about everything from Pokémon games to Area 51. One person even terraformed Danny DeVito's face into their island. 'Cause you can just do that. And you can also create an in-game wedding.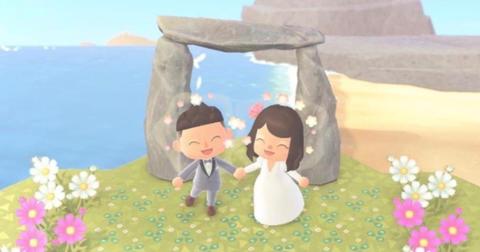 There have been a few instances of people "getting married" within Animal Crossing, as well as a few in-game proposals. In a game where the only limit is your imagination (and your Bell account), there's no reason why you can't get married in Animal Crossing if you want to. Just don't expect any congratulations from your villagers. And obviously, Animal Crossing weddings are not legally binding.
There's also Wedding Season in 'Animal Crossing: New Horizons.'
Wedding Season in Animal Crossing starts on June 1, and while you can't really get married in the game, you can still celebrate weddings on the island! Well, on Harvey's island, anyway. As part of the Wedding Season event, you'll be able to stage wedding-related events (ceremony, reception, etc.) and take photos. You'll also unlock wedding-related furniture and other decor. While you might not be planning your character's wedding, it still seems like a fun way to spend your island time.