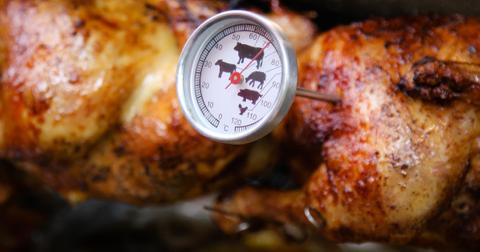 Can You Use a Meat Thermometer for a Fever? It's Not the Most Accurate Method
By Michelle Stein

Mar. 17 2020, Published 12:14 p.m. ET
Having a reliable thermometer on hand isn't something that seems super important until it's 3 a.m. and you wake up feeling feverish. (Or, when you're in the middle of a pandemic and thermometers are about as scarce as toilet paper and antibacterial hand soap.) Which is why plenty of people are wondering: Can you use a meat thermometer for a fever?
Article continues below advertisement
I mean, we rely on meat thermometers all the time to make sure our chicken, pork chops, roasts, etc. are cooked to a safe internal temperature. So they must be reliable enough to offer an accurate reading for a body temperature, right? Unfortunately, it's not that simple.
Let's take a look at whether a meat thermometer can accurately gauge whether you have a fever — along with other potential methods of determining body temperature if you happen to find yourself without a thermometer.
Article continues below advertisement