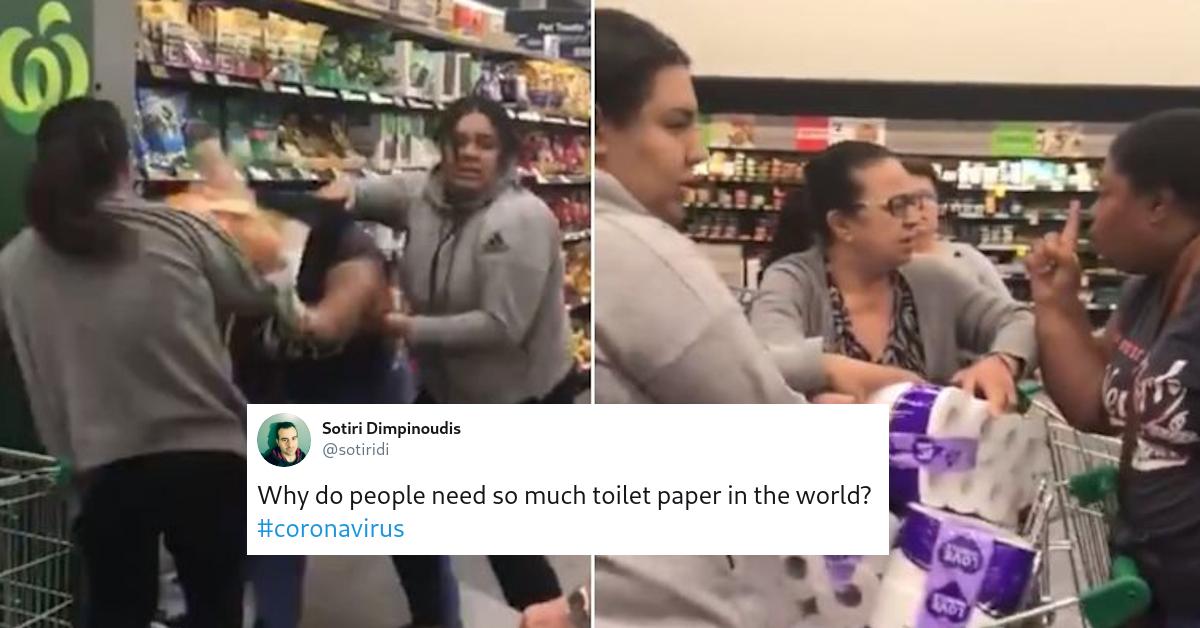 Memes Mocking People for Hoarding Toilet Paper Due to Coronavirus Is the Newest Trend
Coronavirus fears are at an all time high, and it's influencing people to hoard supplies, like toilet paper. Naturally, the memes followed.
It's no secret that the majority of human beings are miserable and are often looking for any excuse to totally give up on having a happy life, electing instead to living out fear-dictated lives filled with bitterness.
Article continues below advertisement
While that might seem like an extreme statement, just look at how excited everyone gets when the first whiff of a pandemic or end-of-the-world scenario starts making headlines.
Which is why I'm so grateful for these toilet paper Coronavirus memes.
Article continues below advertisement
Here's why you're kind of an idiot for letting Coronavirus interrupt your life: we've dealt with way bigger viral threats in recent years as a species, like H1N1 (the swine flu). That particular flu strain killed over 575,000 people worldwide and, like the Coronavirus, mostly affected people with underlying health conditions, specifically respiratory issues.
But here's the thing: any illness or flu strain would've done those people in.
Coronavirus is even less threatening than H1N1 because, unlike other flu strains, children aren't being disastrously affected by it. Maybe it has something to do with the fact that a snot-nosed, coughing and vomiting child still wants to get up and play and go on with their lives no matter what illness they have.
But that hasn't stopped people from freaking out over it and rushing to grocery stores in anticipation of the unlikely instance of a mandated quarantine.
Article continues below advertisement
So people have started taking to hoarding everything they can get their hands on. One of the most in-demand items? Toilet paper. Which makes sense, everyone poops.
Luckily, TikTok users who either work at grocery stores or visit them are capturing the foolish panic fellow human beings are displaying in the wake of Coronavirus and uploading videos showing just how crazy things have gotten.
Article continues below advertisement
Like this guy, Smit Patel who taped the throngs of people walking through the store, getting ready to load up their carts with supplies to the Avengers theme (lol) and a Woolworth's employee showing empty shelves of long-life milk, tissues, hand sanitizer, and toilet paper completely gone thanks to the fervor surrounding the new flu strain.
Article continues below advertisement
Article continues below advertisement
While the above video has a shopper parodying the "You wouldn't steal a..." anti-piracy ad, and shows him grabbing tons of rolls of toilet paper and running away, that sadly isn't the most absurd video that's been uploaded online regarding the "toilet paper crisis" caused by the Coronavirus.
In what has to be one of the most disheartening and pathetic displays of humanity ever uploaded to the internet, a recording of an actual fight broke out between two women in a Woolworth's over a package of TP. Seriously. Imagine being the cops that received the call to go in and break up a brawl that erupted over paper we use to wipe our buttholes with.
Article continues below advertisement
Article continues below advertisement
The recent hysteria causing throngs of panic-stricken imbeciles to venture out into stores and fight for supplies has also inspired plenty of memes, too.
Article continues below advertisement
Many people are pointing out that large scaled reactions to the virus are over looking the best way to combat it: by practicing good hygiene, which we should all be doing in the first place. Like washing your hands and not touching your face.
Some businesses are having fun with the fear surrounding the virus and people's subsequent reactions.
Article continues below advertisement
Article continues below advertisement
There's a lot of misinformation occurring as a result of the virus' outbreak, with people coming up with all sorts of "remedies" against it. Like storing copious amounts of toilet paper. Or smoking weed. Or, as it's apparently rumored in France, doing lines of blow.
Article continues below advertisement
Some people aren't just stocking up on toilet paper like Mummy Boy below, but on all sorts of supplies and dry goods.
Article continues below advertisement
Article continues below advertisement
Even though some 61 million people worldwide contracted H1N1 (I was one of them along with several other people in my family — we're all fine) there was no grand state of emergency like we're experiencing with the Coronavirus now. It's hard to keep a disease like this from spreading, so how do you combat it?
Again, the same as any flu. Wash your hands, change your clothes and sheets, cycle through fever reducers, stay hydrated, and eat foods you'll be able to keep down.
Hoarding toilet paper is not on that list.
The best way to prevent contracting or spreading coronavirus is with thorough hand washing and social distancing. If you feel you may be experiencing symptoms of coronavirus, which include persistent cough (usually dry), fever, shortness of breath, and fatigue, please call your doctor before going to get tested. For comprehensive resources and updates, visit the CDC website. If you are experiencing anxiety about the virus, seek out mental health support from your provider or visit NAMI.org.