Coronavirus Panic Caused Couple to Telecommute to Their Own Wedding
The couple had just returned to Singapore from China, and guests expressed concerns about attending their wedding. So they live-streamed themselves into the party from a hotel.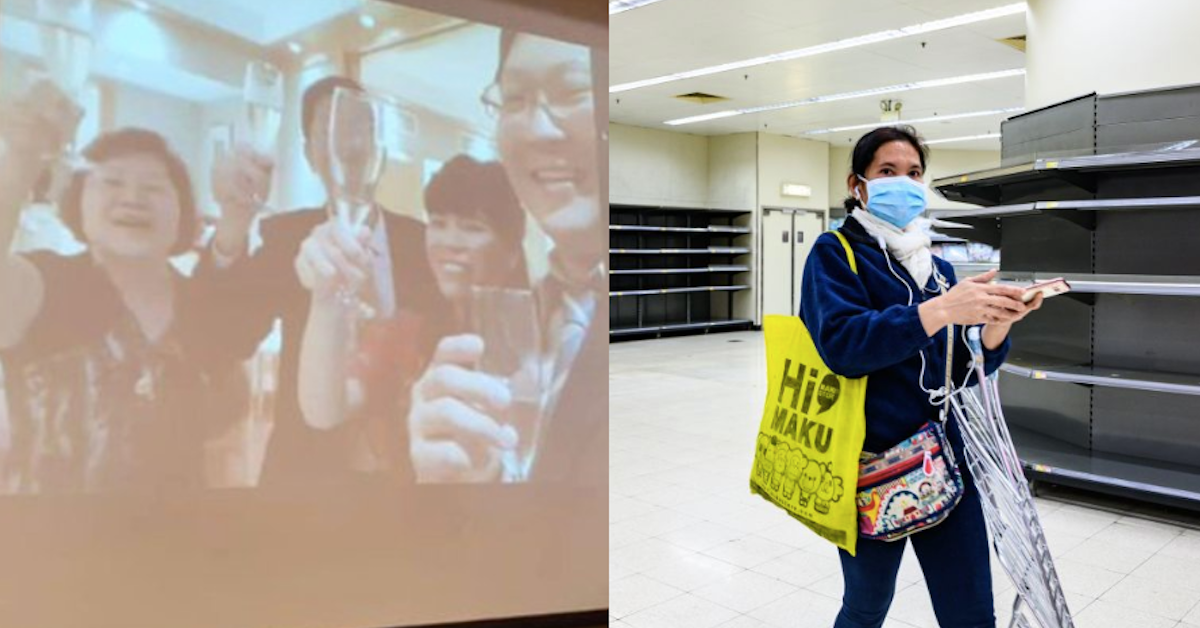 Joseph Yew and Kang Tang arrived home to Singapore from a trip to China a few days before their wedding. But because of the coronavirus outbreak, guests were wary of attending. Rather than cancel the wedding or reschedule, Joseph and Kang had the party as planned — only they weren't there.
Article continues below advertisement
They live-streamed in via video to chat with their friends and family. They made their toasts and speeches over video from a hotel room in the same hotel where the party was being held. "We thanked the guests for coming and told them to enjoy the dinner," Joseph told the BBC.
Article continues below advertisement
Kang and Joseph flew to Hunan province in China on January 24 to spend Lunar New Year with her family. Although Hunan province borders Hubei, where the coronavirus originated, Joseph told the BBC that "there had been no sense of panic when they were back in Hunan, especially since the area they were visiting was quite rural."
They returned to Singapore on January 30 and their wedding was to take place on February 2 at M Hotel. But when guests found out they'd just returned from China, fears about the coronavirus rippled, and many said they were no longer coming.
The couple had already been married in China months before, and this party in Singapore was for Joseph's family and friends who could not travel to China for the first wedding.
Article continues below advertisement
The hotel would not postpone the wedding, so Joseph and Kang felt like they "had no choice but to proceed with the wedding." They simply told guests they would video conference in. "My parents were not [happy about it] at first, but they eventually agreed," Joseph said.
This story is just one of many that demonstrate how wide panic about the coronavirus has spread. The BBC reports that the virus has killed 550 people in China and has spread to about 24 countries. People all over the world are scared that this epidemic will hit their backyard next.
Article continues below advertisement
A recent flight from Toronto to Jamaica had to turn around and make an emergency landing when a man stood up and proclaimed he was coming back from Hunan province and was "not feeling too well."
James Potok, an aspiring musician who goes by Potok Philippe professionally, decided it would be a funny viral video to stand up on a plane already in flight and declare he had been infected with a rapidly spreading virus.
James told CityNews that he meant it to be a prank. He wanted to make a viral video. He thought he'd get a reaction, people would laugh, and then he'd sit back down again. Instead, within minutes, airline staff approached him wearing masks and gloves, made him put a mask and gloves on, and the plane turned around, canceling another flight in the process.
Article continues below advertisement
When the plane landed back in Toronto, James was assessed by medical staff, deemed symptom-free, and then was arrested for "mischief," which is an unduly cool thing to be arrested for.
"I'm very, very sorry for my ignorance and not understanding that it's an epidemic ... that people hear the word and .. it's become synonymous with threats," he told CityNews. "I thought it would spark a reaction ... I did not think what I was doing would be considered illegal [or] warrant that type of response. In retrospect, it probably wasn't the best thing to do." Ya think?
Article continues below advertisement
But James isn't the only person to "prank" others with the possibility of the coronavirus. In Joliet, Illinois, two men in their 20s entered a Walmart. One put on a yellow mask and began to spray a substance all over products in the store. He had a handmade sign on his back that said, "Caution I have the Coronavirus." The spray turned out to be Lysol. They caused about $10,000 worth of damages and are still at large.
Awful "pranks" like these only serve to stoke paranoia and disturb the peace. People around the world are already worried enough that they will contract the coronavirus, so much so that people of Asian descent in other countries are experiencing explicit racism as they go about their days.
Article continues below advertisement
Please do not do this. Please. It's so disgusting. Educate yourself about what's actually going on with the virus. The vast majority of people who are being affected by this terrible virus are in China. There have been 28,060 confirmed cases in China, and now, The New York Times reports, 564 deaths.
There have only been 225 cases and one death reported outside of China.
Still, the panic has spread worldwide and has entered all areas of life. There is a rumor going around Hong Kong saying that China won't export toilet paper due to the epidemic, a rumor which has already been denied by toilet paper manufacturers and supermarkets, according to reporter Fion Li. This has led to people panic-buying and hoarding vast amounts of toilet paper.
Article continues below advertisement
Amidst all the joke-making and prank-pulling is real tragedy, though. Dr. Li Wenliang, a Chinese doctor who was the first to try to warn others about the coronavirus outbreak, has died from the virus, according to the BBC.
He was working as an ophthalmologist at Wuhan Central Hospital and sent out a warning to fellow medics on December 30. His message spread on social media, and days later, he was visited by the police. The police told him to sign a letter that accused him of "making false comments" that had "severely disturbed the social order."
Dr. Li was investigated for "spreading rumors," but he was on a mission to warn others and spread the truth. According to the BBC, "Local authorities later apologized to Dr. Li."
Article continues below advertisement
But then he contracted the virus. On Weibo, one of China's biggest social media platforms, he described how he started coughing on January 10. The next day he had a fever, and two days later, he was admitted to the hospital. He was officially diagnosed with the coronavirus on January 30, and the news of his death has just been reported on February 6.
Much of China is on lockdown — in many places, people have been discouraged from attending group events or even going outside. Some scientists have estimated that the virus could actually be much more widespread in China than the 28,000 some-odd reported cases. People may only be experiencing mild symptoms and passing it onto others.
This virus has reached epidemic levels; we feel for all those who have been affected directly or indirectly.
The best way to prevent contracting or spreading coronavirus is with thorough hand washing and social distancing. If you feel you may be experiencing symptoms of coronavirus, which include persistent cough (usually dry), fever, shortness of breath, and fatigue, please call your doctor before going to get tested. For comprehensive resources and updates, visit the CDC website. If you are experiencing anxiety about the virus, seek out mental health support from your provider or visit NAMI.org.